On Thursday Bill Belichick lamented his team's struggling kickoff return unit. On Friday, the Patriots did something about it.
While no official word has been made, several reports indicated the team reached an agreement with Jeff Demps, the former Florida running back and return specialist who recently competed in the Summer Olympics. Demps, who initially spurned NFL overtures last spring in order to focus on London, where he was part of Team USA's 4x100 relay team that took home a silver medal, recently re-entered the football picture by making his intentions of joining the NFL clear.
"Nothing new to report on the roster," was how personnel director Nick Caserio opened his Friday press conference. When asked specifically about Demps, Caserio simply reiterated his comments.
"We don't have anything to report."
Fox 13 in Tampa, Fla., was first to report the news of Demps joining New England. The5-7, 175-pound Demps had 25 touchdowns as a Gator and averaged 25 yards on 10 kick returns including a 99-yarder for Florida last season. According to NFLDraftscout.com, Demps has run a 4.26 40, which would put him in line to take the de facto title of fastest Patriot.
Caserio did answer a few questions regarding Demps' abilities, explaining the scouting department did some work on him before his decision to forego the draft.
"Good with the ball, good speed, caught the ball OK, a little bit undersized. But they had some good offensive players – he and [Chris] Rainey split some time so they kind of used them in different ways," Caserio began. "He had a little bit of production. How that translates over, the schemes are different. Any returner that comes into the NFL, whatever they did in college schematically is probably going to be a lot different than what we're going to ask him to do."
On Thursday, Belichick was asked about the possibility of acquiring Demps, and whether or not the two had a previous relationship based on the coach's friendship with former Florida coach Urban Meyer.
"We scout all the players that come out in the draft. He wasn't at the Combine and he didn't do a spring workout so we didn't have that interaction with him," Belichick said. "Other than that, we're not allowed to scout him except for to watch practice when we're allowed in, that kind of thing. But you can't have the same kind of interaction with him during the season that you can once they've declared for the draft."
Belichick has talked during camp about the need for the Patriots to improve in the kick return department. Only three teams averaged fewer than the 21.6-yard average New England managed in 2011. The coach talked about making that an area of focus, but judging from a lackluster effort in the preseason opener against New Orleans it remains a work in progress.
"We didn't return them very well in any conditions at any time and still haven't based on the New Orleans game," Belichick said on Thursday. "That's obviously an area that we can improve in, that we have worked hard in but based on the results still need to do a lot more work on. Important area in the game, it's a big momentum play, it's a way of answering the opponent's score or start of the half, whatever the situation is there. It's a big play in the game and an important play so we put a lot of stock in that just like we do every other play."
Danny Woodhead, the team's primary returner last season, continues in that role but he's had plenty of company this summer. Julian Edelman, Donte' Stallworth and Shane Vereen have been involved most of camp while defensive backs such as Kyle Arrington, Devin McCourty and Patrick Chung have also entered the mix periodically. Clearly it's still a work in progress.
In what has become a training camp custom in Foxborough, Belichick offered his team a carrot by offering a night off in exchange for a player catching punt. It's usually an individual who isn't used to handling the football with players like Vince Wilfork and Nate Solder getting the call in the past.
On Friday it was defensive end Chandler Jones, and the rookie delivered. It appeared as if he misjudged the punt a bit and was forced to backpedal, but Jones showed good athleticism snaring the ball as he tumbled backward into the end zone. His catch was met with a mighty roar from his teammates and Jones sprang to his feet and broke out in a quick version of the Dougie.
After practice Brandon Lloyd and Kyle Arrington confirmed Jones' catch earned them a night off.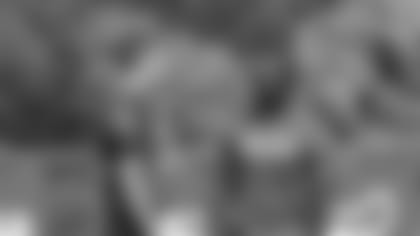 Former Patriots All-Pro cornerback Ty Law was on hand for practice with a group of children including three of his own. He spent several minutes speaking with Chris Simms before mingling with the players on the fields. He and Tom Brady spoke for a while in between drills and he took some time to speak with the media about the team as he attempts to publicize his new business venture, Launches, an indoor trampoline park that will open in Warwick, R.I.
"They're going to be in a strong position to make another run," Law said of the Patriots. "If they solidify the defense, which they have addressed, the offense is going to be what they're going to be and I think they're going to make a strong run for the Super Bowl again."
Law fielded some questions about the game today, and how the dependence on the passing game has opened offenses up.
"It's pretty difficult. I know I would have probably led the league in pass interference penalties if I was still playing. It has changed. But I think the audience wants to see a lot of points scored. It's making it pretty tough. If you're a good defensive back and can play within the rules you're in high demand.
"I don't necessarily like the way the game in changing because of the lack of respect they have for defensive backs but it is what it is and you have to abide by the rules and play the best way you can. These 4,000-, 5,000-yard passers that you see year in, year out – you'd never see that when I was playing."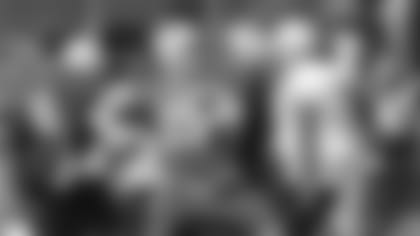 Buy: Ryan Mallett – There are still moments when the quarterback struggles with his accuracy but he had more positive moments than negative on Friday. He had a pair of impressive throws to Aaron Hernandez, hitting the tight end on out patterns, fitting the ball into tight windows.
Sell: Receivers – Lots of drops on Friday, both in the passing game and on special teams. Brandon Lloyd failed to hold onto a pair of catchable balls and Jeremy Ebert continues to struggle handling punts. Hernandez also had a couple of uncharacteristic drops during team periods.
Play of the day: Brandon Bolden grabbed a screen pass during a team period and started to head upfield but Sergio Brown came up to make the stops. The safety took a punch at the ball and knocked it loose from the rookie, scooping it up in the process.
Jabar Gaffney missed his second straight day of practice while dealing with a right leg injury. He once again was on the field in shorts and watched the proceedings. Stevan Ridley and Tavon Wilson also missed the workout after each was nicked up on Thursday. They joined Alfonzo Dennard (leg), James Ihedigbo, Spencer Larsen, Tracy White, Markus Zusevics (torn pectoral/NFI), Matt Kopa, Kyle Hix, Sebastian Vollmer (back/PUP), Visanthe Shiancoe, Daniel Fells (reported shoulder/leg- PUP), Jake Ballard (knee/PUP), Myron Pryor (shoulder/PUP), Gerard Warren and Jonathan Fanene among those missing practice. …
Players seen in shorts included Gaffney, Ridley, Dennard, Ihedigbo, Larsen, White, Zusevics, Hix, Vollmer, Fells and Pryor. … Wes Welker left the field toward the end of practice but did not appear to be injured in any way. He stopped to talk to Law and signed some autographs for his group before heading for the locker room. … On a positive note, Eric Kettani and Malcolm Williams returned to action after missing some time. Kettani had been out since Aug. 13 while Williams has been on and off the field over the past several days. … Caserio was asked if he ever competed with Josh McDaniels, his former college teammate, in the bucket drill. Both were quarterbacks at John Carroll University before McDaniels switched to wide receiver. "I had a bad experience with the bucket drill a few years ago. Mr. [Robert] Kraft was walking off the field and I almost laced him in the head. So I've stayed away from the bucket drill for a few years now. We haven't had that challenge yet. It actually was more comical to watch in '07, him and [former offensive coordinator] Billy [O'Brien] trying to run routes against each other and have them cover one another and me throw the ball to them. That was a little more comical than throwing a ball in a bucket." …
Friday was the official end of training camp open to the public. The Patriots will not practice on Saturday and will conduct a walk-through on Sunday in preparation for the Eagles game Monday night. The team will travel to Tampa, Fla., the following day for joint practices with the Bucs Aug. 22-23 before preseason Game 3 Aug. 24 at Raymond James Stadium.