Earlier this week, NFL.com's Daniel Jeremiah and Bucky Brooks laid out their picks for the Patriots' first three selections in this month's NFL Draft. The picks followed a common theme for Patriots mock draft picks this offseason, with Penn State linebacker Micah Parsons being their first selection at 15th overall.
Parsons has been the most consistent and popular mock draft pick this offseason, but there's still a great possibility that the speedy defender will be selected prior to New England's first selection. Otherwise, there's little debate as to how well Parsons would fit into the Patriots' scheme.
With long term questions at inside linebacker, Parsons would provide an influx of speed and play recognition, along with the ability to play multiple roles, even as a potential pass rusher. The Patriots have made great use of versatile players like this, with Dont'a Hightower and Jamie Collins making an early name for themselves with their ability to do it all from the second level.
With the team missing out on a quarterback in the first round, it was little surprise to see Texas A&M's Kellen Mond be the choice at 46th overall. An experienced SEC quarterback, Mond is another popular connection to the Patriots and is one of the favorites of the Patriots Unfiltered crew as far as being the right combination of fit and availability for New England.
For Mond, it will be all about consistency at the next level. A 46-game starter in college, he showed marked improvement in his final season as the Aggie offense found a more balanced attack that took some of the heat off of him. There's no question he needs time to develop, but in a top-heavy year for quarterbacks he just might be the best option for the Patriots after the top five quarterbacks are selected.
With their final pick, Brooks and Jeremiah made wide receiver D'Wayne Eskridge from Western Michigan their final choice of this three-pick mock draft. While New England made a splash in free agency by adding Kendrick Bourne and Nelson Agholor, they should continue to add receivers who fit their system and Eskridge would bring a new dimension to their attack.
A threat to score from anywhere on the field, Eskridge had three touchdowns of more than 70 yards in 2020 and could bring the kind of explosive playmaking skill from the slot that the Patriots have had success with over the past two decades. He can also return kicks, adding to his value. Like most receivers, especially ones from a small school like Western Michigan, he'll need time to develop and refine his route running for the NFL level, but you can't teach explosive speed and that's what Eskridge has.
Filled Needs?
Grabbing a quarterback unquestionably would fill a big need for the Patriots, but really, linebacker and receiver are somewhat secondary needs when you consider the long-term outlook on the roster. Atop that list should be cornerback and offensive tackle, where no starter is currently under contract past this season.
While Parsons would be a slam dunk should he fall to 15, a more reasonable expectation is that the Patriots will have to look elsewhere and the intrigue is that both a top-ranked cornerback and tackle are more likely to be available at 15.
Jaycee Horn, Patrick Surtain and Caleb Farley are all outstanding fits for the Patriots, at least one should be available at 15. While Penei Sewell, Rashawn Slater and Christian Darrisaw are all slated to be first-round tackles that could also be tempting depending on how the board falls.
With 79 players currently on the roster, it's unlikely New England will add their usual amount of draft picks and rookie free agents. There are plenty of long-term needs as the team would be smart to target quality over quantity.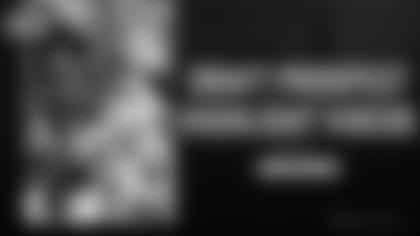 2021 Draft Prospect Highlights
Put your scouting cap on and watch collect highlights of the top prospects entering the 2021 NFL Draft.