The Pro Day circuit wraps up on Friday as NFL teams can now begin to lock in their draft boards once medical reports are finalized in the coming week. With no scouting combine, Pro Days took on additional value this season and gave teams a chance for an up-close look at many of the top prospects.
As many players opted out of the season or had their schedules limited, every bit of information is vital this spring and there was plenty to weigh over the month of March as players demonstrated what they can do. There's no substitute for game film, but it's hard to ignore some of the outstanding physical performances of these athletes.
Here's what we've learned over the past few weeks as the 2020 NFL Draft picture becomes clearer and how things might be shaping up for the Patriots.
Five QB intrigue
There's little debate that there are five quarterbacks atop the draft board and expectations seem to be trending toward all being taken within the first 10 selections, if not sooner. Trevor Lawrence remains a lock to go first overall to Jacksonville but from there things get murky.
Zach Wilson emerged with a dynamic season to overtake Justin Fields in many rankings, but Fields remains an intriguing prospect who could re-emerge within the top five picks. Both had excellent Pro Days, as should be expected for first-round quarterback talent.
Trey Lance also impressed at his Pro Day, an important step for the lightly experienced, small school quarterback. Mac Jones participated in Senior Bowl practices and both Alabama Pro Days, highlighting his competitiveness, while also turning in some solid testing numbers that might ease some concerns about his athleticism.
Add it all up and it's hard to see any of the top five falling all the way to 15. There's speculation that Fields could slide a bit which seems extremely surprising. That could be more smoke than fire as misinformation becomes commonplace in the few weeks before the draft.
After Lawrence, the other four all have some questions but not enough to let teams in a quarterback-hungry league pass them by. Unfortunately for the Pats, they appear to be in a draft slot void when it comes to having a chance at any of them.
Speedy, tough receivers there for the taking
The two Moores ran sub-4.4 40-yard dashes, and though they lack size, their explosiveness would be a welcome addition in New England. That trio is just the tip of the iceberg of intriguing receivers who could be available in the second and third days of the draft.
The Pats signed two significant free-agent receivers this offseason in Kendrick Bourne and Nelson Agholor, but could still use an injection of youth and speed at the position. There will be options available to them.
Cornerback or tackle at 15?
With a likely run on quarterbacks and receivers, along with elite prospects like Kyle Pitts and Micah Parsons getting snapped up, it appears the Patriots could see one of the top cornerbacks or offensive tackles fall to them at 15. Should they choose not to trade up, those positions are where the best value is going to be and they are two big positions of long-term need.
Unfortunately, those needs aren't quite as pressing as the quarterback spot, but with no outside cornerbacks or tackles currently signed for 2022, getting a starter at one of those positions in the first round would still be a big boost.
With Patrick Surtain and Jaycee Horn lighting up their Pro Days, Caleb Farley is seeing his stock drop due to back surgery that prevented him from working out. For as impressive as Surtain and Horn are, Farley still might be the best of the bunch. Either way, at least one of the top trio figures to be available at 15 and all are excellent fits for the Patriots defense.
While top-ranked tackle Penei Sewell is likely to be snapped up, Rashawn Slater or Christian Darrisaw could make it through the gauntlet to 15. Either could immediately step in, take a swing tackle back-up season and then ascend to a starting job in 2022.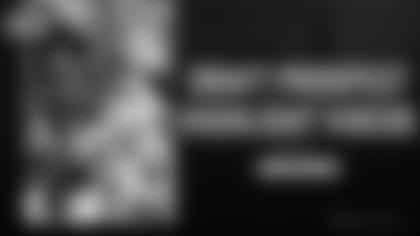 2021 Draft Prospect Highlights
Put your scouting cap on and watch collect highlights of the top prospects entering the 2021 NFL Draft.