Fan Club:Orange County Patriots Fans
Thirteen years after the Orange County Patriots Fans began, the club is still going strong. Now with the Rams returning to Los Angeles, the group is excited for more local opportunities to see the Patriots in action.
How did the fan club begin and how has it grown over the years?
I'd moved from Hawaii to California at the end of 2000 and then for the first couple of years, me and my girlfriend at the time, now my wife would basically just bounce around to different sports bars to watch the Pats, the Patriots games and we'd see some Patriots fans here and there and I just basically came up with the idea that it would be cool if we had enough of us getting together at the same place on a regular basis. So I started collecting email addresses and trying to get people to show up to a set place and we started doing that in 2003.
It really did grow one by one. The Facebook group is about 900, but we realistically in terms of turn out at the Auld Dubliner on game day is anywhere from 100 to 200. 
Tell us more about the Auld Dubliner.
What's neat about the Auld Dubliner for us is that it's not known necessarily as a sports bar. It has plenty of TVs and obviously has Sunday Ticket so that you can show off games. But we're not really competing against fans of the Chargers or Raiders.
It's open to all ages. You know on the west coast, games start at 10 a.m., so we're there at 9:30. They serve a breakfast menu, which is always kind of fascinating, odd for people who are visiting from the east coast that football starts so early for us. 
What are some of favorite club traditions? How did they start?
One tradition that we do have during the game is we bring out a Patriots helmet with us and whenever they score a touchdown; we basically run it around the room and everybody kind of high fives or slaps the top of it. So, let's call it the "Pat the Pat Hat." So that's just our little touchdown tradition.  
It just started happening. Normally you're high fiving with other people when there's a great play or score and then we had the helmet with us so people would give it a little hit and then we started and everybody wanted to do it, so we now run the helmet around to everybody.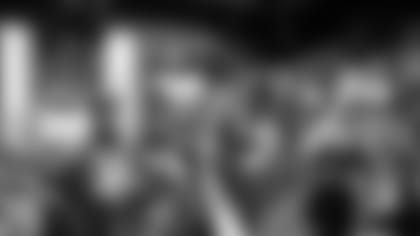 How would you describe the culture of the club?
We have a wide variety of members. From people that used to live in New England and were season ticket holders from back in the '60s and '70s. Now we have other fans, who just, you know, started following the Patriots more recently, but of course the Patriots are a common bond.
It almost feels like you're at the game because, you know, we're playing, we're doing cheers and chants and it gets really loud and it's the second best option.
Although it could be a while before the Patriots play the Rams, how do you feel about having a closer local team?
People will be looking forward to be able to see a game that they can just drive over to. But we've been doing that for Chargers games. We've had Chargers games every two or three years for a while now. That'll be great to have another close game to see the Patriots at.