It started with a group of four gathering at the Armoury in the LoDo (Lower Downtown) area of Denver.  A mutual friend introduced them all in 2013, and they instantly clicked. For two years, they got together at the bar, and upon entering, they would find their table and spread a Patriots blanket over it.
After Super Bowl XLIX, co-founders Nick Pollard and Alex Raymond decided to take their love of the Patriots to the next level.
"There are a ton of New Englanders in the city, and I wanted to connect them all so that no one had to watch games alone like I did," Alex said. "I wanted to create a place where they could all connect and plan watch parties all over the city."
Noticing that only the official Patriots fan club met an hour away in Colorado Springs, the two decided to make their own mark in Broncos territory as the Patriots Fans of Denver.  
"Our vibe is one of friendly faces and inclusion," Alex said. "Our motto is 'An oasis of blue, silver, and red in a sea of orange.'"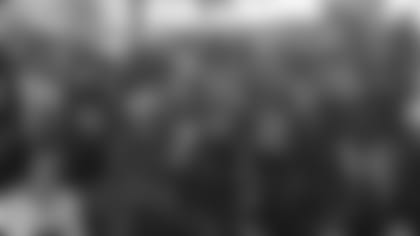 Their small group of Patriots fans gained a following as more people found a sense of community every game day. As more fans learned of the Sunday meetups, the club saw the numbers on their Facebook page climb during the middle of last season. Now, the group has more than 300 members.
"It's just getting bigger and bigger," Nick said. "I approve a new member every day, sometimes three to five."
"The people make it one of the best clubs around," said member Jake Browne. "I didn't know anyone before the club started, and now I get to see some of my best friends every weekend."
Though the group had a strong relationship with the ownership of the Armoury, the bar shut its doors in January 2016. Now the club calls Three Dogs Tavern home. They helped convert it into a Patriots bar, despite being in the heart of Denver.
"Three Dogs has been pretty good to us," Nick said. "They took down their Broncos flags, so that's a good deal. They actually did take them down for the Broncos-Patriots game, which says a lot about our team, what we're doing."
"I think we've found our place at Three Dogs, and we'll probably be there for a while," Alex added.
The bar's support has extended beyond their decorations. Three Dogs has created a special brunch menu for the club since the games air earlier in the day. The group also enjoys drink specials that help to draw a crowd.
"We do have brunch option, a good lunch option, so we've got food throughout the day. People can enjoy themselves and make that part of their day," Nick said.
As the group continues to grow, they look to the future and what it means for them. They hope that they eventually gain another 200 members. From there, they hope to open their own Patriots bar, operated by the fan club.
"A goal of ours is to resurrect The Armoury by a different name and to have it owned by the fan club," Alex said.
"I would say that's probably a five to 10-year plan," Nick added. "But long term we hope to grow the club to a place where it's really a Patriots bar."
Until that day comes, the Patriots Fans of Denver will head to the Three Dogs Tavern every game day. They will cheer on the Patriots and when they win, they will play "Shipping Up to Boston."
"We hold our heads high, because we're from New England and we're tough as nails," Alex said. "You want a rivalry with the Patriots? Step in line."
Interested in starting an Official Patriots Fan Club in your city? Check out our Fan Club and Bar Registry here. 
RELATED LINKS