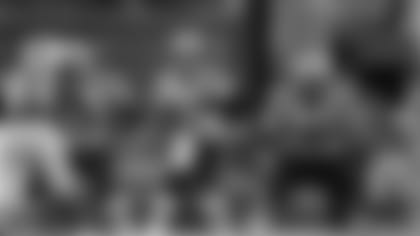 BRADY SETS CAREER MARK-HIGH AND FRANCHISE RECORD WITH 517 PASSING YARDS**
Brady set a franchise record with 517 passing yards. The previous high was 426 yards by Drew Bledsoe vs. Minnesota on No. 13, 1994. Brady's previous best was 310 passing yards vs. Kansas City on Sept. 2, 2002.
Brady became the 10th NFL quarterback to throw for 500 yards or more. His 517 yards are the fifth highest in NFL history.
Norm Van Brocklin (554)
Warren Moon (527)
Boomer Esiason (522)
Dan Marino (521)
Tom Brady (517)
PATRIOTS START GOOD
The Patriots have won eight straight games on opening day dating back to 2004. The eight straight opening day wins is the longest active streak in the NFL. Head coach Bill Belichick 10-6 all-time on opening day including 8-3 as Patriots head coach. Brady is 8-1 on opening day.  
NINE STRAIGHT GAMES WITH 30 POINTS TIES PATRIOTS' OWN NFL RECORD
The Patriots tied a team mark with their ninth straight regular season game with 30 or more points dating back to Nov. 14 of last season with a 39-26 win at Pittsburgh. The Patriots also scored 30 or more points in nine straight games in 2006-07 with the last game of the 2006 regular season and the first eight games of the 2007 season. The Patriots nine straight games with 30 or more points are second in NFL history to the 14 straight games by the St. Louis Rams (1999-2000).
The Patriots eight straight games with 30 or more points in 2010 tied an NFL record for most consecutive games with 30 or more points in a single season. The 2007 Patriots and the 2000 St. Louis Rams also achieved that mark.
The Patriots are now 62-2 when scoring 30 or more points under head coach Bill Belichick.
PATRIOTS SCORE IN MIAMI
The Patriots scored 30 or more points in four of their last five games played at Miami and are averaging 39.4 points in those games.
LAST FIVE PATRIOTS GAMES AT MIAMI
2011 - 38-23 (9/12/11)
2010 - 41-14 (10/4/10)
2009 - 21-22 (12/6/09)
2008 - 48-28 (11/23/08)
2007 - 49-28 (10/21/07)
NEW FACES
Of the 22 Patriots players on the 53-man opening day roster in 2011 that were not on the opening day 53-man roster in 2010, 15 saw action in their first regular-season game as a member of the Patriots. The new Patriots who made their New England debuts -today are: LS Danny Aiken, DE Mark Anderson, S Josh Barrett, DL Andre Carter, CB Ras-I Dowling, LB A.J. Edds, DE Shaun Ellis, TE Dan Gronkowski, DL Albert Haynesworth, S James Ihedigbo, CB Antwaun Molden, WR Chad Ochocinco, T Nate Solder, G Brian Waters and OL Thomas Welch.
TWO 2011 DRAFT PICKS IN THE STARTING LINEUP
Two of the Patriots' 2011 draft picks were in the starting lineup with first round pick T Nate Solder and second-round pick CB Ras-I Dowling starting the game. Last season, four draft picks were in the starting lineup with first round pick CB Devin McCourty and second-round pick LB Brandon Spikes on defense and second-round pick TE Rob Gronkowski and TE Aaron Hernandez on offense.
GREEN-ELLIS MOVES PAST MOSI TATUPU
RB BenJarvus Green-Ellis entered the Miami game tied for 10th place in franchise with Mosi Tatupu with 18 rushing touchdowns and added a 4-yard rushing touchdown to move into 9th place. Laurence Maroney and Antowain Smith are tied for eighth place in franchise history with 21.
BRADY BECOMES THE 18TH QUARTERBACK IN NFL HISTORY TO REACH 35,000 YARDS
Tom Brady (35,261) become the 18th quarterback in NFL history to reach 35,000 career passing yards after gaining 517 yards against the Dolphins. He entered the game needing 256 yards to reach the feat.
Tom Brady is currently 18th on the NFL's All-Time Passing yards list with 35,261 passing yards. Jim Kelly is 17th with 35,467 passing yards.
BRADY NEARING CHILDHOOD IDLE IN TOUCHDOWN PASSES AND WINS
Tom Brady threw a 10-yard touchdown pass to TE Rob Gronkowski early in the second quarter to move into sole possession of 10th place on the NFL's all-time passing list with 262 career touchdowns. He added three more touchdowns for a career total of 265. He entered the game tied with Dave Kreig. Brady's child idle is in ninth place with 273 career touchdown passes.
BRADY HAS 10th GAME WITH TWO OR MORE TOUCHDOWNS DATING BACK TO 2010
Brady had his tenth straight game with two or more touchdowns. Brady had 12 games with two or more touchdowns overall in 2010. He had had four 3-touchdown games and two 4-toucdown games in 2010. The Patriots are 71-12 when he throws for two or more touchdowns in a game and . Brady had 14 games with two or more touchdowns in 2007. His four touchdowns against Miami marked his 11th time with four touchdown passes. The Patriots are 11-0 when he passes for four touchdowns.
BRADY AND WELKER CONNECT FOR LONGEST PASS PLAY IN TEAM HISTORY
Brady and Wes Welker connected on a 99-yard touchdown pass in the fourth quarter. It is the longest pass play in Patriots history and ties an NFL record (12th time) for the longest play. Brady's previous best was a 91-yard touchdown pass to David Patten at Indianapolis on Oct. 21, 2001. Welker's previous best was a 64-yard reception from Brady at Miami (11/23/2008).
BRADY COMPLETES OVER 30 PASSES FOR 14TH TIME IN HIS CAREER
Brady completed 32 passes for his 14th career game with 30 or more completions. Last season he had one 30-completion game when he completed 30 passes at Pittsburgh on Nov. 14, 2010.
BRADY GOES OVER 300 YARDS FOR THE 35TH TIME IN HIS CAREER
Brady had his 35th NFL with 300 or more yards passing and ranks third among active NFL quarterbacks, behind NFL-leader Peyton Manning (63) and Drew Brees (45). The Patriots are 30-4 when Brady throws for 300 or more yards.
BRADY THROWS FIRST PICK IN 358 ATTEMPTS
Tom Brady ended his streak of no interceptions when he had a pass picked off in the third quarter. It ended an NFL record of 358 consecutive pass attempts without an interception. In 2010 Brady threw just four interceptions with two in the game at the Jets (9/19) and two vs. Baltimore (10/17). He set an NFL record in 2010 with 11 consecutive starts without an interception - the most by a quarterback since the 1970 merger. The previous best was nine straight starts by Jason Campbell (2007-08) and Bernie Kosar (1991).
CONSECUTIVE GAMES WITH AT LEAST ONE TOUCHDOWN PASS CONTINUES FOR BRADY
Brady threw a touchdown pass in all 16 games in 2011 and needs and extended that streak to 17 with four touchdown passes against Miami. He needs to throw at least one touchdown pass in the next three games to break his own team record of 19 straight games (12/17/06-12/09/07) with at least one touchdown pass.
WELKER IS STREAKING
Wes Welker extended his streak to 62 straight games with at least one reception as a member of the Patriots. He needs two more games with at least one reception to surpass the team mark of 63 set by TE Ben Coates.  
Welker has a streak of 79 straight regular-season games with at least one reception. He has caught at least one pass in each of his 66 games with the Patriots, including four postseason games. The last time that Welker did not catch a pass in a game was December 24, 2005 when he was with Miami.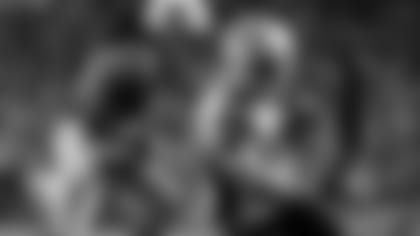 WELKER SHINES AGAINST MIAMI**
In eight career games against the Dolphins, Wes Welker has caught 63 passes for 843 yards and four touchdowns, averaging 8 catches and 105 receiving yards per game against his former club. Those averages are the best against any team Welker has faced more than once in his career. He also has four 100-yard games against Miami with a 138-yard game at Miami (10/21/07), a 120-yard game at Miami (11/23/08), a 10-catch 167-yard game in 2009 at Miami (12/06/09) and 8 catches for 160 yards tonight.
WR WES WELKER HAS FIVE STRAIGHT AGAINST MIAMI WITH 8 RECEPTION
Welker has now caught at least 8 passes against Miami in five straight games.
WELKER PASSES GINO CAPPELLETTI
Welker entered the Miami game with 4,536 receiving yards as a member of the Patriots. He gained 160 yards and passed Gino Cappelletti (4,589) and Terry Glenn (4,669) into 6th place on the Patriots all-time with 4,696 yards
PATRICK CHUNG RECORDS HIS THIRD CAREER SACK
S Patrick Chung sacked Miami QB Chad Henne for a three-yard loss. It was his third NFL sack and his first since recording 2.0 sacks as a rookie in 2009. As a rookie in 2009, Chung recorded a sack in back-to-back games with a sack at Tampa Bay (10/25) and a sack vs. Miami (11/8). It was his first sack since registering a the sack vs. Miami on Nov. 8, 2009.
AARON HERNANDES GOES OVER 100 YARDS
TE Aaron Hernandez had a career 103 receiving yards for his second NFL 100-yard game. He had 101 yards at the New York Jets on Sept. 19, 2010.
TWO OVER 100 YARDS RECEIVING
Wes Welker (160) and Aaron Hernandez both went over 100 yards. Last season in the 36-7 win at Chicago, Welker (115) and Deion Branch (151) each had a 100-yard game. It is the third straight year that the Patriots have had a game with two 100-yard receivers in the same game. On Oct. 18, 2009 in a 59-0 win vs. Tennessee Welker (150) and Randy Moss (129) both had 100-yard games.
SLATER FIRST RECEPTION
WR Matthew Slater registered his first NFL reception with a 46-yard reception from QB Tom Brady in the first quarter. Slater had three 40-yard receptions in the preseason with a 43-yarder vs. Jacksonville, a 53-yarder at Detroit and a 67-yarder vs. The New York Giants.
BROTHER ACT
Rob Gronkowski and Dan Gronkowski became the fourth set of New England Patriots brothers to be on the Patriots' active roster in the same regular season. The Gronkowski's join DE Whit Canale and G Justin Canale (1968), WR Clarence Weathers and RB Robert Weathers (1983-84) and RB Chuck McSwain and CB Rod McSwain (1987). The Gronkowskis became the first brother tight end tandem during the Super Bowl era to be active NFL roster teammates. The only other current brother tandem on the same roster are linebackers E.J. and Erin Henderson of Minnesota.