WES WELKER BECOMES PATRIOTS ALL-TIME RECEPTION LEADER
Wes Welker became the Patriots' all-time leader in receptions on a 25-yard pass from Tom Brady in the second quarter. That catch was the 558th of Welker's Patriots career receptions, moving past Troy Brown (557). Welker entered the game one catch behind Brown's mark. Welker finished the day with 5 receptions and now has 562 as a member of the Patriots.
WELKER CLOSE TO PASSING TROY BROWN TO MOVE INTO SECOND ON THE PATRIOTS ALL-TIME RECEIVING YARDS LIST
Welker finished with 95 yards receiving against Arizona and now has 6,214 receiving yards as a member of the Patriots. Welker needs 153 more receiving yards to move past Troy Brown (6,366) into second place on the New England all-time receiving yards list. Stanley Morgan is in first place with 10,352 yards.
WELKER IS STREAKING
Wes Welker extended his streak to 79 straight regular-season games with at least one reception as a member of the Patriots to extend his franchise record. Welker has an overall streak of 96 straight regular-season games with at least one reception, including his time with the Miami Dolphins. Welker has caught at least one pass in each of his 86 games with the Patriots, including seven postseason games. The last time that Welker did not catch a pass in a game was December 24, 2005 when he was with Miami.
BRADY PASSES JOHNNY UNITAS FOR 13TH PLACE ON ALL-TIME PASSING LIST; NEEDS 21 PASSING YARDS TO MOVE PAST JOE MONTANA INTO 12TH PLACE ALL-TIME
Tom Brady (40,531 passing yards) moved past Hall of Famer Johnny Unitas (40,239) into 13th place on the NFL's all-time passing list with a 16-yard completion to RB Stevan Ridley in the first quarter. He passed for 316 yards against Arizona and needs 21 passing yards to move past Joe Montana (40,551) into 12th place all-time.
BRADY HAS HIS 46TH 300-YARD GAME
Brady had his 46th career 300-yard game after finishing with 316 yards against Arizona. He is 8th all-time for most 300 yards game in a career. Hall of Famer Warren Moon is in seventh place with 49 300-yard games. In 2011, Brady had a personal best 11 300 yard games. The NFL record for most 300-yard games in a season is 13 by Drew Brees (2011).
MOST 300-YARD PASSING GAMES IN NFL HISTORY
Peyton Manning: 63 (Denver plays on Monday)
Dan Marino: 63
Brett Favre: 62
Drew Brees: 59
Kurt Warner: 52
Dan Fouts: 51
Warren Moon: 49
Tom Brady: 46
Joe Montana: 39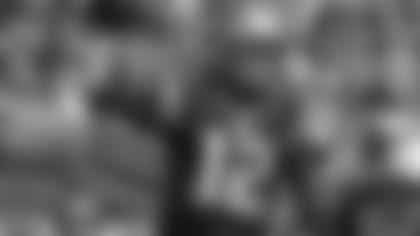 MOST 300-YARD PASSING GAMES IN A SEASON
13 Drew Brees, New Orleans, 2011
11 Tom Brady, Patriots, 2011
10 Rich Gannon, Oakland, 2002
10 Drew Brees, New Orleans, 2008
9 Dan Marino, Miami, 1984
9 Warren Moon, Houston, 1990
9 Kurt Warner, St. Louis, 1999
9 Kurt Warner, St. Louis, 2001
9 Peyton Manning, Indianapolis, 2009
9 Matt Schaub, Houston, 2009
CONSECUTIVE GAMES WITH AT LEAST ONE TOUCHDOWN PASS CONTINUES FOR BRADY
Tom Brady has now thrown at least one touchdown pass in 34 straight regular season games, extending his team mark on a 5-yard touchdown pass to TE Rob Gronkowski in the fourth quarter. Brady's current streak started when he threw a touchdown pass in all 16 games in 2010 and 2011 and now the first two games of 2012. The old team record was 19 games, also set by Brady. Brady's 34 straight games is fourth all-time in NFL history. The NFL record is 47 set by Johnny Unitas (1956-7), followed by Drew Brees with 45-current and Brett Favre with 36.
GRONKOWSKI MOVES INTO SOLE POSSESSION OF SECOND ON PATRIOTS LIST FOR TOUCHDOWNS CATCHES BY A TIGHT END
Rob Gronkowski 5-yard touchdown reception from Tom Brady in the fourth quarter was his 29th touchdown reception for his career, moving him out of a second place tie with Russ Francis (28) into sole possession of second place for most touchdown receptions by a Patriots tight end. Ben Coates is first with 50 touchdown receptions.
PATRIOTS LOSE FIRST OPENER EVER AT GILLETTE STADIUM
The Patriots suffered their first defeat on opening day at Gillette Stadium. The Patriots entered the game with an 11-0 record in home openers at Gillette Stadium, which was the longest active winning streak in home openers in the NFL. The last time the Patriots lost a home opener was Sept. 23, 2001 at Foxboro Stadium when the Patriots fell to the New York Jets, 10-3.
DONALD THOMAS MAKES THE START AT RIGHT GUARD
Donald Thomas made his second start in a Patriots uniform when he started at right guard in place of Dan Connolly. In 2011, Thomas made his first start with the Patriots at left guard vs. Miami (12/24) when the Patriots were forced to move Logan Mankins to left tackle due to an injury to Matt Light.
FIRST TIME IN PATRIOTS HISTORY A KICKER HAS CONNECTED ON TWO 50 YARD FIELD GOALS IN THE SAME GAME
Stephen Gostkowski drilled a 51-yard field goal in the third quarter and a 53-yarder in the fourth quarter. The 53-yarder ties a career-long mark. He also had a 53-yarder at Denver on Nov. 11, 2009. It is the first time in Patriots history that a player has connected on two 50-yard field goals in the same game. Gostkowski is 7-of-10 from 50 yards or more during his career. He was 1-of-2 last season when he connected on 50-yarder at the New York Jets (11/13/11) and missed a 51-yarder vs. Miami (12/24/11).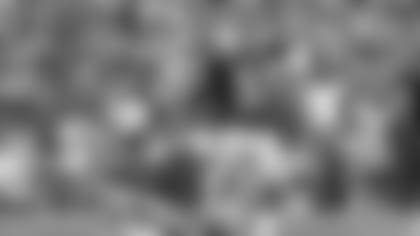 GOSTKOWSKI'S 53-YARDER IS THE LONGEST BY A PATRIOTS PLAYER AT GILLETTE STADIUM
Gostkowski's 53-yard field goal is the longest by a Patriots player at Gillette Stadium, besting his 52-yard field goal vs. Chicago on Nov. 26, 2006. It ties for the second longest field goal ever at Gillette. Buffalo's Rian Lindell (9/10/06) and Cincinnati's Mike Nungent (9/12/10) each had 54-yard field goals at Gillette Stadium.
GOSTKOWSKI MATCHED A CAREER HIGH WITH FOUR FIELD GOALS
Gostkowski had four field goals against Arizona (46, 34, 51 and 53) to tie a career high. He has now had four field goals in a game six times. Before today, the last time he had four field goals in a game was vs. Miami on Nov. 8, 2009.
MAYO IS A TACKLING MACHINE
LB Jerod Mayo had a team-leading 13 tackles in the season-opener at Tennessee (9/9) a team-leading 9 tackles vs. Arizona. Mayo finished the 2011 season with 103 tackles, registering 100 tackles for the fourth straight year. He is the first player in New England history to register 100 tackles in his first four NFL seasons. He is the fifth Patriots player to register at least four consecutive 100 tackle seasons.
NINKOVICH MAKES AN IMPACT
Rob Ninkovich sacked Kevin Kolb on third-and-one in the first quarter, forcing a Cardinals punt on the next play. Then, on the first play of the Cardinals' next drive, Ninkovich tackled Ryan Williams for a 5-yard loss, starting a defensive series for the Patriots that resulted in an Arizona punt from its own end zone. Since the beginning of the 2010 season, Ninkovich leads the team with a total of 11.5 sacks over that span.
JONES CONTINUES STRONG START
Rookie Chandler Jones caused an opponent turnover for the second time this season after forcing a fumble in the season opener last week against the Titans. Against Arizona today, Jones forced Kevin Kolb to fumble on a third-down rushing play in the second quarter and Tavon Wilson recovered the ball to give the Patriots possession. Earlier in the second quarter against the Cardinals, Jones broke into the backfield and drew a holding penalty on an Arizona lineman on third down helping to force a Cardinals punt from their own end zone on the drive.