BRADY AND BELICHICK SURPASS MARINO AND SHULA FOR WINNINGEST COACH/QB TANDEM
With today's victory over the Jets, the Patriots' quarterback-head coach tandem of Tom Brady and Bill Belichick (117) surpassed Pro Football Hall of Famers Dan Marino and Don Shula of Miami for the most wins by a quarterback-head coach duo in the Super Bowl era (since 1966).
BILL BELICHICK TIES BILL PARCELLS WITH 183 CAREER WINS
Bill Belichick won his 183rd with the win against the Jets to tie Bill Pacrcells for ninth place on the NFL's all-time list. Chuck Knox is eighth with 193 career wins.
ANDRE CARTER SET PATRIOTS RECORD WITH 4.5 SACKS
Andre Carter set a franchise record with 4.5 sacks. The previous best was 4.0 by Julias Adams at Atlanta (12-4-77), Tony McGee at Baltimore (11-16-78) and Mike Hawkins vs. NY Jets (9-9-79). Carter's previous best was 2.5 at Carolina on Oct. 11, 2009 while with Washington. It is Carter's third game with two more sacks in 2011. He now has a team-leading 9.0 sacks.
BRADY TIES CHILDHOOD IDOL JOE MONTANA WITH 117 WINS
Tom Brady earned his 117th win as a starting quarterback to tie Joe Montana for seventh with 117 career wins in the regular season. Johnny Unitas is in sixth place with 118 wins.
BRADY PASSES JOE MONTANA (39) WITH HIS 40TH 300-YARD GAME
Brady threw for 329 yards for his 40th career 300-yard game and his sixth 300-yard game of the 2011 season. The most 300-yard games by Brady in a single season is eight in 2007. The NFL record for most 300-yard games in a season is 10 by Drew Brees (2008) and Rich Gannon (2002).
MOST 300-YARD PASSING GAMES IN NFL HISTORY'
Peyton Manning        63
Dan Marino        63
Brett Favre        62
Kurt Warner        52
Dan Fouts        51
Drew Brees        51
Warren Moon        49
Tom Brady        40
Joe Montana        39
BRADY REACHES 3,000 YARDS
Brady entered the game with 2,703 yards and added 329 to set the NFL record for most yards through a team's first nine games with 3,032 yards.  Brady joins Drew Brees (2011) as the only players to reach 3,000 yards passing in the first nine games of a season. It is Brady's ninth career 3,000-yard season.
WELKER REACHES 1,000 YARDS FOR A PATRIOTS RECORD FOURTH TIME
Wes Welker entered the Jets game needing 40 yards to reach 1,000 yards receiving for the fourth time in his Patriots career. He now has 1,006 yards through nine games. He caught six passes for 46 yards to reach the mark.The four 1,000-yard seasons are the most by a Patriots receiver. Welker was tied with Randy Moss and Stanley Morgan with three 1,000-yard seasons.
MOST 1,000-YARD RECEIVING SEASONS IN PATRIOTS HISTORY
4 Wes Welker (2007-10, 11)
3 Randy Moss (2007-10)
3 Stanley Morgan 1977-89)
EIGHTH TIME IN NFL HISTORY A PLAYER REACHES 1,000 YARDS IN THE NINTH GAME
Welker reached 1,000 yards in the ninth game of the season. It is an accomplishment that has happened just eight times in NFL history since the merger and for the first time since Torry Holt accomplished the feat with St. Louis in 2003. Isaac Bruce accomplished the feat two times. All eight times the accomplishment was reached in the ninth game of the season.
WELKER BECOMES THIRD PATRIOTS TO RECORD 500 RECEPTIONS
Welker (504) entered the Jets game with 498 receptions as a member of the Patriots. He caught two passes in the second quarter to become the third Patriots Player to reach 500 receptions as a member of the Patriots, joining Troy Brown (557) and Stanley Morgan (534).
WELKER BECOMES THE FASTEST PLAYER IN NFL HISTORY TO REACH 500 RECEPTIONS WITH ONE TEAM.
Welker reached 500 receptions as a member of the Patriots in his 70th game with the Patriots and became the fastest player to record 500 receptions with one team, surpassing Anquan Boldin (80 games with Arizona). He is the fourth player in NFL history with at least 500 catches in a five-year span. Only Marvin Harrison (five times), Cris Carter (twice) and Pro Football Hall of Famer Jerry Rice (once) have accomplished the feat.
BRANCH MOVES PAST MOSS INTO NINTH PLACE ON PATRIOTS ALL-TIME LIST
Deion Branch entered the Jets game with 3,876 yards and moved past Randy Moss (3,904) into 9th place on the Patriots all-time receiving list with a 14-yard reception in the third quarter. He finished with 58 yards against the Jets and now has 3,934 yards with the Patriots. Gino Cappelletti is in 8th place with 4,589 yards.
PATRIOTS TIGHT ENDS ARE TOUCHDOWN MACHINES
Rob Gronkowski has eight touchdowns in 2011, while Aaron Hernandez has five. The tandem has totaled 13 touchdown receptions through nine games this season, comprising more than half of Tom Brady's total of 23 scoring tosses. Gronkowski set the Patriots record for most touchdowns by a tight end with 10 as a rookie in 2010.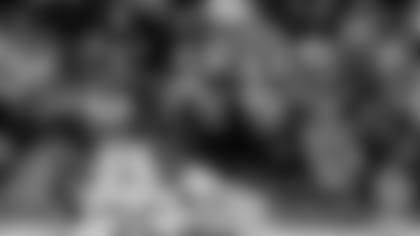 GRONKOWSKI HAS FIFTH NFL TWO-TOUCHDOWN GAME**
Gronkowski scored two touchdowns against the Jets. It is his fifth career game with two or more touchdowns and his third two-touchdown game of the 2011 season. He had two touchdowns vs. San Diego (9/12/11) and at Buffalo (12/26/11). He had a career-high three touchdowns as a rookie at Pittsburgh on Nov. 14, 2010.
GRONKOWSKI HAS FOURTH STRAIGHT GAME WITH SEVEN OR MORE RECEPTIONS
Gronkowski finished with eight receptions for 113 yards. He has caught seven more receptions in four straight games. The eight receptions match the career-high eight he had vs. NY Giants (11/6). The 113 yards are a career-high, besting the 109 yards he had at Buffalo (9/25/11). It is fourth 100-yard game.
GRONKOWSKI LEADS ALL TIGHT ENDS IN TOUCHDOWNS SINCE 2010
Gronkowski has 18 touchdowns since the start of the 2010 season, the most among all NFL tight ends during that time.
Most Touchdowns by a Tight End Since 2010
Player        Touchdowns
Rob Gronkowski    18
Jason Witten    13
Antonio Gates    12
GRONKOWSKI ON PACE TO SET PATRIOTS RECORD
Rob Gronkowski has 709 receiving yards on 52 receptions and is on pace to finish with 92 receptions for 1,260 yards. The Patriots record for most receiving yards by a tight end is Ben Coates with 1,174 in 1994. The Patriots record for most receptions by a tight end is 96 by Coates in 1994.
CONSECUTIVE GAMES WITH AT LEAST ONE TOUCHDOWN PASS CONTINUES FOR BRADY
Tom Brady has now thrown at least one touchdown pass in 25 straight regular season games, extending his team mark. Brady's current streak started when he threw a touchdown pass in all 16 games in 2010 and he has now achieved the feat in all six games in 2011. The old team record was 19 games, also set by Brady. The NFL record is 47 set by Johnny Unitas (1956-7), followed by Drew Brees with 37 and Brett Favre with 36.
BRADY ON PACE TO SET ALL-TIME PASSING NUMBERS
After throwing for 329 yards against the Jets and 3,032 yards through nine games this year, Tom Brady is on pace to finish the season with 5,390 passing yards. Only two NFL players have thrown for 5,000 or more yards in a season with Dan Marino's NFL record 5,084 in 1984 and Drew Brees' 5,069 in 2008.The most yards Brady has ever thrown in a season is 4,806 in 2007.
BRADY ON PACE FOR SECOND CAREER 40 TOUCHDOWN SEASON
Brady has 23 touchdown passes through nine games and is on pace for 41 touchdown passes. If Brady reaches 40 touchdowns he will be just the second player in NFL history to have two seasons with 40 or more touchdowns. Dan Marino had 48 touchdowns in 1984 and 44 in 1986.
WELKER IS STREAKING
Wes Welker extended his streak to 70 straight regular-season games with at least one reception as a member of the Patriots to extend his franchise record. Welker has an overall streak of 87 straight regular-season games with at least one reception, including his time with the Miami Dolphins. Welker has caught at least one pass in each of his 74 games with the Patriots, including four postseason games. The last time that Welker did not catch a pass in a game was December 24, 2005 when he was with Miami.
DIVISIONAL DOMINANCE
The New England Patriots own a 51-15 (.773) record in regular season AFC East games since the beginning of the 2001 season, compiling the best intra-division record of any team in the NFL.
GOSTKOWSKI GOOD FROM 50
Stephen Gostkowski kicked a 50-yard field goal in the first quarter. It is his longest field goal of the season. His previous best of the year was a 47-yarder vs. San Diego (9/18).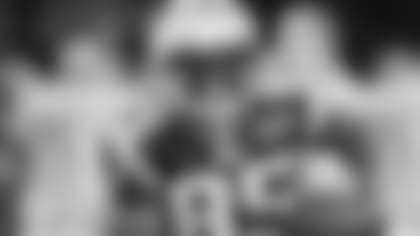 OCHCOCINO HAULS IN A 53-YARD RECEPTION**
Chad Ochocinco caught a 53-yard pass from Tom Brady in the first quarter, his longest reception as a member of the Patriots. His previous best was a 30 yard reception vs. San Diego (9/18). It is his 21st reception of 50 or more yards and his first since a 50-yard reception vs. Houston while a member of Cincinnati on Oct. 18, 2009.
BRADY TO OCHOCINO FOR 50 FOR THIRD PLAY OF 50 OR MORE YARDS IN 2011
Brady's 50-yard pass completion to Chad Ochocinco is his third pass play of 50 or more yards in 2011. He had a 99-yard touchdown pass to Wes Welker at Miami (9/12) and a 73-yarder to Welker vs. NY Jets (10/9).
NINKOVICH RECORDS HIS SECOND TWO-INTERCEPTION GAME
LB Rob Ninkovich intercepted two passes against the Jets. His second pick was returned 12 yards for his first career touchdown. It is Ninkovich's second two-interception game. He had his first two NFL interceptions last season at Miami on Oct. 4, 2010 on Monday Night Football. It is the Patriots first defensive touchdown since Kyle Arrington returned an interception 36 yards for a touchdown in a win vs. Green Bay on Dec. 19, 2010 in a Sunday Night Football game.
TARPINIAN AND MOORE MAKE FIRST CAREER STARTS
Rookie LB Jeff Tarpinian and DB Sterling Moore made their first NFL starts. Tarpinian started in place of Brandon Spikes, while Moore started at safety in place of Patrick Chung.
RECOVER A MUFFED PUNT FOR THE SECOND STRAIGHT WEEK
Niko Koutouvides recovered a muffed Jets punt at the Jets 13-yard line in the third quarter. It is the second straight week that he Patriots recovered a muffed punt. The Patriots recovered a third quarter muffed punt vs. New York Giants (11/6).