PATRIOTS FALL TO 7-2 IN AFC CHAMPIONSHIPS; 4-1 AT HOME AND 3-1 AT GILLETTE STADIUM
The Patriots are now 7-2 in AFC Championship Games, including a 4-1 record at home and a 3-1 record at Gillette Stadium. Prior to this year, the Patriots' only AFC Championship loss was in the 2006 playoffs at Indianapolis. This year marked the third time in team history that the Patriots advanced to the AFC Championship game in back-to-back seasons, having also done so in 2003-2004 and 2006-2007.
MOST APPEARANCES IN CONFERENCE CHAMPIONSHIP GAME
Pittsburgh 15
Dallas 14
San Francisco 14
Oakland 11
New England 9
St. Louis Rams 9
PATRIOTS ALL-TIME PLAYOFF GAME RESULTS
The Patriots have compiled a 24-17 record in their 40 playoff games and their .585 playoff winning percentage is tied for fourth best in NFL history among teams that have played at least 15 playoff games.
PATRIOTS PLAYOFF RECORD BY ROUND
First Round (1982 Strike Season) 0-1
Wild Card Round 4-3
Divisional Round 10-6
AFC Championship 7-2
AFL Championship 0-1
Super Bowl 3-4
Total 24-17
BRADY MOVES UP ON POSTSEASON LISTS
Tom Brady had 320 yards and a touchdown pass against the Ravens, becoming the NFL's all-time leading playoff passer with 5,949 passing yards. Brady extended his playoff touchdown pass total to 42 touchdown passes and is one of three NFL quarterbacks with 40 or more touchdown passes in the postseason. Brady is third all-time on the postseason touchdown list, behind Joe Montana (45) and Brett Favre (44). Brady leads all quarterbacks with 553 postseason completions.
PATRIOTS AT HOME IN THE PLAYOFFS
The Patriots now have a 14-4 (.778) all time record in home playoff games. The Patriots' .778 winning percentage at home in the postseason ranks third among teams with at least 10 home playoff games.
BRADY GOES OVER 300 YARDS FOR SIXTH TIME IN POSTSEASON
Tom Brady had his 6th career 300-yard game in the postseason after finishing with 320 yards against the Ravens. Brady ties Joe Montana and Kurt Warner for the second most 300-yard games in the playoffs.
BRADY TIES BRETT FAVRE FOR MOST POSTSEASON STARTS WITH HIS 24TH
Tom Brady made his 24th start in the postseason and is now tied with Brett Favre (24) for the most starts by a quarterback in postseason play.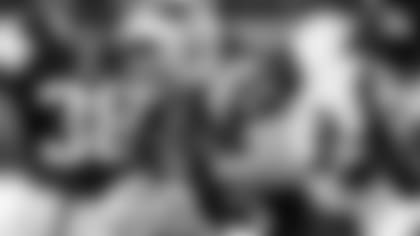 WELKER IS POSTSEASON RECEIVING MACHINE
With eight receptions against Baltimore, Wes Welker extended his team-leading playoff reception total to 69 career playoff receptions with the Patriots. Welker has had at least six catches in each of his nine career playoff games. Welker is averaging 7.7 receptions per game in the playoffs, which is the highest total in NFL history among players who have played in multiple career playoff games. Welker had a playoff career high of 11 receptions in Super Bowl XLII, tied with Deion Branch, Jerry Rice and Dan Ross for a Super Bowl record.
WELKER TIED FOR SECOND WITH FOUR POSTSEASON TOUCHDOWNS
Wes Welker caught a 1-yard touchdown pass from Tom Brady for his fourth overall postseason touchdown, tied with Deion Branch for second on the Patriots' all-time list.
PATRIOTS HISTORY / MOST CAREER TD CATCHES
7 David Givens (8 games)
4 Wes Welker (9 games)
4 Deion Branch (13 games)
WELKER TIES FOR THIRD LONGEST POUNT RETURN IN TEAM POSTSEASON HISTORY
Wes Welker returned a first quarter punt 28 yards, which is tied for the third longest pount return in team postseason history.
Longest Punt Return/Game (Postseason)
55t Troy Brown at Pittsburgh, Jan. 27, 2002
41 Julian Edelman vs. NY Jets, Jan. 16, 2011
28 Wes Welker vs. Baltimore, Jan. 20, 2013
28 Julian Edelman vs. Baltimore, Jan. 10, 2010
28 Troy Brown vs. Carolina, Feb. 1, 2004
28 Art Graham at Buffalo, Dec. 28, 1963
WELKER EXTENDS PATRIOTS RECORD FOR MOST POSTSEASON RECEPTIONS
Wes Welker finished with eight receptions and extended his team record for most postseason receptions (69).
Most Postseason Receptions/Career
69 Wes Welker (9 games)
58 Troy Brown (20 games)
56 Deion Branch (14 games)
HERNANDEZ HAS AT LEAST SIX RECEPTIONS IN LAST FOUR POSTSEASON GAMES
Aaron Hernandez led the Patriots with nine receptions, setting a new career high for the postseason. Hernandez now has at least six catches in each of his last four playoff games (listed below)
HERNANDEZ'S RECEPTION TOTALS IN LAST FOUR PLAYOFF GAMES
7 vs. Baltimore in 2011 AFC Championship Game
8 vs. NY Giants in Super Bowl XLVI
6 vs. Houston in 2012 AFC Divisional Playoff Game
9 vs. Baltimore in 2012 AFC Championship Game.
AFC CHAMPIONSHIP GAME QUICK HITS
The Patriots running game totaled 108 yards on the ground tonight. Entering the game, the Patriots had not lost this season when rushing for 100 yards or more (12-0 regular season, 1-0 playoffs).
The Ravens did not turn the ball over today. In the 2012 regular season and playoffs, the Patriots had forced at least one turnover in all 17 games heading into today's contest.
Aqib Talib reached in to swat away a Joe Flacco pass intended for Anquan Boldin on third down in the first quarter, forcing a Baltimore punt on the next play.
Rob Ninkovich sacked Joe Flacco for a 4-yard loss on third-and-six in the second quarter, forcing a punt on the next play, following which the Patriots embarked on a half-ending field goal drive that resulted in a 13-7 halftime lead.
Danny Woodhead took a direct snap on fourth-and-one with less than a minute left in the second quarter, keeping alive an end-of-the-half drive that ended in a field goal that boosted the Patriots' halftime lead to 13-7.
Brandon Spikes and Jerod Mayo combined to stop Ray Rice for a 2-yard loss on the Ravens' first drive of the second half, setting up a third-and-long that the Ravens did not convert, allowing the Patriots to get the ball back with a 13-7 third-quarter lead.
Rookie DL Justin Francis made his first career NFL start.