FOXBOROUGH, Mass. (AP) -- The New England Patriots have a brand new quarterback issue.
Jimmy Garoppolo had three touchdown passes before leaving in the second quarter with a right shoulder injury as the New England Patriots outlasted the Miami Dolphins 31-24 on Sunday.
It was the Patriots' eighth straight home victory over Miami (0-2). It came at a price as New England (2-0) was dealt another blow at quarterback with Tom Brady already out his four-game "Deflategate" suspension.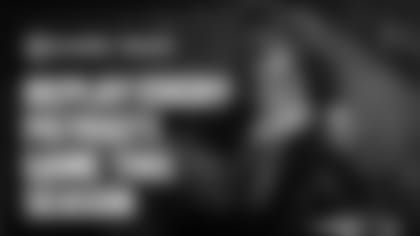 Garoppolo's injury came on third down with less than five minutes left in the first half. He was chased out of the pocket and got off a completion to Malcolm Mitchell and driven into the ground on his shoulder by Miami linebacker Kiko Alonso.
Garoppolo initially got up, before going down to one knee and being attended to by the training staff. He ended his day 18 of 27 for 234 yards and the three scores.
Patriots coach Bill Belichick, never one to reveal much information, said of Garoppolo's injury: "I don't know yet. So we'll take it day by day."
Garoppolo was replaced by rookie Jacoby Brissett, who led New England to a touchdown on its first possession of the second half. Brissett was 6 of 9 for 92 yards. LeGarrette Blount rushed 29 times for 123 yards and a touchdown. Martellus Bennett also had five catches 114 and a touchdown.
The Dolphins, who beat the Patriots in Miami in last season's finale, had no answers for New England's offense early and fell into a 24-0 hole as they were stymied by three turnovers. Ryan Tannehill finally found some traction and trimmed a 31-3 deficit to 31-24 with 6:06 to play.
Tannehill didn't complete a pass until the second quarter as the Patriots' defensive line pressured him into quick throws. The pressure culminated with Tannehill being intercepted by linebacker Jamie Collins late in the first half.
QUOTABLE:
Patriots WR Julian Edelman on losing Garoppolo: "This game is a 100 percent injury rate. It's football and everyone's just gotta do their job a little bit better."
Dolphins QB Ryan Tannehill on the slow offensive start: "We couldn't get anything going. We kept putting our defense back on the field after long drives. It's tough on the defense. ... We need to get points on the board early - and give our defense a break."
COMEBACK DOLPHINS:
Tannehill found Kenny Stills for a 24-yard touchdown in the third quarter and connected with Jordan Cameron for a 12-yard score in the fourth. Kenyan Drake also had a 7-yard touchdown run as Miami closed the gap. Tannehill completed 20 of his first 21 passes to begin the second half.
The usually reliable Stephen Gostkowski missed a 39-yard field goal with 1:08 to play. But Duron Harmon intercepted Tannehill's pass in the back of the end zone with 2 seconds remaining. Tannehill finished 32 of 45 for 389 yards, with two touchdowns and two interceptions.
"We were in a tough situation," Tannehill said. "At that point, you can go one of two ways. You can either pack it up for the day, or battle. And those guys battled. That's what you want to see."
QUICK START:
Garoppolo had touchdown passes on each of the Patriots' first three drives to build a 21-0 lead.
He had four completions of over 10 yards on the opening drive, capping it with a 12-yard touchdown passto Danny Amendola. New England's second drive mirrored the first with Garoppolo finding Chris Hogan for gains of 19 and 24 yards. The series ended with a 20-yard scoring strike to Bennett .
NO GRONK:
Patriots TE Rob Gronkowski (hamstring) was inactive for the second consecutive game. But New England made do without him. Garoppolo completed passes to seven receivers before his injury, including six completions to Julian Edelman.
Bennett, primarily used as a blocker in last week's win at Arizona, had an early 26-yard reception to go with his 20-yard touchdown grab in the first quarter.
HIGH RISER:
Blount was active on the ground to help take pressure off both Garoppolo and Brissett. He brought the Gillette Stadium crowd to its feet during his 26-yard turn in the fourth quarter, which ended with him hurdling cornerback Byron Maxwell.
INJURIES:
Miami RB Arian Foster left with a groin injury in the second quarter and did not return. Linebacker Spencer Paysinger also left the game with a neck injury.