Brandon Bolden is back in New England. Brandon originally signed with the Patriots as an undrafted free agent in 2012, and he won two Super Bowls with the Patriots. After a year in Miami, the longtime Patriot has found his way back to Foxborough, and it has been a warm welcome for the special teamer.
Though he only spent a season outside of New England, let's get Patriots Nation reacquainted with Brandon.
Brandon is a force on special teams, and he is also well-respected in the locker room. He was even trusted with the ever-so-important boombox responsibilities for the team.
"We've been together for a long time, and he's just a great teammate. He brings great positive enthusiasm. He's got a great spirit about him, so dependable, consistent. He has a lot of trust in his teammates. We have a lot of trust in him. He's just a great player," Tom Brady said.
"There's been several times when something's happened on the field, and I'm in the heat, and I'm all fired up, and he'll just come give me a smile or a laugh, and it kind of just brings me back down to earth," Matthew Slater said.
So it's no surprise that Brandon's return was exciting for his teammates, like James White, who tweeted a great gif at him when word got out of Brandon's return.
On social media, Brandon is known as BBHulkSmash, and according to an interview from a few seasons back, the reason is pretty simple. He loves the Incredible Hulk.
"The Incredible Hulk does inspire me to go out onto the field, just be as angry as I can be. Just the fact that nothing can stop him, I want to go out there and pretend nothing can stop me," he said.
Other snippets from that fun interview include his "nerdy jock" days in high school and the time he met Dolly Parton in Chattanooga.
For Brandon, football is in the family. His grandfather, Frank Pitts, played in the NFL for 10 years and won a Super Bowl with the Chiefs.
And the Bolden family just recently grew again. He and his wife Arianna welcomed their third child in February when their daughter, Aviana, was born.
As a father, Brandon understands the importance of a strong mother, which is why Mothers' Day means something even more to his family. Brandon enlisted his son Brycein's help in pulling off a special surprise for Arianna: a proposal.
Just like he pulls out all the stops for his family, Brandon is quick to show up for his teammates and his community. Throughout his years, he was a regular at school visits, Play 60 events and his teammate's fundraisers.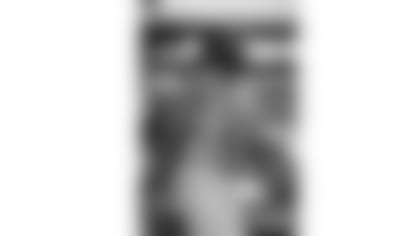 We're looking forward to more fashion moments like this. Welcome back, Brandon!