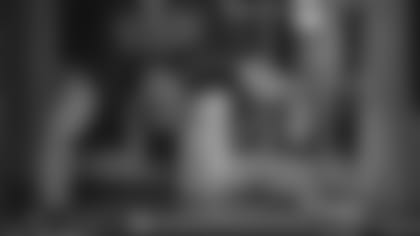 ](http://youtu.be/gvmDSibOCpU) I know, I know. That's a lot of letters!
Patriots All-Pro tight end Rob Gronkowski is one of four current NFL player who will appear in a new ESPN Monday Night Football campaign the network announced on Friday.
Cowboys owner Jerry Jones also appears in the spot that shows Gronkowski getting ready for MNF by hanging upside down while eating a snack.
Other players in the spot include Jets cornerback Darrelle Revis, Houston running back Arian Foster and Eagles back LeSean McCoy.
"We have had great participation from Jerry Jones and a number of NFL players this summer and we appreciate the time they gave us during their offseason," said ESPN Marketing senior director Seth Ader, who is overseeing the campaign. "Their involvement really speaks to our new tagline that 'It All Comes Down to Monday Night'."
The Patriots will have a Monday Day Night Football preseason game on Aug. 20 against the Eagles at Gillette Stadium. New England also hosts the Texans on regular season Monday Night Football on Dec. 10.
Watch the video now by clicking to the right!