As if this rivalry didn't have enough juice already, the New York Jets added to the sideshow Monday night by signing former Patriots cornerback Ty Law, who also spent a season in the Big Apple in 2005.
The Jets didn't make this move to tweak the Patriots, though the timing is perfect for those looking to stir the pot since the two teams will lock horns Thursday night at Gillette Stadium. Law hasn't played in New England since 2004 and would add little to no information about the current state of affairs.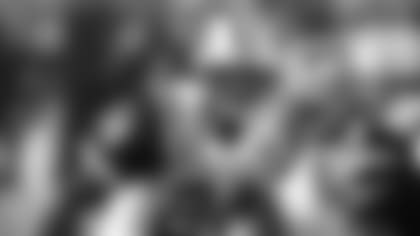 ]()The Jets did this in an attempt to improve their struggling secondary. They've yet to settle on a consistent starter opposite Darrelle Revis and head coach Eric Mangini is beginning to lose faith in rookie Dwight Lowery. Third-year pro Drew Coleman is in the doghouse as well and Justin Miller is now in the unemployment line after getting released Tuesday. Eric Smith will miss his third consecutive game this week and is likely headed to injured reserve.
Law practiced Tuesday and already told the NFL Network he'll play Thursday night, so the Patriots are expecting to reacquaint themselves with an old friend when the Jets come to town for a pivotal AFC East showdown between two first-place teams.
"It's going to be a little weird," said defensive end Ty Warrenbefore comparing Law to former Boston Red Sox slugger Manny Ramirez. "Ty is Ty. Like Manny is Manny.
"I know Ty has a good work ethic. I remember as a young player driving in at 6 in the morning and seeing him running five miles up and down Route 1 before the day had even begun. I'm sure he's been in shape and he's probably been talking to them the last couple of weeks knowing this could come."
Added running back Kevin Faulk: "I'm happy for him that he's back in the game. At the same time, we're playing against him, so you can't be that happy."
Squeezing his index finger and thumb just centimeters apart, Law told the New York media Tuesday he was "that close" to signing with the Patriots, who also reportedly expressed interest in reacquiring the five-time Pro Bowler earlier in the season, though head coach Bill Belichicksaid he hasn't talked to Law in "probably a couple of months."
Law won't start – that spot will likely go to Lowery – but he will serve as a situational defensive back capable of playing safety or corner on passing downs. The former first-round draft pick, who spent 10 seasons in New England from 1995 to 2004, turned 34 in February and hasn't played since last year's season finale.
"It doesn't surprise me he signed with somebody," Belichick said. "We all know what Ty's skills are. Where they put him or what they do with him, you never know that until the game starts."
"I just know he's been a great player for a long time," added wide receiver Wes Welker. "We have to be ready for whoever's out there."
While the offense focuses on Law, New England's defense is busy preparing for running back Thomas Jones. The ninth-year veteran is averaging a career-high 4.7 yards per carry and leads the team with 750 yards and eight rushing touchdowns as he closes in on his fourth consecutive 1,000-yard season.
"Shifty, elusive – good field vision," Warren said when asked to describe Thomas' skills. "He can get those extra yards in the running game.
"Collectively, their offensive line is blocking better and he's been setting up his blockers. It really looks like he always knows where he's going with the ball."
Jones has scored a touchdown in three consecutive games, culminating with last week's 149-yard, three-touchdown performance in a 47-3 win over the St. Louis Rams.
The Patriots will have their own 100-yard running back on display Thursday night following BenJarvus Green-Ellis' performance last weekend against the Bills.
The rookie free agent from Mississippi rushed for a career-high 105 yards with a touchdown and is currently averaging 3.9 yards in five games as Sammy Morris and LaMont Jordan continue to nurse injuries.
"He's done a great job just understanding what's at stake and understanding how to play the game the way the coaching staff wants him to," veteran Kevin Faulksaid.
Asked if he's surprised a player as Green-Ellis, who rushed for 3,868 yards in college, went undrafted, Faulk said, "It happens. That's what happens in this league. At the same time, you've got to prove yourself."
For now, Green-Ellis has proven he can fill in as a serviceable replacement, though it remains to be seen what he can provide as the competition heats up down the stretch.
"I just try to go out there everyday and work hard," Green-Ellis said. "I try to learn everyday from the other guys on the team and do the best I can. I just take it one day at a time."
The Patriots held a walkthrough Tuesday inside the Dana Farber Field House as they continue to adjust to the short week in preparation for Thursday's game. Injured running back Sammy Morris(knee) showed up with a brace on his left knee, but linebacker Adalius Thomas (arm) and tailback LaMont Jordan(calf) were not on the field. Wearing sweatshirts and sweatpants, the players tiptoed through a handful of scout-team kick return drills while linebacker Mike Vrabel, quarterback Matt Casseland long snapper Lonie Paxtonspent time on the elliptical machines adjacent to the practice field. … Asked how the Patriots will replace Thomas, Belichick said, "Every week you always have to be ready to make adjustments, sometimes during the game [and] sometimes during the week. Whatever they are we will do the best we can with that just like we do every week." ... The following players were listed under the "limited participation" portion of Tuesday's practice report: guard Stephen Neal (knee), linebacker Eric Alexander (hamstring), Morris (knee) and Warren (groin). Cornerbacks Terrence Wheatley (wrist) and Lewis Sanders (hamstring), Thomas and Jordan did not practice. Belichick said last week Jordan didn't necessarily suffer a setback in his recovery, though he missed two days of practice after returning to the field earlier in the week and also sat out Sunday's game against the Bills, so it remains to be seen what his status will be for Thursday. Jordan has not played since injuring his calf in New England's victory at San Francisco on Oct. 5.