One of the oldest clichés regarding underachieving players involves a change of scenery. With that in mind, the Patriots and the New Orleans Saints decided to exchange one disappointment for another Monday afternoon when wide receiver Bethel Johnson was shipped to the Saints for defensive tackle Johnathan Sullivan.
The trade is pending league approval, which could happen as early as Tuesday. According to Patriots executive director of media relations Stacey James, an official press release will be issued once the deal is approved.
Both players were selected in 2003 – Sullivan in the first round (sixth overall) and Johnson in the second – and neither has lived up to his billing. The Saints actually traded up to get Sullivan, who was a teammate of Richard Seymour at Georgia, but the 6-3, 328-pounder has been ineffective during his three seasons.
The Saints have been upset with his poor conditioning in the past, and during their recently completed mini-camp he struggled with the heat despite being 20 pounds lighter than previous offseasons. In 2004, he was inactive for seven of New Orleans' final eight games despite being healthy. In 36 career games, Sullivan managed just 1.5 sacks and 77 tackles.
The seven-year deal Sullivan signed as a rookie that ran through 2009 with salaries of roughly $689,000 for 2006, $901,000 in 2007, $1.24 million in 2008 and $1.45 million in 2009. According to ESPN.com the final two years of the rookie deal were voided. Also, several of the other trades the Patriots have made in recent seasons have involved renegotiations, which could alter some of those dollar amounts.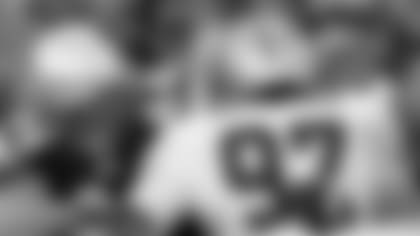 Johnson, the Patriots second-round pick in 2003, came into the league with worlds of talent but never put it together in New England. He burst on the scene as a dynamic kick returner as a rookie, leading the AFC with a 28.2-yard average that included a 92-yard touchdown and several other big returns.
But he never cracked the receiving rotation during his three years. His world-class speed evidently couldn't overcome his lack of polish as a route-runner and his seeming unwillingness to adapt to the different receiver spots. He was a healthy scratch three times last year and once in 2004.
In his three seasons, Johnson had just 30 catches for 450 yards and four touchdowns, but 16 of those receptions came in his rookie season. Johnson spoke recently about his inability to establish himself in Bill Belichick's offense.
"It probably has to be that way," Johnson said recently when asked if the end of his time here could be near. "It probably had to be that way, I don't know. I don't know if that will be the case, but I don't know. That's the thing in this business, you never know."