Adalius Thomas talks with the media.


With temperatures in the mid-90s and humidity at a high percentage, it was tough to get comfortable outside here in New England on Sunday.
But for Adalius Thomas, a native Alabaman who played college ball in Mississippi, he felt right at home.
"It's good to be out here enjoying this nice weather today," he told reporters with a smile, as he looked up at the bright, mid-afternoon sun following the Patriots' third and final practice of minicamp.
Entering his second season with the Patriots, the 6-2, 270-pound linebacker is also much more comfortable in New England's complex defensive scheme, in which he played both inside and out a year ago.
"It's good to have a year under your hat," he observed, though, ironically, he was wearing a visor when he said it. "Everything's a little bit easier. A year in the same system always makes you more comfortable."
Expected to be a force at outside linebacker when he signed as a free agent last offseason, Thomas spent much of the '07 season at inside linebacker, where the coaches felt there happened to be a more urgent need for his services. But as the season progressed and outside rusher Rosevelt Colvin was lost to an injury, Thomas began to see more time on the edge.
In fact, he may have had his most productive game as a Patriot in Super Bowl XLII, when he lined up mostly on the outside. In the title game, he had five tackles (all solo) and two sacks, showing the type of game-altering play that was expected of him when he came over from Baltimore.
While his stats may not have always indicated it, watching Thomas week in and week out, it became apparent that he was becoming more and more of a leader for the Patriots, both on the field and in the locker room. He was the player, for instance, who spearheaded the production of the "Humble Pie" t-shirts that became the mantra of the 2007 Patriots.
Yet, Thomas admitted that even as a leader, he prefers the humble approach.
"This team is full of leaders. And everybody leads in different ways," he noted. "I'm not here to say, 'I'm a leader, look at me' or anything like that. I'm not a 'rah, rah' guy who gets the team hyped. I'm just here to do my job and get better each and every day. I think that's the best thing you can do as a leader, is go out there and work hard and lead by example."
One of the best ways to do that, Thomas pointed out, is to learn and accept the job you're given by your coaches. Like last year, when he was asked to play inside. Thomas looked at it as an opportunity to help him get better overall as a linebacker.
"Well, you're one spot over, one spot away from the outside 'backer. If you know what the guy on the inside is doing, you know what he's thinking, how he's picking up things. And that helps you with your responsibilities [on the outside]."
With the signing of free agent LB Victor Hobson from the Jets and the drafting of inside 'backer Jerod Mayo this offseason, it appears Thomas may be seeing increased time on the outside as the 2008 season begins. When asked where he's more comfortable, given his experience at both spots, Thomas didn't seem to care one way or the other, provided he's on the field.
"Yeah, as long as I'm in between those lines," he grinned, "I'm comfortable."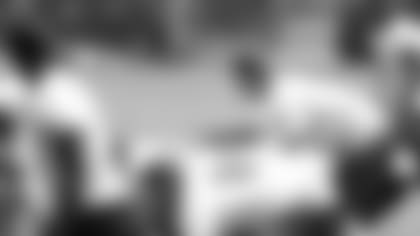 Likely due to the oppressive heat and humidity, the Patriots held a condensed, 45-minute walk-through practice. They even did without their helmets on this scorching hot day.
On one field, the offense simulated plays against a scout-team defense, while on the adjacent field, the defense lined up against a scout-team offense and just moved to their predetermined assignments at the snap.
Eight players were not present for Sunday's session: WR Kelley Washington, CB Ellis Hobbs, G Stephen Neal, OL Oliver Ross, TE Benjamin Watson, LB Bo Ruud, DL Jarvis Green, and DL Mike Wright.