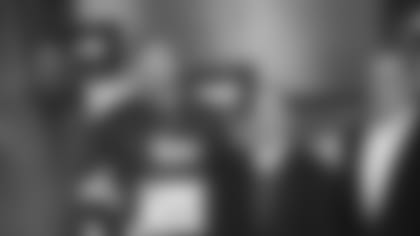 ]()Prior to the game today, Matt Light was presented the President's Volunteer Service Award for his outstanding work in the community. The award was presented by Steve Preston, Secretary of Housing and Urban Development. Tony Fratto, the White House Deputy Press Secretary, and Andre Tippett, the Patriots Executive Director of Community Affairs, were also on hand for the presentation.
USA Freedom Corps, President Bush's initiative to promote volunteer service among Americans, announced on Tuesday, November 25th that National Football League (NFL) players will be honored with the President's Volunteer Service Award for their remarkable volunteer service, particularly by promoting the importance of fitness and health among youth through the NFL's PLAY 60 campaign. Members of the President's Council on Service and Civic Participation and the President's Council on Physical Fitness and Sports, as well as senior White House staff, presented awards to players from the 12 home teams on Sunday, November 30, and the remaining awards will be presented to players from the remainder of the 32 teams throughout the season.
"These players are not only leaders on the football field, they are also leaders within the communities they serve," said USA Freedom Corps Acting Director Alison Young. "Through the President's Volunteer Service Award, we honor and thank these men for their service to our nation's young people and for representing the best of the American volunteer spirit."