Indianapolis - The wide receiver group is the clear strength of this draft, with a spectrum of options ranging in size, strength and speed, and many will be instant contributors at the next level.
After taking N'Keal Harry in the first round last season, the Patriots seemingly have initial checks in the size and strength boxes for this personnel group and now must build around Harry in a complimentary way with an eye to the future.
The number of potential impact options are overwhelming, in a good way.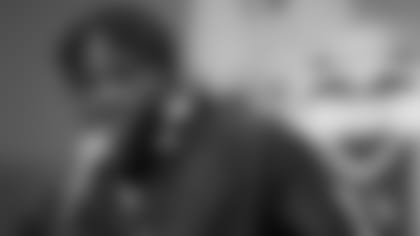 Brandon Aiyuk, Harry's former teammate at Arizona State, is one potential fit as a feisty inside slot receiver with quickness and return ability. What did Aiyuk learn from his former teammate?
"Last year it was just confidence," said Aiyuk. "When you talk to N'Keal he's a really confident person, so that was one of the main things I took from him last year, when he decided to sit out the bowl game and I played in his spot. But the main thing he talked about was confidence.
"N'Keal, he's more of a bigger body receiver. I talked to him last year, and he was saying that one of his things was separation. That's a huge thing I was working on this season, just trying to define my route-running, being fluid in my breaks, getting in and out of them."
There's no question finding receivers who can separate has been a common refrain during this young offseason for the Patriots punditry. Explosive speed options like Henry Ruggs and Jalen Reagor will be tempting if they're available late in the first round.
Reagor thought he would fit in well with New England.
"Absolutely, because I'm very versatile," said Reagor. "So, wherever you would need me on the field, I feel like I can thrive."
Tee Higgins is a long, lean and athletic receiver out of Clemson and had already had an enjoyable meeting with the Pats.
"I like those guys, they're real cool and relaxing, they make me feel comfortable … some coaches can be all intimidating and get you on the books right away, but they just talked to me and got me comfortable," said Higgins.
Laviska Shenault is another dynamic receiver who could be selected in the early 20s and checks a lot of boxes for New England. Shenault played all over the Colorado offense, has Wildcat experience and competes at a high level with physicality.
Who would Shenault compare himself to?
"I can name a couple. Jarvis Landry because of his aggressiveness and his dog mentality. Larry Fitzgerald, he's about business when he's on the field and I'm about business too," said Shenault. "And I'd say Julio Jones, his aggressiveness and his athletic ability to do things is just crazy to me and I think I'm a freak like him."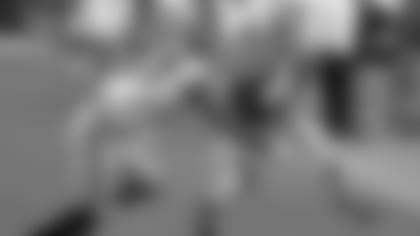 Van Jefferson, son of former Patriot Shawn Jefferson, won't be a first rounder but has the savvy and route skills that could make him an effective pro, perhaps in New England like his dad, if he can handle the weather.
"I don't remember his tenure at the Patriots, I was young," said Jefferson. "But from my mom telling me, it was pretty cold up there."
Whichever direction the Patriots decide to go, there are a number of enticing wide receiver prospects in this year's draft who could provide a spark to the offense.
Additional coverage from Tuesday at the NFL Combine: