INDIANAPOLIS – If the name Thaddeus Moss rings a bell, it should. The LSU tight end is indeed the son of Randy Moss, the former Patriots receiver who lit up the NFL in that magical 2007 regular season that saw both the wideout and Tom Brady set single-season records for touchdowns (23) and touchdown passes (50).
Moss took to the podium inside the Indiana Convention Center as the player interviews got underway at the annual NFL Scouting Combine on Tuesday. Not surprisingly, many of the questions centered on his famous father and he was more than happy to share some memories.
"[My father] has helped me a lot. He's been through a lot and he's seen a lot so it's been great being with him throughout this process," Moss said. "He's given me so much advice. Everything from A-Z.
"It was great being there watching and getting to talk to Coach [Bill] Belichick and with Coach [Robert] Kraft being in the facility. It was pretty cool meeting Tom Brady when I was younger."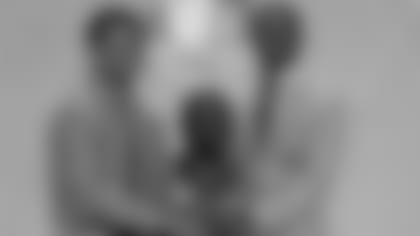 Moss began his college career at North Carolina State before transferring to LSU, where he became a big part of the national champion's offense. He's known as a versatile tight end who isn't afraid to block but also managed to catch 47 passes for 570 yards and four touchdowns in 2019 despite the presence of the Tigers multiple weapons in the passing game.
"Blocking is what I love," Moss added. "That's what LSU is known for. Physicality is in our DNA. You have to put everything into it. That's the biggest thing when it comes to the tight end position. You have to put everything into it. You can have as many receptions as you want … I'll go block."
Still, Moss admitted that he's allowed himself to fantasize about one day following in his father's footsteps by enjoying a stellar career in Foxborough.
"To make it anywhere in the NFL and to catch a touchdown anywhere in the NFL would obviously be a dream come true," Moss said. "But to catch a touchdown pass from Tom Brady would really be a dream."
Additional coverage from Tuesday at the NFL Combine: