Whether it's making game-changing plays with the ball in his hands, sticking like glue to opposing receivers or releasing a studio album, there isn't much that Marcus Jones can't do, on or off a football field. A dynamic returner and sticky coverage corner, Jones should make an instant impact with the Patriots, with the only question being how big of a role he can seize and how quickly he can take it.
An Army brat throughout his early years, Jones' family finally settled in Enterprise, Alabama where Marcus was a three-sport star, making contributions as a receiver, returner and cornerback on the football team. He made First Team All-State as a senior before heading off to Troy for his first two seasons of college football, where he made his presence felt immediately, being named SBC Freshman of the Year then making First-Team All-SBC as a sophomore, while leading the team in passes defensed and returning his fourth kickoff for a touchdown in two seasons.
With two successful seasons under his belt, Jones chose to transfer and make the jump to Coach Dana Holgorsen's program at Houston, sitting out the 2019 season and then re-emerging as the stud playmaker that he was at Troy.
"Marcus came in as a great player and only got better," Coach Holgorsen told Patriots.com. "He is one of the most naturally gifted football players I have ever coached. What you really saw this year was his ability to make game-changing plays. It what great players do. As a person, he is a guy that has always had a lot on his plate and he seems to like it that way. Whether it is football, music, school, being a dad, he seems to be able to do all of them a very high level."
Jones received numerous awards in his two seasons at Houston, capped off by being a consensus All-American as a senior and winning the Paul Hornung award as the most versatile player in college football. It was enough to entice the Patriots to select Jones in third round of the NFL Draft.
With noticeable needs at cornerback and returner, it's easy to see how Jones might fit in in New England.
"I think the first day he walks on the field he is a Top-10 returner in the league," said Holgorsen. "Return TDs are down in the NFL across the league but he has a chance to make a huge difference. As a defensive back, he is the best man to man cover guy I have coached as a head coach. He sticks to people like fly paper. It would not shock me to see him starting or being the first sub in during nickel."
Having led his high school as a senior with 31 catches for 536 yards and 10 touchdowns, Jones might even be able to contribute on offense, something Holgorsen experimented with at Houston that only adds to Jones' impressive versatility.
"We also used him on offense a little bit this year and Coach Belichick has used guys in that fashion in the past and I am sure Marcus is capable of doing that as well," said Holgorsen.
Despite a lack of height, no one questions Jones' ability to play football, with Holgorsen calling him a "natural" who just needs to get out there and play. Aside from his explosiveness, his unique ability to stick with agile receivers will be an in-demand skillset given the Patriots swath of opposing weapons on the schedule.
"Playing in the NFL, especially early, is hard for anybody and Marcus is no different in that regard," said Holgorsen. "He is not the biggest guy on the team but I have no doubt he will find a way to make an impact early on."
Patriots Draft Pick Profile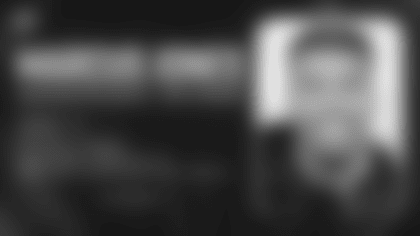 Strengths: Dynamic quickness and change of direction ability... ideal fit inside the slot... former wide receiver with ball skills that translate (10 career interceptions)... plays bigger than size... brings some pop as a tackler... comes downhill hard in run support... has experience in both man and zone coverage... excellent mirror ability in man... flips hips with ease... nine career return touchdowns (six kickoff returns, three punt returns)... Instant acceleration to stress would-be tacklers in space... game-changing return ability with problematic speed and quickness.
Weaknesses: Undersized and likely will be limited to slot duties on defense... lack of height can hurt him downfield against bigger receivers... weight brings some durability concerns in the NFL... required surgery on both shoulders this offseason... three pass interference penalties in 2021.
Personal: 2021 Paul Hornung award winner (most versatile player in college football) ... Averaged 28.8 yards per kickoff return and 13.5 yards per punt return in his career... Two-time First Team All-American and First-Team All-AAC... AAC Special Teams Player of the Year... Freshman All-American at Troy... First team All-SBC as a Sophomore... First-Team All-State at Enterprise High School as a senior, leading them to an 11-2 record.
Comparable NFL player: Dante Hall (returner), Jonathan Jones (cornerback) – Jones has the kind of electric return ability that Hall flashed in the NFL, while he projects as an undersized but gritty defensive back like his new teammate Jonathan Jones.
Table inside Article

| YEAR | TEAM | GP | UA | A | TOTAL | SACKS | YDS | PD | FF | FR | INT | YDS |
| --- | --- | --- | --- | --- | --- | --- | --- | --- | --- | --- | --- | --- |
| 2017 | Troy | 13 | | 15 | 34 | 0.0 | 0.0 | 6 | 0 | 0 | 2 | 110 |
| 2018 | Troy | 11 | | 10 | 24 | 0.0 | 0.0 | 9 | 0 | 1 | 2 | 0 |
| 2019 | Houston | Redshirt | | | | | | | | | | |
| 2020 | Houston | 7 | | 6 | 18 | 0.0 | 0.0 | 4 | 0 | 0 | 1 | 22 |
| 2021 | Houston | 13 | | 11 | 37 | 0.0 | 0.0 | 13 | 1 | 0 | 5 | 2 |
| TOTAL | | 44 | 113 | 42 | 113 | 0.0 | 0.0 | 32 | 1 | 1 | 10 | 134 |
Table inside Article

| PLAYER WORKOUT NUMBERS | 2022 COMBINE AVG. FOR POS. |
| --- | --- |
| Height: 5-8 | 6-0.5 |
| Weight: 174 | 195 |
| 40 yards: N/A | 4.47 |
| Bench (225): N/A | 17.7 |
| Vertical jump: N/A | 36.03 |
| Long jump: N/A | 125 |
| Shuttle: N/A | N/A |
| 3-Cone: N/A | N/A |
Jones was recovering from surgery on both shoulders and did not doing any workouts or testing during the predraft process.
Lance Zierlein/NFL.com: Projects as a twitchy, undersized slot cornerback with playmaking traits and game-changing return talent. Jones has the hips and feet to cover slippery slot receivers and the ballhawking instincts to make plays from zone. Jones' lack of size will hurt him with some teams while others will elevate his grade thanks to his electric ability on special teams. There could be teams that look to give him reps at receiver, where he would have more big-play opportunities.
Dane Brugler/The Athletic: Overall, Jones is small on paper but big on tape with sticky cover athleticism, physical compete skills, and excellent on-ball production. He is a tailor-made slot cornerback in the NFL with playmaking ability as a return man.