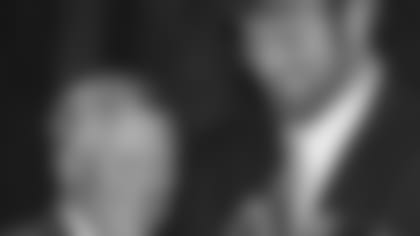 ]()FOXBOROUGH, Mass. - Offensive lineman Matt Light received the 2005 New England Patriots Ron Burton Community Service Award this evening at the team's annual Kickoff Gala. Patriots Chairman and CEO Robert Kraft presented Light with the award, which is named in honor of Ron Burton, the first player to be drafted in the franchise's history. Burton was known for his widespread charitable work throughout New England.
Light, 27, has made a positive impact both on the field and in the New England community since he was drafted by the Patriots in 2001. During his rookie season, he established the Matt Light Foundation, which received its tax-exempt status as a registered 501(3)c charitable organization in 2003. Through the Light Foundation, Light has donated thousands of dollars to programs both in New England and in his hometown of Greenville, Ohio. On Aug. 18, Light flew four teenagers from Ohio to Massachusetts to participate in the Light Foundation's Patriots Game Experience against the New Orleans Saints. The kids, selected based on their academic achievement and personal community service, were able to take in pre-game warm-ups from the sidelines, and then ate dinner with Light after the game. The Light Foundation has also sponsored college scholarships, football camps in both Ohio and Massachusetts and many other community outreach efforts.
"Matt has always demonstrated an outstanding commitment to our New England community," said Rena Clark, the vice president of community affairs and corporate philanthropy for the Patriots. "Through his own personal foundation and his participation in team-sponsored community events, he serves as a wonderful example to his fellow teammates and Patriots fans everywhere as he shows the importance of giving back to our shared community."
Light, who also contributes to the Boston community through personal appearances at local schools and hospitals, is the third Patriot presented with the Ron Burton Award, joining past honorees Joe Andruzzi (2003) and Troy Brown (2004).