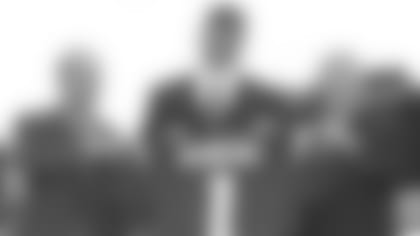 ]()Sharply dressed in the first suit he's ever owned, Patriots first-round draft pick Logan Mankins made his Gillette Stadium debut Thursday afternoon. Patriots Owner Robert Kraft and Vice Chairman Jonathan Kraft presented the Fresno State offensive lineman, selected with the 32nd pick in last Saturday's draft, a home Patriots jersey bearing his name and the No. 1, significant of his draft status.
"This is our 12th season having the privilege of having a photo opportunity with our number one draft choice," the senior Kraft said. "What is unique about this year and special to us is that we are happy to have Logan Mankins coming from the other coast to this coast and understanding how important this job is to him. This is his first suit and tie. Our western cowboy has come and he looks like an East coast investment banker and we're happy to have him here."
The 6-4, 307-pound Mankins is in fact a true cowboy. He's got the obligatory gear – boots, hat, and beat up pickup truck (an '87 Ford with 218,000 miles that apparently won't make the trip to Foxborough). Growing up on his parents' 10,000-acre ranch in Catheys Valley, Calif. (population 984), a career in the NFL with the defending Super Bowl champions wasn't even a consideration for a guy who at age 15 became the youngest roping champion ever at the Mariposa (Calif.) County Fair.
But a scholarship to Fresno State, one of only two schools that recruited the then 240-pound Mariposa High standout, and a highly successful college career that included starting every game he ever played in (although he missed the entire 2003 season with a torn ACL in his left knee) led Mankins down the road to the NFL and eventually to Thursday's official unveiling as a New England Patriot.
So what does the cowboy from the West coast know about the football team from New England, a region of the country he's never visited?
"Just that they are a great team," Mankins said wearing the new suit he picked up at Men's Wearhouse for "a few hundred" before flying cross-country. "They're winning every year and I want to be a part of that too. I will try to help them the best I can.
"I am just looking forward to everything. It's a brand new experience for me and I can't wait to experience it."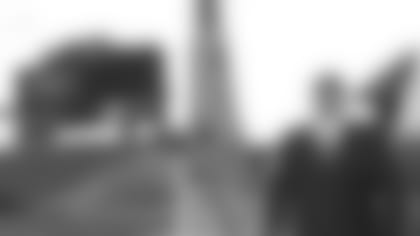 ]()Mankins, the first offensive lineman the Patriots have drafted in the first round since the selection of Damien Woody in 1999, is excited to work with New England offensive line coach Dante Scarnecchia, a man who has turned a number of practice squad-type and low draft picks into Super Bowl starters in recent seasons.
"I'm very excited," Mankins said. "All I can do is improve. If I go the other way, it's my fault."
Mankins has the benefit of coming from a football program that has a many similarities with the system in New England as Fresno State Head Coach Pat Hill worked on Bill Belichick's staff with the Cleveland Browns. Hill has given Mankins the heads up as to what to expect in New England.
"He said, 'Just go out there and be yourself. Be a humble person like you are and practices are run a lot like ours so you should fit into that. The system won't be too much different, just a lot of different terminology.'"
And either way, don't expect this cowboy to be too intimidate by what can be an overwhelming stage in a young players career.
"I don't get intimidated too easily, so it's fine," Mankins said with a smirk.
Beyond getting intimidated, the confident rookie says the word nasty that is so often used to describe him is an accurate one.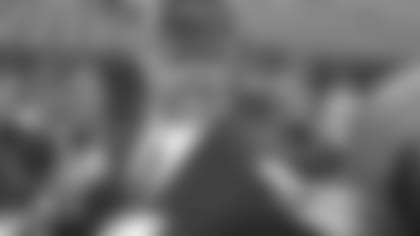 ]()"I guess that's a good worked to use. Everyone seems to like to use that one," Mankins said before going on to admit he's been known to step on opponents on the field. "That's just how I play the game. That's the only way I've ever played it and that's how I'm going to continue to play."
Belichick, Scarnecchia and the rest of the New England staff will get a taste of their nasty new offensive linemen over the next four days at Gillette during the team's rookie mini camp. Similarly, Mankins and the rest of the 2005 rookie class will begin their indoctrination into professional football.
And after today, Mankins can put away his new suit.