Few college centers get to hear their names called in the annual NFL draft. Even fewer centers with as little experience as Patriots sixth-round selection Ted Larsen receive the honor.
But after just two seasons as the centerpiece of the offensive line for Tom O'Brien's North Carolina State squad, the ascending talent and former defensive tackle joins Dante Scarnecchia's crew of lunch pail linemen in New England.
"I think he's shown that he can play the position at a very high level of competition there in the ACC," Bill Belichick said shortly after [
]()selecting Larsen. "He played for Coach O'Brien, who has developed a lot of offensive linemen pretty much wherever he's been, including guys that we've taken from [Boston College]. I think that he's shown that he can play at that level. He played in the Senior Bowl against other good players there."
Interestingly, the technically raw but driven Larsen may undergo another position change as he embarks on his pro career. Opposite to what 2009 draft pick Rich Ohrnberger went through last summer switching from guard to center in New England, Larsen's versatility may be tested again as he moves one slot out on the line.
"He has some position flexibility, but he hasn't played a lot of guard, but that's certainly a position where we'll work him at," Belichick continued." He's kind of the reverse of Ohrnberger. Rich was kind of a guard that we worked at center. Ted's more of a center that we will work at guard, so ultimately, hopefully, those guys will be able to play all three positions to some degree. I mean, we'll see how that goes, but that will be the expectation that we at least try there and see what happens."
Given how quickly Larsen took to things moving from the defensive line to offense, the work at guard wouldn't seem to be a huge hurdle. Larsen was a top Florida prospect as a star high school defensive tackle, and saw significant playing time at the spot in his first two seasons for the Wolfpack. He had four sacks in 23 games over his first two seasons, including five starts. But when there was a need on the opposite side of the trenches, Larsen was very much willing, and as it turned out very much able, to help out.
"I'm very glad I did it because it got me drafted. They approached me to look at the position change a few years ago, my junior year. We needed some offensive linemen and they thought I could help them out and I moved over," Larsen recalled.
He took to the new role so well that he was actually on the watch list entering 2008 for the Remington Award given annually to the nation's top center. He concluded that first season as center by winning North Carolina State's Jim Richter Award, given to the team's top offensive lineman.
Though Larsen was the one putting in the work and making the plays during the position switch, he praised his coaches for their role in the process.
"The coaching staff was great. They pretty much taught me the position and I'm trying to be a student of the game and watch as many guys as I can watch and try to be a better player," Larsen said. "Playing a new position was something that I had never had to [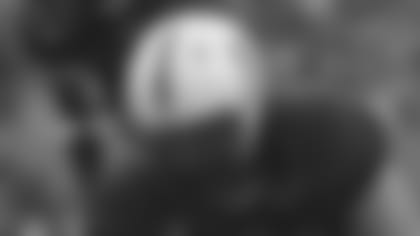 ]()do, so I approached it with a lot of enthusiasm and enjoyed doing it."
Now he'll take the same open-minded approach in New England, where he could back up another former O'Brien protégé in Dan Koppen or any one of the Patriots interior linemen.
"That's something that anywhere you go is probably going to be the case," the late-round pick said of learning guard in an effort to be a multi-position backup. "I'm just trying to make myself as versatile as possible so I can help the team as much as I may be needed."
Based on the effort, football intellect and desire that Larsen displayed transforming himself from successful defensive tackle to a trusted center who made all his team's line calls, Larsen's future in Scarnecchia's offensive line development program in New England would seem to be a stable one.
"I try to be a student of the game and that stuff is interesting. I still feel like I have a lot to learn, but I feel like that is a strength," Larsen said of his football IQ. "I'm excited to be able to have the opportunity to work with an organization like this."
An oppournity few centers ever get. Even fewer who begin their college careers as defensive tackles. But if Scarnecchia can turn a raw wrestler like Steven Neal into a starting guard, his chances with an already partially polished former defensive tackle should be even greater.
"I'm excited to work at it," Larsen said.
And that will be music to his new coach's ears.
This story first appeared in the May issue of Patriots Football Weekly.