Around 9 a.m. Saturday morning, April 24 — the third and final day of the 2010 NFL draft — Tony Gibson was heading to his office on the University of Michigan campus. As the Wolverines Assistant Head Coach/Defensive Backs Coach/Special Teams Coordinator approached the doors of the facility, out came punter Zoltan Mesko. Coach and player stopped to chat.
When Gibson inquired what Mesko was doing there so early on a weekend — draft weekend, no less — the top-ranked punter in this year's draft class said he'd just finished a workout and was headed back home to wait by the phone.
"You haven't been drafted yet?" Gibson asked.
"No, not yet," Mesko replied, "but I'm hoping to hear something this morning."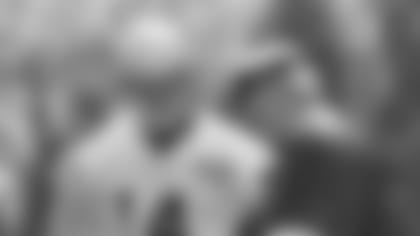 ]()Mesko's patience and hard work apparently paid off. Shortly after their brief exchange, Mesko's phone rang, a 508 area code on the other end. It was the Patriots, welcoming him as their fifth-round draft choice.
"That's the thing about Zoltan," Gibson remarked two days later. "While other guys on our squad were having draft parties and celebrating and hanging out, he was in the weight room working out and running. That's just the kind of kid he is."
Dedicated as he is to football, Mesko is equally committed to his academics. He's had to be, in order to make it this far. Mesko — whose name and lineage are Hungarian — was born in Romania, as were both his parents, who wanted their son to live the American dream. At age 11, Mesko and his family received green cards and moved to the United States. As a result, he is fluent in Romanian, Hungarian and German (though you wouldn't know it by hearing him speak English ... he hasn't even the slightest trace of an Eastern European accent).
Throughout that life-changing experience, Mesko stood out among his peers — not only with his gregarious personality but also by his sheer presence. Even at the NFL level, it is rare to find a punter who's built like a linebacker. He has used both to his advantage, even when, at times, he didn't realize he was doing so.
A four-year performer both in high school and college, Mesko has always been an accomplished player who didn't act like one. Leading by example, he would go about his business, putting in the necessary work on and off the field each season. In so doing, as a senior at Michigan, he earned the utmost respect from his teammates, who elected him a co-captain — the first time in Wolverines history that a special teams player was so honored.
"He's a great person, great leader, very intelligent kid," Gibson continued. "He was a great example on and off the field, did a lot in the community, for the local children's hospital, academic All-America ... As far as character, the stuff going on with the scrutiny of players in the NFL, this guy is what you want. You couldn't ask for a better role model for young kids.
"His work ethic is unbelievable," added Gibson. "He lifts weights and gets after it like a linebacker or tight end. You wouldn't know he was a punter seeing him in the weight room."
Gibson was part of head coach Rich Rodriguez's staff at West Virginia when they heavily recruited Mesko, then a blue-chip prep prospect from Ohio. Mesko chose Ann Arbor over Morgantown, but in retrospect, that was a blessing for Gibson and Rodriguez, who wound up with the player they coveted all along when they took over at Michigan in 2008.
Knowing what they had in the 6-4, 240-pound punter, the new Michigan coaches quickly found various ways to use him. Mesko served as the holder on field goals and extra points which allowed the Wolverines to present the threat of a fake on every attempt — [
]()something that's not always an option with smaller players. Mesko's athleticism allowed him to execute a pair of successful running fakes at Michigan, and Gibson contends that he also has a good enough arm to throw the ball.
What about tackling ability?
"He can hurt some people if he hits them clean," Gibson laughed.
But more often than not, Mesko will be kicking the football if he wins the Patriots punting job. And with eight years of experience under his belt already, he certainly has a great head start. One area where he may need to improve, according to Gibson, is in situational (i.e., short field, directional) punting, which the Patriots stress in their coverage unit.
"I would agree. Because of our scheme and what we did, we were in a spread punt and not a tight punt formation like the NFL uses," Gibson explained. "He was in that before we got here, but I think he's going to need to get back to that and get his steps right. We would try to directional kick, but he struggled with it at times. We would ask him to roll to his left, rugby-style or Aussie-style, and kick the ball."
Coincidentally, Mesko is a left-footed punter, like so many of his Patriots predecessors (e.g., Ken Walter, Josh Miller, Chris Hanson), but may have the strongest leg of them all. Once he gets to Foxborough, though, he'll likely be spending plenty of time with special teams coach Scott O'Brien on perfecting the art of placing the ball inside the 20-, 10- and 5-yard lines and avoiding the dreaded touchback.
It'll take a lot of hard work, for sure. But Mesko's already shown that he's OK with that.
This story first appeared in the May issue of Patriots Football Weekly.