It was perhaps the most humorous moment of mini camp.
While rookies ran plays on one practice field, veterans ran sprints on the other. It's customary at the end of a Patriots mini camp practice, but this time, head coach Bill Belichick seemed to be riding the offensive line particularly hard.
About half way through, in a show of solidarity, the linemen held hands with the guy next to them as they ran. In their extra-large white uniforms, they looked like an oversized paper cutout lumbering across the field.
Several players, and more than a few reporters, got a chuckle out of the sight.
]()Asked after Thursday's practice about the apparent extra conditioning, Belichick responded, "Well, it's that time of year, yeah."
The time of year when making progress is about as much as any NFL coach could expect from his team. And it sounds as if Belichick's expectations have been met.
"It's not perfect but it's better than it was," was how he assessed his team's performance in this week's mini camp.
"We've done, not all we can do, but we've done a lot, and we're a lot further ahead than we were three weeks ago when we came off the offseason program," he continued. "We've got a lot of our system installed, we're working a lot of players, a lot of different combinations…obviously we've got a long way to go."
But he warned against reading too much into what takes place on the field at this time of year.
"It's not so much an evaluation camp as it is a teaching camp and trying to get everybody to understand not only what they're doing but the overall concept of the play.
"We put in new stuff every day, then we come out and run it, and we correct it the next day, and run it the next day and see if we can improve on it and get it right. Based on that, I'd say we made progress."
Mini camp is now over, but the offseason program will continue for many players for a couple of more weeks.
"This is still an important time coming up between now and training camp," Belichick observed, "for the players to train, be in top condition, and work on some of the things that we've gone over in the past three weeks."
Mini camp consists of non-contact drills, so players wear helmets only during these practices. But that will change the next time they set foot on the field with their teammates. That's why Belichick is so concerned about how well-conditioned all his players, not just his o-line, are now and will be next month.
"There's a difference between coming out here and running in mini camp, and running in pads on a competitive level in training camp. So, we'll see what happens when we come to that point."
Training camp begins Friday, July 27 at 8:45 a.m. sharp.
· Safety James Sanders made his first mini camp appearance on the practice field Thursday. He was the only notable missing player who returned to action, though his involvement in the workout was limited.
· Defensive lineman Richard Seymour, cornerback Asante Samuel, safety Brandon Meriweather, wide receiver Chad Jackson, and tight end David Thomas did not participate in any mini camp practices this week.
· One new player joined the squad Thursday. C.J. Jones, a wide receiver from the University of Iowa, wore number 2 and appeared to take part in all activities.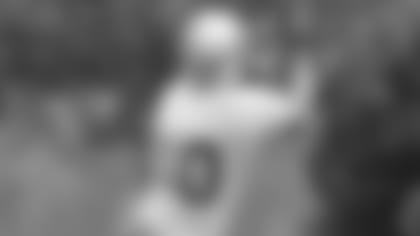 ]()· For the second day in a row, wide receiver Jabar Gaffney broke away from the secondary coverage and caught a long touchdown pass from Tom Brady.
· Randy Moss makes even the tough passes look easy to catch. At one point in 7-on-7 work, cornerback Chad Scott looked like he was in position to intercept an out pass along the sideline. But Moss used his long reach and good hands to steal it from him.
· Ellis Hobbs picked off a Tom Brady pass, intended for Reche Caldwell, during the 7-on-7 period.
· Linebacker Junior Seau made a nice defensive play in the end zone at one point, tipping away a sure touchdown pass.
· Second-year tight end Garrett Mills made yet another impressive TD catch during full squad scrimmaging. He's had at least one such catch every day this week.
· Caldwell usually has good hands, but he showed he also has a good arm. During quarterback drills, Caldwell jumped in an lofted a nice, spiraling throw 40 yards downfield.
· After an up-and-down Wednesday practice, punter Josh Miller looked like his old self again. Most of his punts were the classic high, arching, tight spirals that traveled at least 50 yards.
· Stephen Gostkowski looked strong on kickoffs, sending many of them about 70 yards. The Patriots worked for a while on kickoff coverage at the beginning of practice.
· Gostkowski made nearly every field goal he attempted when working with just his snapper and holder. In team field goal work, he missed only one. Miller and backup quarterback Matt Cassel have alternated as Gostkowski's holder in practice this week.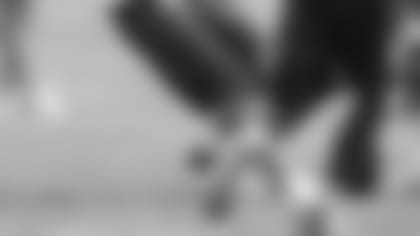 ]()· When Gostkowski was finished, the coaches replaced him with wide receiver Wes Welker, who was 1-for-2 from about 30 yards out. "It was impressive," Gostkowski commented afterwards. "I doubt he's kicked in a while." A few seasons ago, Welker made a field goal and kicked extra points versus New England when he played for Miami. Gostkowski then lobbied to trade places with Welker. "Maybe next time, I can line up and get a catch from Tom as a receiver," he told reporters.
· What's with these former Heisman Trophy-winning quarterbacks and drop-kicks? After practice, the Pats four QBs tried making some drop-kick field goals. The one who split the uprights: Vinny Testaverde, reminiscent of Doug Flutie's famous boot two years ago.