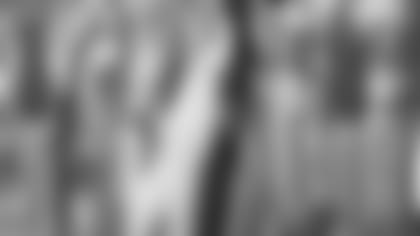 ]()
            *Former Brown University running back **Michael Malan** is playing in NFL Europe with the Scottish Claymores this spring. Today's is the ninth in a weekly series of first-person accounts from the allocated Patriots fullback as he pursues his NFL dreams while living in a hotel in a foreign land. This week the Claymores dominated the Barcelona Dragons 45-7. Malan caught one pass for 17 yards while starting his ninth game at fullback. The Claymores now have a 5-4 record and maintain hopes of making it to World Bowl XI, the culmination of the NFLE season on June 14.*  

It was a good feeling to get the win two weeks ago against Amsterdam to put us at .500, but it was also great to get into the end zone. That is something that hadn't happened for me up to that point, but I was fortunate enough to have it happen twice in one game. That was a great feeling. For me it was great, it was my first professional touchdown so that pretty much says it all. It was just a good feeling.
This past week was just really special to be a part of. We had everyone contributing on offense and we pretty much dominated so the fact that I only touched the ball once was fine by me. It was just good to be a part of that and to see everyone on the team play well. I think it has all been coming together in this winning streak of three games that we have going. Everything seems to be going well offensively, defensively and on special teams.
I think that this team feels like it's playing the best that it has played all season and possibly the best of any other team in the league right now. So I think some of the other teams out there would be pretty scared to face us at this point. The coaches have pointed out and told us that it is not really how you start the season in this league, it is how you finish. The success that Berlin was able to have over the last two World Bowl seasons that they have had, they ended up winning the last four games in both those seasons and went on to win the World Bowls. So they found themselves in a tough hole, just as we did this year. We have been able to dig ourselves out of it so far and finally have a winning record for the first time since the first week of the season. If you asked everyone on this team I am sure they would all say that we are the best team in the league at this point in time. We do need either Frankfurt to win or Barcelona to win for us to have a chance to go to the World Bowl, but every team that is remaining in the second-place slot needs to win and have something go its way in one of the other games. So it is kind of a different situation right now where no team controls its own destiny. Hopefully we will win and things will go our way. We play on Sunday so we will get a chance to watch the other games this weekend and then we will know going into the Amsterdam game if we even have a shot of going to the World Bowl.
The mood on the team is great right now. It was great to head down to Barcelona and I was noticing how everyone on the team was happy as can be to be in Barcelona and be on the beach. We had a few hours on the beach and I think it was great for this team. Then we came out the next day and took care of business on the field. Right now things are going great for this team. Hopefully that will continue and hopefully our luck will continue with the other games and you will see us in the World Bowl.
Sometimes the stadiums are a little bit empty for our games, but I think the fans here in Scotland are fanatical. We've got tons of fan web sites and there is actually a fan draft where all of these different fan clubs get to pick a player to sponsor throughout the year. So the fan support here in Scotland is just great. I feel like they are diehard fans that just want to see as much football as they can. I know some of the Scottish fans travel to the U.S. every year to catch a few games and travel to as many NFL Europe games as they can and see all the Claymores games, but also some of the other games that are on the days before. They are definitely hungry to see as many football games as they can here.
Some of the facilities over here are amazing also. We play at a very nice stadium in Scotland. I think it is Scotland's national stadium, so all of the country's national soccer games are played there and they've got top line facilities here. Some of the other stadiums a top notch as well. Rhein for example was just recently built and is a very nice stadium. The Olympic stadium in Berlin is undergoing construction to refurbish it and so is Frankfurt. So I think the stadiums over here are very nice.
Personally I think I am in good shape to compete for an NFL job. I am playing pretty good football right now. As far as when the ball is in my hands I think I am playing as well as I have all season at this point. I did a lot with the only touch I had this past weekend, but everything seems to be going well in that sense. I also had some blocks in this last game that I was really happy about. So I'll just have to keep it going and we'll see how my skills compare at the next level. I have also been able to stay pretty injury free. But at the same time I know it is going to be a big strain on my body to just get a few weeks off and then go straight into another camp. But there is nothing you can do about that