With a five-hour flight from San Diego back to Foxboro on Sunday night, cornerback Deltha O'Nealhad plenty of time to think about his performance earlier that afternoon against the Chargers, which may have been a blessing in disguise.
"I feel embarrassed. I feel down," said O'Neal, who declined to speak in the aftermath of Sunday's 30-20 loss in which he got beat early and often in pass coverage. "I feel like there were things I could've done that could've changed the outcome of the game, but I'm my own worst critic, so I sat there and thought about it these past couple of days and on the flight home.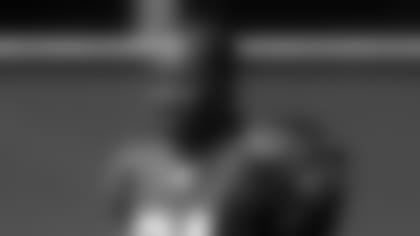 ]()"I'm over it now. It's just one game."
The truth is, O'Neal struggled against the 49ers in Week 5 as well, but most of his problems went unnoticed in the grand scheme of things since the Patriots won the game. Sunday night's gaffes in coverage turned out to be much more critical as the Chargers attacked O'Neal on the opening play and never looked back.
Quarteback Philip Rivers threw for three touchdowns and 306 yards, including a 48-yard bomb on the first play from scrimmage in which wide receiver Vincent Jackson beat O'Neal over the middle of the field and caught the ball in stride.
"They tried to take their shot. I guess it was a good call for them," O'Neal said Wednesday. "As a corner coming in, you would never expect that on the first play. It was a good call on their part.
"I'm just fortunate that I got him down, otherwise he would've scored and that would've really been embarrassing. It was just a good play."
O'Neal even got beat on plays in which he covered well, most notably a 49-yard touchdown catch by Malcolm Floyd in which the veteran cornerback positioned himself properly, but couldn't strip the ball from Floyd's hands on the way down.
"I was in great position to make a play," O'Neal said. "They just came out with the ball and my experience being in the NFL, nine times out of 10 if I'm that close to the ball I'm either picking it or knocking it down. Good job on their part."
O'Neal has been the target of heavy criticism this week for his performance against the Chargers, but he clearly has the support of his teammates, who provided encouraging words on the way home from San Diego.
"I talked to a couple of my corners and they helped me out on the plane," O'Neal said. "They said, 'Don't worry about it. It happens. At least you didn't get blown away. You were right there,' which is true. It happens. [The way] I look at it, they get paid, too. My job is don't make it a reoccurring event. Try to stop that from happening."
As veteran safety Rodney Harrisonpointed out Wednesday, everyone on defense should share the blame for Sunday's meltdown after allowing 404 yards of total offense.
"We all have an opportunity to play better," Harrison said. "Whether you missed a tackle, whether you missed a coverage, something mental – the mental aspect of the game – we all can play better. Obviously, in a loss like that it's disappointing, so it's easy to sit back from a media standpoint or even a team standpoint and try to point fingers. We're sticking together.
"We've been through times before. There's a lot of football left. From week to week, people jump on and off the bandwagon, but it's what the 53 guys in this locker room think."
The Patriots expect to see more opponents take shots down the field in the next two weeks following another poor performance by their secondary in Sunday's loss to the Chargers.
"I would imagine that anytime in this league people have had success with you on certain plays or certain schemes, you're going to see it until you correct it," linebacker Mike Vrabelsaid. "That's how it works."
The Denver Broncos must be licking their chops in anticipation of Monday's game at Gillette Stadium. Led by quarterback Jay Cutler, who is third in the league in passing and on pace to set the team's single-season record for passing yards, the Broncos are ranked No. 1 in the NFL in total offense and are averaging 27.7 points per game.
With the emergence of Cutler and the lack of production of running backs Michael Pittman and Selvin Young, the Broncos have become more pass-oriented than in recent years under head coach Mike Shanahan.
"They have very good skill players and Cutler is throwing the ball well. He is very mobile in the pocket as well," Patriots head coach Bill Belichicksaid. "It's fair to say they are throwing more than they did when we saw them two years ago."
The Patriots activated guard Stephen Nealfrom the physically unable to perform list and tackle Oliver Rossfrom the non-football injury list Wednesday and now have 21 days to make a decision on their future. Any player activated from the PUP of NFI list can be released, added to the 53-man roster or placed on injured reserve any time before or at the end of the 21-day window.
"I'm just excited to get an opportunity to practice today and let the coaches evaluate me to see where I'm at," said Neal, who has been recovering from offseason shoulder surgery following an injury in Super Bowl XLII. "Hopefully, I can do something."
Ross – an 11-year veteran – hasn't played since 2006 after suffering a triceps injury during training camp last August with the Arizona Cardinals. The Patriots signed him in June and placed him on the NFI list to allow him to recuperate in time for the stretch run.
With left tackleMatt Light(knee) and right tackle Nick Kaczur(ankle) missing practice Wednesday, Ross could be on the field sooner than expected.
"I have a lot of experience," Ross said, "but [I'll] just go in and kind of get on the same page with the other guys, whether it's pass blocking, run blocking, helping a guy out with another technique or, you know, something I see different that they don't on the field – just kind of blend in with the guys that are playing now."
Asked to describe the feeling among the players in the locker room after finishing 16-0 last season and currently being 3-2 heading into Week 7, cornerback Ellis Hobbsshot down any and all comparisons to the Patriots' record-setting 2007 season.
"What you saw last year is something few and far between," Hobbs said. "You just don't have seasons like that all the time. It is what it is, but that was '07. For the record, we've got to quit comparing '07 to '08 because you just don't see things like that."
Hobbs mentioned how competitive teams have been on a weekly basis, particularly this past weekend when four games were decided on the final play.
"Look around the league and how much more competitive it is around the league now, where teams are that much more close together where you're seeing all these close games," Hobbs said. "Guys are literally fighting it out on the last play – the last kick – [or] one crucial play within a series. Last year is last year and I'm pretty sure I'm not going to see another one like that in my career."
Even the defending Super Bowl champion New York Giants aren't immune to the increased parity, as evident by Monday's loss to the Cleveland Browns, who entered the week with a 1-3 record.
"Great example, man," Hobbs said. "To sit here and keep trying to compare [seasons], we're spinning our wheels with that one."
In addition to Light and Kaczur, linebacker Eric Alexander(hamstring), defensive end Jarvis Green(ankle), wide receiver Kelley Washington(ankle) and running backs LaMont Jordan (calf) and Laurence Maroney(shoulder) also missed practice Wednesday. … Belichick responded Wednesday to the criticism levied toward New England's pass rush, which has produced only seven sacks in five games. "I think the sack statistic can be a little overrated," he said. "I thought we had good pressure on the quarterback in San Francisco. It's really about pressure and forcing the ball out, on time or early. You always want to get pressure on the quarterback. There's no doubt about that." … The Patriots made another minor transaction Wednesday, re-signing wide receiver Maurice Priceto the practice squad. Price spent Week 4 on the active roster and was released Oct. 11 in favor of running back BenJarvus Green-Ellis.