INDIANAPOLIS – There are no direct flights from Providence to Indianapolis so with a connection through Cleveland, PFW's Andy Hart and I joked as we de-planed our 44-seat Continental Express flight about how we might find a tee-shirt donning the face of new Browns coach Romeo Crennel during our layover. The airport terminal was not exactly buzzing with people, and after scanning the scant food options available, we walked to our connecting gate. But we didn't need the tee-shirt because we ran into the real thing.
There was RAC sitting ready to board our flight from Cleveland to Indy for the NFL's annual scouting combine, the event that in some way signifies the true end to the 2004 season and the start to 2005. He and offensive coordinator Maurice Carthon, who was wearing his 1996 Patriots AFC Championship ring, were set to join virtually every NFL decision maker that descends upon this centrally located Midwestern city each February for a week of scrutinizing the next crop of NFL hopefuls.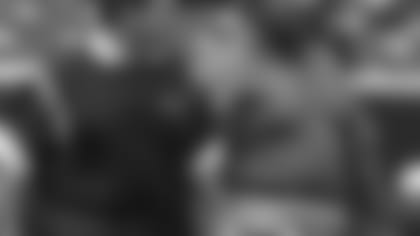 ]()For the next week, you will read about players being "poked" and "prodded", the two most overused words associated with the combine, but the event is much more than that, especially for Crennel and his old boss, Bill Belichick, who have coaching vacancies they will presumably fill before long.
Belichick filled two of his four openings before leaving for Indianapolis, but remains without an offensive coordinator, while Crennel has filled about 75 percent of his staff positions. So while draft preparations garner most of the attention out of Indy this week, Belichick and Crennel could very well dedicate some time over the next few days toward filling remaining holes on their staffs. Belichick is also almost certain to talk to some of the agents that represent his current free agents as well since he holds exclusive negotiating rights with those players until free agency opens Wednesday, March 2. Most of the agents will be in Indy this week to attend an annual meeting and also to hold their rookie-to-be clients' hands through this stressful workout process.
The Patriots filled two coaching vacancies Wednesday, naming Joel Collier the assistant secondary coach and Harold Nash the assistant strength and conditioning coach. Collier coached running backs in Miami for the last seven years and was the assistant running backs coach and wide receivers coach in New England in 1991-1992 under Dick MacPherson. Nash recently completed an 11-year career in the Canadian Football League.
Eric Mangini, who was promoted from defensive backs coach to defensive coordinator will likely retain his duties as the secondary coach with Collier picking up any slack created by Mangini's added responsibilities. Nash will replace Markus Paul, who left New England to take a job as the Jets strength coach.
It was at last year's combine that Belichick interviewed Dean Pees, who he then hired to coach his linebackers. So it's safe to assume he could be talking to prospective staff members this week as well.
But of course, the main purpose of the combine is to scrutinize potential draft picks. All 32 teams will set up an interview room on the ground floor of the Crowne Plaza Hotel where it will conduct 60 pre-scheduled interviews with draft-eligible players who have been invited to Indy for the week's festivities. Most teams already conducted interviews at the Senior Bowl and use the time in Indy to meet a second time or get to know some of the players to which they haven't yet spoken. They also are allowed to bring 20 prospects to Foxborough for visits before the April NFL Draft.
The interviews, which take about 15 minutes, are a huge part of the week, perhaps more so than the actual workouts in the RCA Dome. The results of the workouts are certainly part of a player's big picture, but all teams receive a tape of the workouts as well as the results and running times. So watching a specific player isn't as important as talking to him and examining him medically.
The 333 players arrive in waves and go through the medical portion of the combine upon their arrival. That includes any x-rays or MRIs that need to be taken as well as examinations by team medical officials.
The first wave went through that process Wednesday and will head to the RCA Dome Thursday and that tentatively includes offensive linemen, running backs, kickers and punters. On Friday, the quarterbacks, another group of running backs and wide receivers come through, followed by defensive linemen and tight ends on Saturday and defensive backs and linebackers Sunday.
Running back Maurice Clarett will work out in Indy for the second straight year, but might not draw the attention he did last year after he had successfully challenged the NFL's draft-eligibility rule, a ruling that was eventually overturned by a judge before the draft.
There will also be several New England college players in town for the workouts including Harvard quarterback Ryan Fitzpatrick, Connecticut quarterback Dan Olovsky, Boston College tight end Dave Kashetta, Boston College defensive tackle Tim Bulman, Connecticut defensive end Tyler King (son of former Patriot Steve King), Northeastern linebacker Liam Ezekial and Connecticut linebacker Alfred Fincher.
NotesThe Patriots released cornerback Earthwind Moreland, defensive lineman Buck Rasmussen, guard Wilbert Brown and tight end Zeron Flemister on Wednesday. Moreland played in nine games for New England last year with two starts. Rasmussen spent the season on the practice squad. Brown was placed on the reserve/did not report list when he failed to report for training camp. Flemister ruptured his Achilles during training camp and spent the season on injured reserve. … Patriots strength and conditioning coach Mike Woicik, the owner of a team-high six Super Bowl rings, will be honored Friday by the Professional Football Strength and Conditioning Coaches Society as the recipient of the 2004 Super Bowl Achievement Award and as the Coach of the Year. He is the first two-time winner of the Coach of the Year Award in its 14-year history, having won the award in 1992 as the Dallas Cowboys strength and conditioning coach. … The college prospects will also take the Wonderlic test while at the Combine. Kickers did the best on last year's test with an average score of 29 out of a possible 50 (in 12 minutes). Centers had the second best score average followed by quarterbacks, guards, tackles, inside linebackers, tight ends, fullbacks, punters, running backs, outside linebackers, defensive ends, defensive tackles, wide receivers, safeties and cornerbacks.