The Patriots have been hard at work for about five weeks this spring but Thursday was the first chance for the media to the 2019 version of the team. While the workout was nothing new to many in attendance, this week has been the first taste of OTA sessions for the 19 rookies in attendance – 10 draft picks and nine undrafted free agents.
In addition to the newcomers, fullback Jakob Johnson was in attendance as the Patriots International Pathway player.
But the newcomers weren't the only ones eager to get back on the field. Last year's draft class, a nine-player group that was hit hard by injuries, was present and accounted for on Thursday. Of the group, only Sony Michel was able to make much of a contribution, although seventh-round pick Keion Crossen was active on special teams and as a part-time contributor on defense as well.
Otherwise, it was basically red-shirts all around, and the OTA work has been an opportunity for them to get back in the flow.
"It's been nice to get out there and get to work," linebacker Ja'Whaun Bentley said. "Last year was an opportunity to learn a lot and that's what I tried to do as much as I could. Being back out here is another opportunity to learn and that's the mindset we all have."
Bentley was speaking of the rest of the draft class, which with the exception of Isaiah Wynn was all back in uniform on Thursday as they try to work their way into roles in 2019.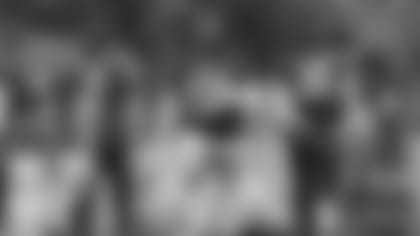 "Even if they were limited during the season, there are things they can do," director of player personnel Nick Caserio said last month after the draft. "So, they're further ahead of where they were relative to last year. Now, let's see how much further ahead they can get.
"They're going to have some opportunities in front of them here. These are the players that the spring is really advantageous for – through a full offseason of training, get on the field, the coaching sessions, OTAs, phase three. So, then you can see over the course of three, four months how much have they [learned] relative to their first season."
As always. OTAs are for the coaches to instruct and get the players up to speed rather than evaluation. So, keep that in mind when perusing the following blogservations.
-In addition to Wynn, there were several prominent players not spotted on the fields, a group that was obviously led by Tom Brady. Michael Bennett, Patrick Chung, Sony Michel, Kyle Van Noy, Austin Seferian-Jenkins, Demaryius Thomas, Deatrich Wise, Nate Ebner, Ryan Allen and Joe Cardona also weren't in attendance. Rookies Yodny Cajuste and Nick Brossette rounded out the list of absentees.
-Earlier this month, offensive line coach Dante Scarnecchia spoke with reporters and explained that Wynn had yet to be cleared for on-field work as he works his way back from the torn Achilles that cost him his rookie season. With Wynn out, Scarnecchia used Joe Thuney at left tackle on Thursday with Brian Schwenke at left guard. The remainder of that group included regulars David Andrews at center, Shaq Mason at right guard and Marcus Cannon at right tackle. Interestingly, Thuney stayed at left tackle while Andrews moved to left guard as Ted Karras rotated at all three interior positions. Cole Croston and Dan Skipper also took some reps at left tackle.
-The sudden retirement of Jared Veldheer earlier in the week likely created some of the moving parts we saw on Thursday. Veldheer is a veteran with plenty of starting experience who seemed a likely candidate to fill a swing tackle role, or perhaps even as a possible starter if Wynn's recovery is further delayed. At least initially, Thuney was working out as a potential solution to the depth problem at left tackle.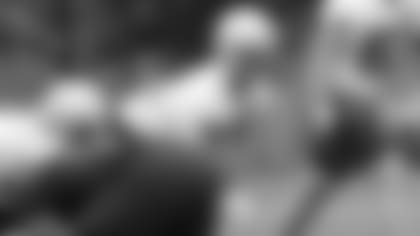 -It was our first chance to watch Joe Judge in his dual role coaching both wide receivers and special teams. He spent time working with both during practice, initially staying on the far field with special teams before moving to the receivers a bit later on during the session's fourth period.
-There were a couple of familiar faces working as coaches in addition to those officially on the staff. Kevin Faulk worked with Ivan Fears and the running backs, taking part in some drills while offering plenty of instruction. Troy Brown also was present and seemed to be working with punt returners throughout the day.
-Speaking of familiar faces on the coaching staff, Jerod Mayo was quite vocal working with inside linebackers. Mayo animatedly barked instructions to Christian Sam at one point, but the general feeling watching was Mayo has a solid presence on the field.
-Most of the coaches and virtually every player donned Bruins hats on the field. The Bruins are obviously gearing up for the Stanley Cup playoffs next week and many players entered the field wearing winter Bruins hats while the coaches had baseball caps. "Obviously, want to wish the Bruins well in their Stanley Cup Final, proud of what they're doing and wish them the very best in this next series," Bill Belichick said. "I know they've played great but this will be a great opportunity for them and we'll be here cheering them on."
-Stephen Gostkowski spent a lot of time with rookie Jake Bailey during the day with both Allen and Cardona not present. Gostkowski worked on holding with Bailey, showing the rookie how he wanted the ball placed. Bailey also did a lot of kicking, both on punts and kickoffs. He showed a strong leg on both but was predictably inconsistent, especially on kickoffs. His hang time on punts, particularly on plus-50 attempts, was quite impressive.
-One of the newcomers who flashed was Matt LaCosse. The veteran tight end appears to move well and looks quite comfortable catching the ball. Again, it's OTAs and looks can deceive but LaCosse could be an under-the-radar candidate to fill a role at tight end.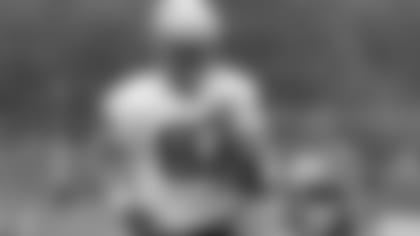 -Brian Belichick spent time working with his brother, safeties coach Steve Belichick, with the defensive backs. Brian Belichick does not have a defined role on the coaching staff but has been listed as a coaching assistant. He also spent time in the draft room last month, leading some to speculate about more of a full-time move into scouting.
-Rookie Jarrett Stidham displayed a strong arm and I felt threw the best ball of the three quarterbacks on the field alongside Brian Hoyer and Danny Etling. Stidham often looked rushed and unsettled on his dropbacks but definitely showed the ability to throw the ball.
-Josh McDaniels donned headsets for a large portion on the workout but none of the defensive coaches was spotted doing the same. Much of that work was done with music blaring from the speakers as the coaches set up a number of situations including clock and red zone.
-Rookie N'Keal Harry definitely came as advertised, showing a huge frame, strong hands and the ability to make catches in traffic. He also caught several punts, using an unorthodox style where he seemed to prefer catching the ball above his shoulders rather than letting it settle into his midsection. He mishandled one such kick but otherwise handled the windy conditions flawlessly.
-Adam Butler and Bentley both came up with interceptions deep in the red zone and each time the defender returned them for touchdowns. Neither was chased over the last 70 yards but both opted to continue all the way to the end zone with Butler's mobility in particular catching me by surprise.
Check out photos of Patriots practicing during OTAs at Gillette Stadium on Thursday, May 23, 2019.