Among the dozen players not on the field for the final Patriots organized team activity (OTA) Thursday was wide receiver Chad Ochocinco, who was reportedly released by the club.
Multiple media reports suggested that he had reported to Gillette Stadium this morning, but left soon thereafter. That, in turn, led to speculation in media circles that he was being shown the door. ESPN's Adam Schefter, late in the afternoon, reported that Ochocinco merely had an eye doctor's appointment, only to reverse himself a short time later and say that the team tried to trade the receiver all day. When no takers were found, the club decided to release him.
At 5 p.m., the organization's front office made it official, announcing Ochocinco's release. Prior to today's session, the club also the signing of veteran tight end Bo Scaife, along with the release of second-year linebacker Markell Carter (a sixth-round pick in 2011), and rookies Nick Melillo, a tight end, and Jon Opperud, an offensive lineman.
Scaife's signing was significant news, as the Patriots are dangerously thin at the moment at the tight end position. Starter Rob Gronkowski remains in a rehab regimen, and Aaron Hernandez was absent from practice today, as was free agent signing Daniel Fells.
Meanwhile, for the first time this spring, we saw guard Logan Mankins and right tackle Sebastian Vollmer. Both linemen took part in rehab drills on the field while the rest of the team was practicing. Also out with the training staff were Gronkowski, special teams captain Matthew Slater, and linebacker Tracy White. And rookie seventh-round pick Jeremy Ebert made his debut in a Patriots helmet (visit the PFW blog for more details from today's OTA session).
After the workout, several players stopped for brief chats with the media, including running back Eric Kettani, in his second tour of duty with New England. The Naval Academy grad had been on the Patriots practice squad last season before being called back to active duty by the Navy. He was stationed in Newport, RI, then Florida, and went to the Caribbean and South America to assist in "drug interdiction operations" and other military maneuvers.
"It was a decision that the Navy made, and I went back and I did my job and I served my country. They asked me something and I did it," Kettani stated matter-of-factly. "It was an order."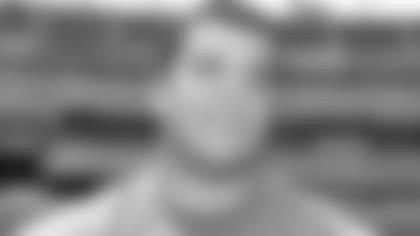 However, he knew he wanted to return to Foxborough, and the Patriots wanted him here. So much so that head coach Bill Belichick helped Kettani by petitioning the Navy to allow that to happen. According to recent media reports, Belichick had to convince the Navy that Kettani had a fighting chance to make a career out of pro football.
Kettani wouldn't discuss the specifics of Belichick's involvement, but did talk about being torn between two loves during his time away from football. He said he went to Annapolis because he wanted to serve his country, but by his junior year, he realized he might be an NFL prospect. While on active duty last year, he did his best to stay in football shape if the opportunity to come back to Foxborough arose.
When he got the call saying he'd be allowed to suit up for the Patriots again, he couldn't contain his excitement.
"It was kind of tough. When you're full-time in the military," he explained, "you don't have time to pick up a playbook and study it as much as I would like to. It's a full-time job when you're in the Navy, working 20 hour days."
Kettani also joked about not having any "Tom Brady's" on his vessel who could throw to him.
"And if I missed [the ball], it would go overboard," he laughed.
"I've always had hope [of returning to the NFL]," he added. "Things have happened to me for a reason, like anybody else in life. I wake up every day blessed. I'm excited. I'm blessed to be here and I thank the Navy for giving me the opportunity."