FOXBOROUGH, Mass. (AP) - With too many injuries and too few receivers, the New England Patriots' season is over two wins shy of a Super Bowl championship.
They may have overachieved with rookies and unproven free agents playing key roles, but they were overmatched when they ran into the best offense in the NFL.
So on Monday, LeGarrette Blount stuffed his belongings into a large trash bag, Joe Vellano left the locker room carrying his helmet with an autographed football inside and other Patriots talked of how players persevered just to get to the AFC championship game for the third straight season.
''I'm proud of this group of guys,'' safety Steve Gregory said. ''We had so much adversity that we overcame. By no means was it a bad season.''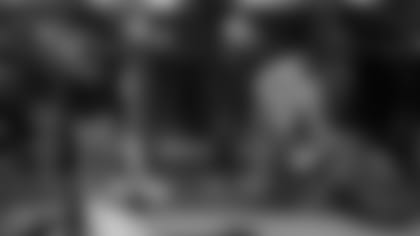 The Patriots (13-5) saved their worst game for the most important one, losing 26-16 to the Denver Broncos on Sunday.
The defense allowed 507 yards, the most in Bill Belichick's 14 seasons as Patriots coach. Tom Brady overthrew open receivers. And they lost another star defender when cornerback Aqib Talib hurt his knee in a collision with wide receiver Wes Welker early in the second quarter and missed the rest of the game.
It was a ''deliberate play by the receiver to take out Aqib,'' Belichick said Monday.
Not so, Denver coach John Fox said.
''Wes Welker's a great player, high integrity,'' he said. ''We were not doing anything with intent.''
Welker would still be with the Patriots if they hadn't let him leave in free agency before the season. Now they face the same decision with other valuable players - Talib, Blount, wide receiver Julian Edelman, center Ryan Wendell and linebacker Brandon Spikes.
''I'm not even thinking about that right now,'' Edelman said. ''I'm thinking about the fellas in this locker room, the coaches, all the hard work we put in and this season.''
Edelman led the Patriots with 105 catches after Welker left, Talib was chosen for the Pro Bowl, Blount rushed for 431 yards and eight touchdowns in the three games before managing just 6 yards on five carries against Denver, Wendell started all 36 games the past two seasons and Spikes was an outstanding run stopper.
The Patriots can ill afford to lose Edelman, their only receiver with more than 54 catches. And they certainly can use a deep threat.
The only player who clearly filled that role in Tom Brady's 14 seasons with the team was Randy Moss, a Patriot for just three full seasons before being traded four games into the 2010 season. Four of their top five receivers from 2012 weren't with the team this season.
The running back group is solid, although Stevan Ridley had fumbling problems and Shane Vereen is primarily a receiver.
The biggest dropoff came at tight end where the Patriots lost the best duo in the NFL - Rob Gronkowski to injuries and Aaron Hernandez to a charge of first-degree murder. He has pleaded not guilty.
In their places, Michael Hoomanawanui and Matthew Mulligan combined for 18 catches in 18 games.
Gronkowski might miss the start of the season for the second straight year after tearing ligaments in his right knee in the 13th game. He had missed the first six games this season while recovering from left forearm and back surgery.
Injuries hit the defense harder with tackles Vince Wilfork and Tommy Kelly and linebacker Jerod Mayo going on season-ending injured reserve in the first half of the season. Spikes joined them there before the first playoff game, a 43-22 win over Indianapolis.
''We should be proud of what we did'' on defense, safety Devin McCourty said. ''We had guys go down at a bunch of key positions for us and guys were thrown into roles that I don't think they prepared for or knew was going to happen (or) expected it. But I felt they stepped up.''
Free agent pickups Chris Jones, Sealver Siliga and Vellano were adequate replacements at tackle. But, in the end, they and their defensive teammates let the Broncos score on six consecutive possessions.
''I wish we just could have gotten off the field,'' Gregory said. ''Peyton was on his game.''
And the Patriots made it nine straight seasons without a Super Bowl championship after winning three in four years.
''A lot of guys that had to play a lot of football this year will be back next year,'' McCourty said. ''Hopefully, they learn from it and we will be a better team next year.''
Meanwhile, Belichick will get over his disappointment and spend much of the offseason planning for that.
''I'll be OK,'' he said. ''I'll take all my frustrations out at Pebble Beach, see if I can hit the ball over the water instead of into it for a change.''