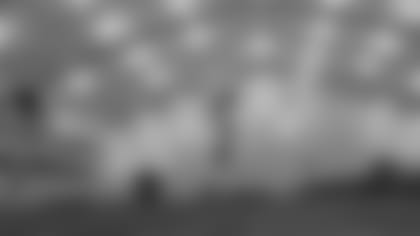 When the Dana Farber Field House doors opened at 10:00 a.m. on Saturday, April 5th, a line stretched from end zone to end zone, with 200 hopefuls. Anticipation, excitement and nerves consumed the atmosphere, as the ladies waited their turn to register to audition. They were all there for the same purpose; for a coveted position on the 28-member, 2014 Patriots Cheerleading squad. As the press interviews concluded and media cleared, auditions were underway.
Led by current captain, Stephanie S., the determined group took to the field and began to stretch. Over the course of the day, candidates were taught three choreographed dance routines and three rounds of eliminations were made. The candidates were also given the opportunity to perform a freestyle piece for a panel of judges. As the group grew smaller, the competition became tighter. By 6:00 p.m. the number had been narrowed down considerably but great potential filled the room. 35 exhausted but ecstatic women walked out as finalists.
Though they are one step closer to their dream, there is a long road ahead for these finalists. After interviewing personally with Cheerleader Director, Tracy Sormanti, these ladies will join the current Patriots Cheerleaders and promotional model contestants at final auditions scheduled for April 19th at Gillette Stadium.
At final auditions, candidates will be asked to execute two choreographed routines from the preliminary round at preliminaries, as well as a self-choreographed solo routine. In addition to dancing and an optional tumbling segment, they will be given a quiz on Patriots and football facts, will have a meet and greet with the judges and will model a swimsuit similar to a pageant. After a series of leaps, turns, high kicks, and splits, approximately 40 women will advance to boot camp. This selected group will participating in a demanding two week training program, attending rehearsals, public speaking drills and fitness training sessions. By early May, the 2014 Patriots Cheerleading squad will be announced.