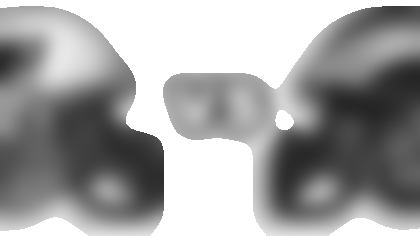 NEW ENGLAND PATRIOTS(4-2) vs.ST. LOUIS RAMS(2-4)
Sunday, October 26, 2008 - 1:00 p.m. EDT
Gillette Stadium (68,756)
***Download Game Release** >>*
The Patriots will host the Rams this Sunday at Gillette Stadium as St. Louis makes its first visit to Gillette Stadium and its first trip to Foxborough since 2001. New England will look to snap the Rams' two-game winning streak and will try to become the first team to defeat St. Louis since Jim Haslett became head coach.
PATRIOTS VS. NFC
The Patriots have been successful against NFC teams in recent seasons, compiling a 28-5 (.848) record against the conference since 2001, including a run of 12 straight regular-season victories over NFC teams dating back to 2005. New England's overall record of 28-5 against the NFC since 2001 includes a 3-1 record in Super Bowls. The Patriots' 33-30 victory over the Chicago Bears on Nov. 10, 2002 began a streak during which the Patriots have won 24 of their last 27 games against NFC competition, going 24-3 (.889) over that span. The Patriots are 1-0 against NFC competition this season, defeating the San Francisco 49ers 30-21 on Oct. 5.
TELEVISION:This week's game will be broadcast to a national audience by the Fox Network. The game can also be seen in the Boston area on WFXT-TV Channel 25. Chris Roseand J.C. Pearson will call the game and Nischelle Turnerwill provide sideline reports.
RADIO:WBCN 104.1 FM is the flagship station for the Patriots Rock Radio Network. A complete listing of the network's 36 stations can be found here. Play-by-play broadcaster Gil Santos is in his 32nd season as the voice of the Patriots and will call the action along with Patriots Hall of Famer Gino Cappelletti. Santos and Cappelletti are celebrating their 25th anniversary season.
NATIONAL RADIO:This week's game will be broadcast to a national audience by Sports USA Radio.Larry Kahn and Dan Foutswill call the game and Pat Sperduto will report from the sidelines.
SERIES HISTORY
The Patriots and Rams will clash for the 11th time this week and for the first time since 2004. The Patriots won convincingly in 2004 by posting a 40- 22 victory at the Edward Jones Dome. The teams have split the previous 10 contests (including Super Bowl XXXVI) with the Patriots winning the past two. Sunday's game will mark the first time the Rams have played at Gillette Stadium. New England scored one of the greatest victories in franchise history when it defeated the favored Rams for the NFL championship on Feb. 3, 2002. That victory followed a tight game in the 2001 regular season that ended in a 24- 17 St. Louis victory at Foxboro Stadium. The series dates back to 1974, when the Patriots defeated the Los Angeles Rams by a 20-14 score at what was then Schaefer Stadium. Including that game, the Patriots won the three of the first four games between the clubs before the Rams rolled off wins in four straight games between 1989 and 2001.
FIRST TIME VISITORS
The Rams will make their first regular-season appearance at Gillette Stadium, becoming the 28th different opponent to travel to the Patriots' state-of-the-art facility for a regular-season or playoff game. New England holds an all-time record of 23-4 against first-time visitors to Gillette Stadium and has won 19 of its last 20 games against teams making their inaugural appearance there. Following this week's game, only three clubs will have not yet appeared at Gillette Stadium for a regularseason or playoff game (Arizona, Atlanta and Carolina).
Patriots wide receiver Matthew Slater is the son of former Ram and NFL Hall of Fame offensive lineman Jackie Slater. Jackie Slater played his entire 20-year career for the Rams and is one of 14 members of the Rams' Ring of Fame.
Matthew Slater and Rams defensive end Chris Long, son of Pro Football Hall of Fame defensive end Howie Long, are two of seven sons of Pro Football Hall of Fame members to be drafted in the NFL.
Rams head coach Jim Haslettserved as the Pittsburgh Steelers defensive coordinator from 1997-99 when Patriots linebacker Mike Vrabelwas on the team.
Rams defensive coordinator Rick Venturi was on Patriots head coach Bill Belichick'sCleveland Browns staff from 1994-95. Venturi served as secondary coach in 1994 and the defensive coordinator/linebackers coach in 1995.
Rams wide receivers coach Henry Ellard played in five games with the Patriots during the 1998 season and caught five passes for 86 yards.
Rams offensive tackle Orlando Pace and Patriots linebacker Mike Vrabel were teammates at Ohio State.
Rams defensive line coach Brian Baker was on the Minnesota Vikings coaching staff from 2001-04 when Patriots wide receiver Randy Moss was on the team. Rams safety Corey Chavous was on the Vikings from 2002-05.
Rams tight ends coach Jim Chaney served as Purdue University's offensive coordinator during Patriots offensive tackle Matt Light's final three years as a Boilermaker.
Rams secondary coach Ron Milus served as the defensive backs coach for the Denver Broncos from 2001-02 when Patriots cornerback Deltha O'Neal was on the team.
Patriots tight end Benjamin Watsonand defensive lineman Richard Seymour were teammates of Rams linebacker Will Witherspoonat the University of Georgia.
Patriots linebacker Eric Alexander and Rams punter Donnie Joneswere teammates at Louisiana State University from 2001-03 and were part of the 2003 BCS National Championship team.
Patriots wide receiver Jabar Gaffneya teammate ov Rams quarterback Brock Berlinat the University of Florida from 2000-01.
Patriots nose tackle Vince Wilfork and safety Brandon Meriweather were teammates with Rams quarterback Brock Berlin at the University of Miami. Wilfork and Rams center Brett Romberg were also teammates at Miami from 2001-02 and were part of the 2001 BCS National Championship season.
Patriots defensive end Ty Warren and Rams kick returner Dante Hallwere teammates at Texas A&M University in 1999.
Patriots safety Rodney Harrison and Rams cornerback Fakhir Brownwere teammates on the San Diego Chargers in 1999.
Patriots fullback Heath Evans and kickerJosh Brown were teammates on the Seattle Seahawks from 2003-04. Rams punter Donnie Jones was on the Seahawks in 2004.
Patriots running back LaMont Jordan and Rams tight end Anthony Becht were teammates on the New York Jets from 2001-04.
Rams offensive tackle Brandon Gorin was a member of the New England Patriots from 2002-03. He spent the 2002 season on the practice squad and played in six regular season games and two playoff contests in 2003.
Patriots running back Sammy Morris was teammates with Rams running back Travis Minorand tight end Randy McMichaelon the Miami Dolphins from 2002-04.
PRO BOWL BALLOTING UNDERWAY
NFL Pro Bowl balloting runs from Oct. 13 through Dec. 9. Fans may vote for their favorite NFL players to represent the AFC and NFC in the 2009 Pro Bowl in Honolulu on Sunday, Feb. 8. Fans may vote online at nfl.com/probowl or on Webenabled mobile phones by going to NFL.com. The AFC and NFC All-Star squads are determined by the consensus votes of fans, players and coaches. Each group's vote counts one-third towards determining each conference's 43-man roster. NFL players and coaches will cast their votes on Dec. 11-12. The Pro Bowl teams will be announced at 4:00 p.m. EST on Tuesday, Dec. 16 in a Pro Bowl Selection Show on NFL Network.