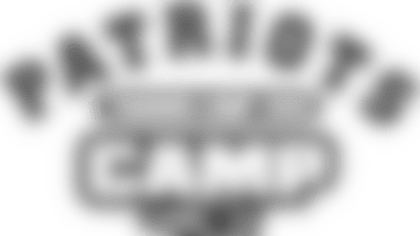 July 30 through August 18, 2009 at Gillette Stadium**
The New England Patriots will open their 50th annual training camp on Thursday, July 30, with practices scheduled for 9:30 a.m. and 3:45 p.m. at Gillette Stadium.
Training camp is scheduled to run through August 18, with practices open to the public on the practice fields behind Gillette Stadium.
The practice schedule through out training camp is tentative and subject to change. Fans planning to attend practice are encouraged to check Patriots.com for daily updates or call the training camp hotline at 508-549-0001. The tentative practice schedule through the first seven days of training camp calls for two practices each day from Thursday, July 30 through Wednesday, Aug. 5, with a morning session from 9:30 a.m.-11:15 a.m. and an afternoon session from 3:45- 5:30 p.m.
Patriots fans of all ages will be able to enjoy and celebrate the game of football at the home of the three-time Super Bowl Champions. Parking and admission are free.
Gillette Stadium offers an abundance of parking for the thousands of fans who attend training camp practices and enjoy the family-oriented entertainment. Bleacher seating, located on the west sideline and in the north end zone of the practice fields, will provide seating for over thousands of fans with overflow seating for thousands more on a hillside in the north end zone.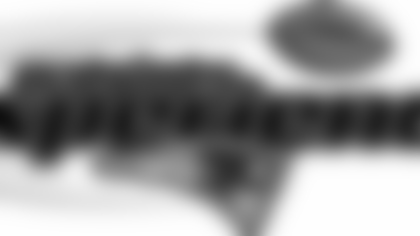 Besides watching practice, fans attending training camp can enjoy other types of family entertainment, including Patriots Experience.
Patriots Experience is an interactive football-themed playground. It features interactive games allowing fans to test their kicking, passing and tackling skills on a variety of obstacle courses and similar challenges. Fans can also enjoy games, music, face painting and appearances by the Patriots Cheerleaders. The footballthemed playground is located adjacent to the West Suite/Clubhouse lot along the route from the public parking lots to the practice fields. Fans should check www.patriots.com/trainingcamp for the schedule.
Most training camp practices are open to the public. Practice schedules and availability will be updated daily on the team's website and on the Training Camp Information hotline at 508-549-0001. Parking, admission to practices, admission to Patriots Experience and rosters are all free.
PATRIOTS PROSHOP
The Patriots ProShop will be open daily on all days that the public has access to practice. The ProShop is located on the northeast corner of the stadium below The Hall at Patriots Place presented by Raytheon. Fans may access the ProShop by car or by the staircase on the north side of the stadium. Times will vary depending on the daily practice schedule, opening at least 45 minutes before and closing at least 45 minutes after each practice session. Call 888-662-PATS for exact daily hours.
PROHIBITED ITEMS
To ensure that all fans have a safe and enjoyable visit to Gillette Stadium for Patriots Training Camp, the following items are prohibited:
Video Cameras
Flags will be allowed, however flag poles over two feet in length will not be allowed.
Any alcoholic beverages
Weapons of any kind (including knives)
Illegal drugs or any other illegal substance
Coolers
Fireworks or pyrotechnics
Animals, except service animals assisting those with disabilities
Noise makers
Bullhorns and air horns
Helium balloons
Beach balls
Any other item deemed inappropriate by stadium management
No prohibited items will be accepted at training camp for safekeeping. Fans are reminded to please leave all such items secured in their vehicles.
Individuals with possession of a prohibited item(s) may be denied admission to training camp, ejected, arrested and prosecuted. Prohibited items that are discovered at training camp will be confiscated.
CONCESSIONS
The concession stands at training camp offer fans a variety of options from burgers to pizza to Caesar salads. Below is a listing of what fans can expect on the menu.
Sack Attack Sausage
First Down Franks
Angus Burger
Pizza by the Slice
Grilled Chicken Sandwich
Fresh Cut Fries
Popcorn
Pretzel
Fried Dough
Sugar Cone
Small Sundae
Waffle Cone
Large Sundae
Frozen Lemonade
Freeze Pops
Cotton Candy
Bottled Water
Bottled Soda
Gatorade
Propel