(On his performance this season after missing a few games to injury)
JM:It's been good. I just enjoy being out here with guys, just being around them. Like you said, I was out for a couple games, but it's always good to get back out there and continue to get healthy throughout the season. It's crunch time now – playoff time. Hopefully we can get this thing going.
(On whether consistency in reaching 100 tackles is a point of pride)
JM:Definitely. You always want to be consistent; you always want to be depended on. I just try to go out there and do my job at the end of the day.
(On whether 100 tackles is a stat that means anything to him)
JM:It's a good stat but at the end of the day, it's all about wins and losses. This week we're focused on getting ourselves ready and next week it will be about whoever we're going to play.
(On this week's practices)
JM:They've been intense. Anytime you can go against our offense, it's going to be a good day. Those guys give us a good look and give us good looks that we'll probably see during the playoffs.
(On whether he had to be more of a leader this year with all the new guys coming in on defense)
JM:It's been a little weird as far as all the new faces. Like I said, at the end of the day, we're all in the same meetings. We do the walkthroughs together. We're always together. We always have that next man up attitude. We have a lot of guys around here on the offense and the defense that have played a lot of football here in New England; the Kevin Faulks and the Vince Wilforks and those guys do a great job leading us. I'm doing the same thing I've always done.
(On if this team can use the playoff exits of the last couple of years as motivation)
JM:To be honest with you, this isn't the same team as the previous years. I think this team is mentally tough. A playoff game in itself is motivation. We're pretty motivated.
(On how much getting off to better starts was stressed by the coaches and team)
JM:Yeah, it's been stressed all year. We haven't put together 60 minutes yet. I think we'll be a good team if we could ever put together four quarters of football. We practice it every day; we just have to get it done on the field.
(On if there's a monkey on his back for not winning a playoff game)
JM:I definitely think about it. I've been in the league – this is my fourth year and I haven't won a playoff game yet. That's not the norm around here. We have to get it done.
(On if he loves being here because the bar is so high)
JM:Definitely. The expectations of the fans, of the media, the coaches, they're so high but at the same time, it forces you to be good. We love it and it helps us strive.
(On if he puts pressure on himself because he hasn't won a playoff game)
JM:I wouldn't be human if I didn't think about it. I think about it all the time. But at the end of the day, what can you do? After you lose a playoff game, you have to wait another whole year. So now the opportunity is here; you just have to take advantage of it. I'm working hard, the team is working hard [and] we're just making those sacrifices to hopefully get a victory.
(On if the key in the playoffs is finding a spark like the Green Bay Packers last year)
JM:It's all about getting hot at the right time. If you get hot at the right time, that team usually goes on to win. We're playing good football right now, but at the same time, we haven't put together a four-quarter game. We've been burying ourselves a little bit in the first and second quarters. I think if we can ever put together four quarters, we have a good shot at winning.
(On the difference between points per game and yards per game statistics)
JM:At the end of the day, it's all about points per game. It's all about keeping the opposing offense out of the end zone. For me, you can give up as many yards as you want; if you don't give up touchdowns you're probably going to win the game. You're not going to get beat with field goals, especially with the offense that we have.
(On what the team accomplished today)
JM:Just going out there and handling a lot of different situations. The coaches put pressure on us this wee,k so we're approaching it just like a game week – no days off around here.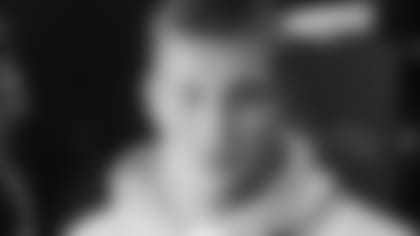 PATRIOTS TE ROB GRONKOWSKI**
(On what the team is trying to accomplish this week)
RG:Just getting better as team, focusing on our mistakes and everything, what we need to work on. Just going out there, going against each other and just working hard. Making sure we stay in shape and doing what we don't do as well, working on it to get better.
(On how nice it is to have the extra week off)
RG:It's good. You get in the weight room, you get stronger. Your bumps and bruises, you heal up and everything; you take care of your body so you're feeling good.
(On focusing on getting off to fast starts during practice this week)
RG:Yes, definitely. That's what we're trying to do. We need to get off to a good start during the game and play all four quarters and go out to practice and at the beginning practice make sure we're on top of it, just like it's a start of a game.
(On if he'll be watching this weekend's games as a fan or watching to see the next opponent)
RG:Both. I'm a football fan, so I'm definitely watching football as fan. At the same time, you're watching it, watching your opponents, watching the game to see who you're going to be playing and see if you can pick up anything while watching the game.
(On what you can pick up from watching a game on TV)
RG:You just watch their defenses and everything, see what they're doing, see players, get familiar with players out there and everything. We have to watch two games because we don't know who we're going to playing. Basically just pick up what kind of defense they're running and stuff like that.
(On which of his accomplishments this season impresses him most)
RG:I don't even care about that anymore. It's a one-game season now. All that kind of stuff, whatever we did, our records, our win-loss column, that doesn't matter anymore. That's all in the past. It's a one-game season now and that's all we're worried about.
PATRIOTS WR MATTHEW SLATER
MS:I think the most important part is for us to start focusing on the little things and try to improve as much as we can. Even though it's late in the season, there's a lot of room for us to improve and we have to take advantage of this. From a mental aspect and physically getting out there getting good work in and then the days that we do have off, getting rest and getting off our feet. Hopefully [that's] giving us a little bit of an advantage.
(On not being able to have slow starts during the playoffs)
MS:No, we can't because we know if we do, we'll be done. The teams that we're going to be playing now, they're all good. If we put ourselves in that position, we can't expect to continue to win games like that. We have to take advantage of the opportunity that we have; we put ourselves in tremendous position as far as the seeding and everything and home field and we have to take advantage of it. This is a new year, we have to focus on doing things right this year and just take it one day at a time.
(On what they can take from last year to make this year more advantageous)
MS:I think we just have to have a sense of urgency and it starts today. It goes to the details and the way we prepare because this time of year, the mistakes will kill you and end your season. The urgency and the way we prepare has to be there – not to say it wasn't there last year, but we have to make sure we have urgency and attention to detail because in the end, that's the difference between winning and losing.
PATRIOTS WR TIQUAN UNDERWOOD
(On watching film from the Bills game)
TU:When you watch game film, there's always going to be some good, some bad. You just correct the mistakes, fix it and move on.
(On if he's looking forward to next Saturday)
TU:We're just worried about this week. We're going to take advantage of this bye week; work on things that we need to fix and work on to be better. We'll worry about Saturday when it comes. Right now, it's just about working on the Patriots.
(On if there's a plan to rest up)
TU:With a 13-3 record, we set ourselves up with a first-round bye which is pretty cool, but the ultimate goal is to get better during this bye week. Rest when we get the days off and just continue to get better and get ready for Saturday – that's the ultimate goal.
(On if he'll watch the games this weekend)
TU:Absolutely. There aren't too many times that you get a chance to relax and actually watch football games on Sundays, other than your bye week during the season, so I'm looking forward to that myself.
(On how much he'll watch as a fan and how much he'll watch to scout future opponents)
TU:I'm going to look at it as 'This could be our opponent.' Take a good look at both teams in both games and defensive personnel and schemes, but just paying attention mostly to the defensive side of the ball.