Foxborough, Mass. - In an effort to add depth to a depleted group of receivers and bolster a struggling special teams unit, the Patriots signed veteran safety Je'Rod Cherry and wide receiver Kevin Kasper to the active roster Wednesday.
Cherry, a special teams standout whom was among the team's final roster cuts on Sept. 5, has spent three (2001-03) of his eight NFL seasons with the Patriots. He has 105 career tackles on special teams, including 36 with the Patriots, and should contribute on both kickoff and punt coverage units that have struggled through the first three games this season.
Cherry, who has been living and working out in the area while waiting for a call to play, didn't have any serious thoughts about retirement.
"You definitely think about that, if it's time to move on," Cherry said. "So yeah, that definitely was a consideration, but I still feel and know that I can still play football and that I have some left in me."
Kasper was released by Arizona in the final preseason roster cutdown on Sept. 5 after spending his first three NFL seasons with the Cardinals, Seattle Seahawks and Denver Broncos. During the 2002 season, he returned a total of 55 kickoffs for 1,300 yards, a 23.6-yard average.
To clear spots on the active roster, the Patriots have placed offensive tackle Adrian Klemm on injured reserve and released second-year safety Shawn Mayer late Tuesday. Mayer, 25, made the active roster out of training camp this season and played primarily on special teams where he had four tackles through the first three games. Head coach Bill Belichick dismissed the idea Wednesday that Mayer was released solely for his glaring missed tackle on a 98-yard kickoff return by Buffalo's Terrence McGee.
"I thought it was in the best interest of the team," Belichick said. "It's the same reason all of the other decisions are made. No decision is made on one play. In the long run, we made the changes that we think will help the team play better."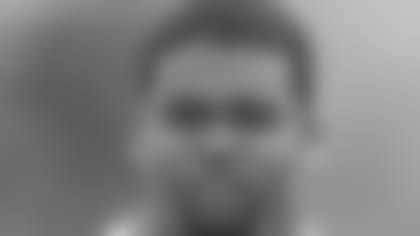 ]()Klemm KO'd; Placed on Injured Reserve**Unfortunately, yet another season has ended in injury for Klemm. The fifth-year tackle, a former second round pick by the Patriots in 2000, is out for the season due to a foot injury he suffered during practice last week. Klemm, who saw snaps at both tackle positions during the first two games of the season, was added to the injury report on Friday and was inactive against Buffalo. It's the same fate Klemm has suffered in two of the last three seasons - he was placed on IR before Week 8 in 2001 with a leg injury and was again lost for the season after six weeks last season with another leg injury. Klemm, who has started 10 of his 24 career games for the Patriots, is in the final year of his original five-year rookie contract.
Bruschi Latest to Win Award
Linebacker Tedy Bruschi was named the AFC's Defensive Player of the Week Wednesday for his performance in the Patriots 31-17 win over Buffalo. Bruschi finished with eight tackles and added two sacks, his third career multi-sack game. His forced fumble on 4th-and-3 at the New England 17-yard line with just less than three minutes left in the game led to a 68-yard fumble return by Richard Seymour to ice the win for the Patriots.
It's the third career Player of the Week Award for Bruschi. Safety Rodney Harrison won the award for Week 2 this season, while safety Eugene Wilson was the AFC Player of the Month for September.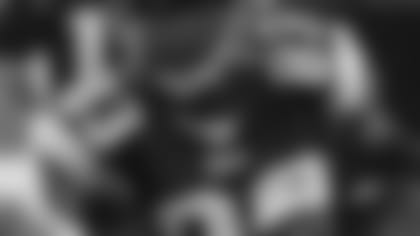 ]()Injury Report** It's likely the Patriots will be again be without several key players on offense when they host the Miami Dolphins on Sunday. The Patriots released the first injury report of the week today, which listed wide receiverDeion Branch(knee) as doubtful and wide receiverTroy Brown(shoulder) and running backKevin Faulk (knee) as questionable. Brown, who had been battling a knee injury throughout the preseason and early stages of the regular season, was injured during the first quarter against Buffalo on a one-yard reception that was called back because of a penalty.
Cornerback Tyrone Poole was added to injury report this week, listed as questionable with a knee injury. Poole was not listed on the injury report last week and the extent of his injury is not known.
Quarterbacks Tom Brady and Jim Miller again remained probable on the injury report with shoulder injuries.
Quick Hits
Cherry has re-claimed his No. 30 with the Patriots, while Kasper will wear No. 10. ... Safety Curry Burns was signed by the New York Giants from the practice squad, leaving the Patriots one short of the eight-player limit. ... Belichick showed little interest when asked about the ongoing Ricky Williams story in Miami. "I have no idea. We have so many problems here that I have to deal with, that I'm not really worried what everybody else is doing or what they have. I'm not really worried about somebody else's problems. We have a plateful right here." ... As he usually does, Brady spoke to the media Wednesday, but wasn't in the mood to talk about the Patriots 18-game winning streak as the team prepares for Miami. "I think anyone who is thinking about last year or our first three games is not doing this team any justice and doesn't deserve a spot in this locker room if [they] start thinking about stuff that makes absolutely no difference in a game. I said this makes absolutely zero difference in the outcome of this game, and as many people that want to talk about that, no one here cares. I don't care, and our coach doesn't care, and the players don't care."