Foxborough, Mass. - Sunday's game between the Seattle Seahawks and New England Patriots, arguably two of the NFL's best teams, will also feature two of the league's elite running backs in Shaun Alexander and Corey Dillon.
Alexander has left very few doubts regarding his status among the top backs in the league, producing three straight 1,000-yard seasons with double-digit touchdown totals. Since 2001 he second only to Kansas City's Priest Holmes in touchdowns (67 to 57), and among running backs from the 2000 Draft he trails only Baltimore's Jamal Lewis in rushing yards (5,065 to 4,571). To note his importance to the Seattle attack, the Seahawks are 17-5 since 2001 when he touches the ball at least 25 times in a game.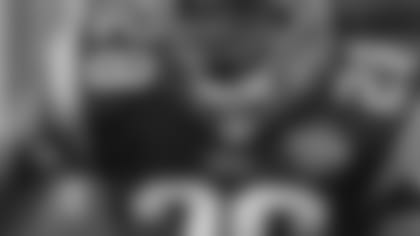 ]()Dillon, meanwhile, enters the game under different circumstances. He didn't practice for the third straight day Friday because of an injury to his right foot. His status is officially listed as "questionable" on the injury report, leaving the Patriots in doubt as to whether they'll have access to the newest offensive weapon they're still growing accustomed to.
"We'll see what happens," said Dillon, who leads the team with 84 carries for 417 yards in his first season as a Patriot. "And that's all I can tell you. We'll see."
If Dillon can't go, or is limited against Seattle, the Patriots would likely take a running back-by-committee approach. Kevin Faulk, Patrick Pass and Rabih Abdullah would likely share the workload in Dillon's absence, as they did during the second half against Miami. Faulk made his season debut after missing over a month of time with a knee injury, running once, catching one pass and serving as the team's punt returner. Pass and Abdullah combined for 15 carries for 41 yards and a touchdown - nearly all of which came during the second half.
Belichick was asked this week how Alexander, 27, compared to Carolina's Stephen Davis.
"I think he's faster," Belichick said. "His production is second probably only to Priest Holmes in the last few years. [He has done] more scoring than [Jamal] Lewis. Alexander has a great playing style. He really can do it all. He's fast. He makes a lot of long runs. He can take the ball inside, and then outrun the defense to the perimeter, which a lot of backs can't do. At the same time he runs with a lot of power and can break tackles."
A better comparison might be made between Alexander and Dillon.
"That might be a good comparison," Belichick said. "[Alexander is] effective in the passing game. When he gets the ball, really every play is to go from sideline to sideline. He can take the ball on a draw play and end up down the sideline. He can take the ball on a toss and go down the sideline. He can stop, reverse his field, or he can take it and just hammer it right into the line of scrimmage and run through people on that. He's a very, very good back. So, you really have to defend everything with this guy."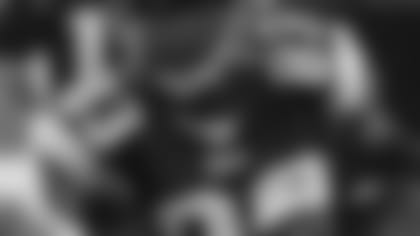 ]()Branch Expected BackBelichick was adamant Friday that injured wide receiverDeion Branchwould not be lost for the season. Brach has not seen the field in nearly four weeks since he suffered a knee injury during the first half Sept. 19 against Arizona. Belichick equated the situation to that of rookie tight endBenjamin Watson**, who was placed on the injured reserve Sept. 29 with a knee injury. Unlike Watson, Belichick expects Branch to return.
"If I wasn't then I don't think it would be a good thing for him to be active," Belichick said. "Ben Watson, I don't think he would be back this year, so he is on injured reserve. If I thought he was going to be back he might not be on injured reserve."
Branch is again listed as doubtful on the injury repot after missing portions of team practice for the third straight day. Injuries continue to leave the Patriots thin at receiver, where Troy Brown (questionable, knee) and rookie P.K. Sam (doubtful, groin) join Branch on the injured list. Brown has played sparingly since the preseason with knee and shoulder injuries, twice being listed as inactive in four games. Sam, who was left off the active roster the first two weeks, played a handful of plays against Buffalo and Miami but showed up on the injury report after not practicing the last two days.
Shaw A Remedy?
Speculation persists that the Patriots may make a roster move to help remedy the team's depleted receiving corps. Veteran wide receiver Bobby Shaw was released by Buffalo on Wednesday, and according to published reports was present at Gillette Stadium Thursday. Shaw, who has five receptions this season for 59 yards, set career-highs last season with 56 receptions for 732 yards and four touchdowns.
Belichick was asked if he anticipated a roster move today.
"Well, he is available," Belichick said of Shaw. "It is a possibility. I wouldn't rule [a roster move] out. I wouldn't say that it would definitely happen either. So, maybe."
Although he fell out of favor in Buffalo, at 6-foot-1 and 185 pounds Shaw would give the Patriots a possession receiver who also possesses decent size. Shaw, used mostly as a third receiver with the Bills, started seven games last season and has missed only one game during his seven-year career.
Quick Hits
The rest of the injury report remained unchanged from Thursday. Cornerback Tyrone Poole (knee) is questionable, while quarterbacks Tom Brady (shoulder) and Jim Miller (shoulder) remained probable. ... Belichick characterized the rumor mill as "quiet" as next week's NFL trading deadlines approaches on Oct. 19. Although trades are uncommon in the NFL, Belichick said it's not something the Patriots are opposed to. "We are not afraid to make a trade if we think that will help. If it is the best thing to do for your team, we would do it." ... Although he is not as far along as fellow rookie defensive lineman Vince Wilfork, Belichick seems happy with the progress of Marquise Hill. "I think Marquise is making good progress. I don't have any time frame with how long anything is going to take. You give people the information, you give them the opportunity, you evaluate how they are doing and you assess how it is coming along."