The Patriots began their 2023 Training Camp in the same area of the field as they always do in the head coach Bill Belichick era, with red-zone work being the focus in Wednesday's practice.
For the new-look offense under offensive coordinator Bill O'Brien, it's a good place to start coming off a season where scoring touchdowns from inside the 20-yard line wasn't always easy. In 2022, New England ranked dead-last in the NFL with a red zone touchdown percentage of 42.2 percent, which was a big reason why the offense underperformed.
"Since I've been here, we've always started there, and I know Coach Belichick has always done that," quarterback Mac Jones told reporters after practice. "A lot of defenses let you get down there, and then when you get down there, they want to shut you down. To be able to go against our defense, which is very multiple and does a lot compared to some other teams, it's good to experience. I feel like the red zone is definitely a great area that we need to improve. I need to improve down there."
With the truly competitive camp practices still on the horizon, it's important not to overreact to results, which were mixed for the offense in a practice that favored the defense. The Pats ran basic route concepts in a condensed area inside the ten-yard line. There weren't many bells and whistles to fool the defense, and there was zero threat of the run, so the defense certainly had the upper hand with Kyle Dugger's interception as the day's highlight. It's also common for the defense to be ahead this time of year, especially a defense returning most of its starters and an offense learning a new playbook.
On the first semi-competitive play of the day, Jones targeted tight end Mike Gesicki. Dugger stayed with the Pats tight end up the seam and intercepted the pass. In all, the Pats defense broke up seven passes in the opening practice, which, again, sounds alarming on the surface, but the context of the team periods being in tight quarters is important in evaluating this practice.
There were also good plays from the offense. Mac connected twice with Hunter Henry in the end zone, including a smooth "shake" at the top of the route by Henry to lose rookie Christian Gonzalez for six. Jones also hit Rhamondre Stevenson on an angle route out of the backfield with linebacker Chris Board as the closest defender, and Ty Montgomery was active again with four scores.
"It's great that our defense is really good because it makes it hard. It's good to be a great camp. Hopefully, we are going to go back and forth and battle each other," the Pats quarterback said. "That is built through trust. I think that's the big word for this training camp is trust."
Jones primarily worked with tight ends Hunter Henry and Mike Gesicki, versatile receiver Ty Montgomery, DeVante Parker, Tyquan Thornton, Kendrick Bourne, running back Rhamondre Stevenson, and free-agent addition JuJu Smith-Schuster. Along the offensive line, Trent Brown (left) and Riley Reiff (right) took the majority of the reps at the tackle spots, while Bill Murray filled in for Mike Onwenu (PUP list) at right guard. Besides Onwenu and NFI-lister Calvin Anderson, the Pats had strong attendance on day one. That means the vast majority of the roster is healthy and passed the conditioning tests, which is obviously a positive development for the team.
For Jones, continuing to play with Henry and building a new connection with Smith-Schuster is a good starting point. The Patriots quarterback also pointed to the depth New England has amongst their pass-catchers. With the roster being fairly criticized for lacking a true difference-making receiver, this group will need to win with varying skill sets presenting the quarterback with mismatches and good scheming to get receivers open.
"I think we have a great group, and that's what we are trying to do is mold together," Jones said. We definitely have great depth. We are going to work together to talk about the routes, what we like, and what we don't like. We've got some guys who have played a lot of snaps in the NFL in that room. Just trying to learn from the really to try to tell them how I see it but also how they see it because that's important too."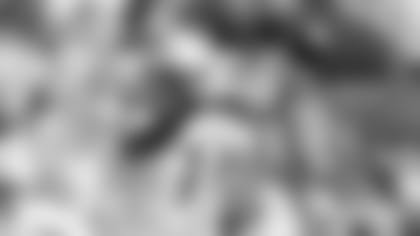 In his first practice attended by the media, wide receiver JuJu Smith-Schuster energized the crowd throughout the day and made his first catch of competitive team drills when he ran a shallow crosser working with DeVante Parker from a stack alignment.
"JuJu loves football, and you can see the juice that he brings. He's definitely really embraced everything, he's working really hard, always doing the right thing, so we just have to be consistent," Jones said of his new top target.
Mac also continues to love throwing the ball to Henry, and the QB-TE duo has become very close during their time together in New England.
"Hunter is awesome. That's another player who has played a lot of snaps. He has a really good feel for the game. He's an instinctual player and brings the same him every day. He's just Hunter. He comes in with positive energy and doesn't complain about anything. He just works, and that's something that I've really tried to follow his lead."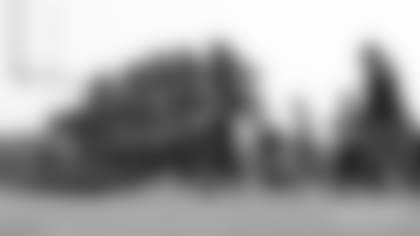 As the Patriots quarterback and receivers continue to build chemistry in the early days of camp, New England's offensive line will need to wait until padded practices next week to evaluate a pivotal element of the offense bouncing back from last season's struggles.
There's also a schematic uncertainty about how the Patriots rushing attack will look this season. After an experiment with more zone-blocking schemes last season yielded mixed results, it's unclear which direction O'Brien will take the offense in from that perspective. During non-contact red zone work, there was a zone-scheme flavor to limited run-game work.
Another bit of news from Wednesday's session was starting left tackle Trent Brown's presence. After being late for mandatory minicamp and being limited in the spring, Brown arrived four days early for training camp and feels ready for the season. Brown is by far the most talented tackle on the roster, making his buy-in and conditioning a major storyline.
"I feel like I'm ready to go play another whole season. Hopefully, stack some more wins together but taking it day-by-day," Brown told Patriots.com. "I took the same approach to the offseason so I can be available and be here for my team."
Although his play was inconsistent, Brown appeared in every game for the first time since the 2018 season in 2022. Brown also had ringing endorsements for O'Brien and new offensive line coach Adrian Klemm, saying of O'Brien, "I love his attitude. I think he speaks a language that will get everybody fired up and ready to play ball."
Brown added, "it's been lovely," working with Klemm. "I think he brings a newer, younger attitude to the offensive line position. He's changing some things that we are doing individually, and I think it'll fare well for us individuals and as a whole. He understands what actually goes on out there between the lines."
The Patriots offense's start to camp was far from perfect, and questions remain about the quarterback, playmakers, and offensive tackles. Ultimately, New England's offense must find its stride for this team to get where it wants to go, which is back to the playoffs.
With that said, it was only day one, and there were moments when you saw this group's potential as they began stacking the pieces together in the very early stages of camp.