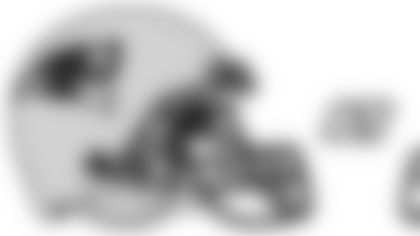 NEW ENGLAND PATRIOTS(0-0) atATLANTA FALCONS** (0-0)
Friday, August 11, 2006
Georgia Dome (71,228)
8:00 p.m. EDT
The New England Patriots will open their 47th preseason when they travel to Atlanta to take on the Falcons on Friday, Aug. 11. The game will take place two weeks after New England opened training camp at Gillette Stadium and 30 days in advance of the 2006 regular season opener against the Buffalo Bills on Sept. 10. This week's game will provide the Patriots with a measuring stick to gauge their progress towards readiness for the regular season and will provide the players and coaches with their first live action of the 2006 season.
TV: This week's game will be broadcast to a national audience by CBS and can be seen in Boston on WBZ Channel 4. Dick Enberg will handle play-by-play duties and will be joined by analyst Randy Cross.
RADIO: WBCN 104.1 FM is the flagship station for the Patriots Rock Radio Network. A complete listing of the network's stations can be found by clicking here. Play-by-play broadcaster Gil Santos is in his 30th season as the voice of the Patriots and will call the action along with Patriots Hall of Famer Gino Cappelletti. Santos and Cappelletti are celebrating their 23rd season as a broadcast tandem.
PATRIOTS IN THE PRESEASON
New England has won 10 of its last 15 preseason games dating back to 2002. Since Bill Belichick became the head coach, the Patriots hold an overall mark of 16-9 (.640) in the preseason. Since Belichick became head coach of the Patriots in 2000, the team is 5-1 in preseason openers, including last year's 23-13 victory over the Cincinnati Bengals on Aug. 12. Overall, New England is 17-29 (.370) in preseason openers and is 63-62 (.504) in preseason games against NFC teams.
SERIES HISTORY
The Patriots and the Atlanta Falcons will clash in the preseason for the first time since 1990 and for the 11th time overall in the preseason. The last time New England and Atlanta met in a preseason contest, Marc Wilson started at quarterback for the Patriots as part of a lineup that featured LB Andre Tippett, WR Irving Fryar, OT Bruce Armstrong and RB John Stephens. More recently, the two clubs met in the 2005 regular season, with the Patriots claiming a 31-28 victory on a last-minute field goal at the Georgia Dome on Oct. 8, 2005. The Patriots have been victorious in their last two trips to Atlanta, claiming regular-season victories in 2001 and 2005. Overall, the Patriots are 4-6 against the Falcons in the regular season and 5-5 against Atlanta in preseason play.
Patriots special teams captain Larry Izzo and Falcons running back Warrick Dunn took part in an NFL-sponsored USO tour to visit troops stationed overseas in the spring of 2005. They helped to open the Pat Tillman USO Center at Bagram Air Base in Afghanistan when went on to visit troops in Baghdad, Kuwait and Qatar.
Patriots defensive lineman Richard Seymour, fullback Patrick Pass and tight end Benjamin Watson all played their college football at the University of Georgia in Athens, Ga., about an hour and a half east of Atlanta.
Patriots fullback Patrick Pass attended Tucker High School in Tucker, Ga., a suburb of Atlanta located northeast of the city.
Patriots rookie defensive lineman Le Kevin Smith grew up in Macon, Ga., about an hour and a half south of Atlanta.
Falcons safety Lawyer Milloy was drafted by the Patriots in the second round (36th overall) in the 1996 NFL Draft. He played in 112 games in eight seasons in New England and earned four Pro Bowl nods.
Falcons fullback Fred McCrary was a member of the Patriots in 2003, playing in six games with three starts for the Super Bowl XXXVIII champions.
Falcons safety Omare Lowe was a member of the Patriots in 2004, playing in three games while spending much of the season on the practice squad.
Patriots defensive coordinator Dean Pees was the defensive coordinator at Michigan State when Falcons linebacker Ike Reese was a Spartan. Under Pees' guidance, Reese became the only two-time captain in Michigan State history.
Falcons running back T.J. Duckett attended Michigan State from 1998-2001, during which time Patriots offensive coordinator Josh McDaniels (1999-2000) and Patriots wide receivers coach Brian Daboll (1998-99) were graduate assistants on the Spartans coaching staff.
Patriots tight ends coach Pete Mangurian was a member of the Falcons coaching staff from 2001-03. He served as Atlanta's offensive line coach (2001), offensive line/wide receivers coach (2002) and offensive coordinator (2003). Mangurian was on the same coaching staff as Falcons special teams coordinator Joe DeCamillis for 13 seasons with Denver (1988-92), the N.Y. Giants (1993-96) and Atlanta (1997, 2001-03).
Patriots special teams coach Brad Seely was the offensive line coach at the University of the Pacific in 1983, the same season in which Falcons defensive coordinator Ed Donatell served as Pacific's defensive backs coach.
Falcons running backs coach Ollie Wilson is a native of er, Mass. and attended Springfield College in Springfield, Mass. He served as the offensive coordinator at Northeastern University for seven seasons (1976-82). Worcest
Patriots defensive lineman Marquise Hill and cornerback Randall Gay both played on the same Louisiana State defense as Falcons defensive tackle Chad Lavalais, with all three players entering the NFL in 2004. Patriots defensive end Jarvis Green also played with the trio for the Tigers in 2001 and 2002.
Patriots rookie kicker Stephen Gostkowski and Falcons first-year linebacker Derrick Ballard were teammates at the University of Memphis.
Patriots safety James Sanders, Patriots guard Logan Mankins and Falcons wide receiver Adam Jennings were teammates at Fresno State.
Patriots cornerback Ellis Hobbs and Falcons kicker Tony Yelk were teammates at Iowa State.
Patriots linebacker Chad Brown and Falcons wide receivers coach George Stewart were both with the Pittsburgh Steelers from 1993-94. Stewart was Pittsburgh's special teams coach at the time.
PATRIOTS IN DOMESThe Patriots and Falcons will square off inside the Georgia Dome with New England seeking to extend its streak of nine consecutive victories in games played indoors. In addition to this week's preseason contest, the Patriots will also play indoors on Oct. 30 at Minnesota. New England has not lost a dome game since Thanksgiving Day, 2000 when the Detroit Lions rolled to a 34-9 win at the Pontiac Silverdome. The dome domination includes both of New England's recent Super Bowl victories, at the Louisiana Superdome (SB XXXVI) and at Reliant Stadium in Houston (SB XXXVIII). Quarterback Tom Brady is undefeated as a starter in dome games during his career, compiling a 9-0 record in regular-season and playoff games.
PRESEASON HISTORYThe Patriots are 30-20 (.600) in the preseason since Robert Kraft purchased the team in 1994. New England has had a winning record in seven of its last 10 preseasons. Prior to 1994, the Patriots were 60-96-1 (.385) in the preseason. New England enters this week's game with an all-time preseason mark of 90-116-1 (.437).
BILL BELICHICK IN THE PRESEASONBill Belichick has compiled an overall record of 27-18 (.600) as a head coach in the preseason, including a 16-9 (.640) mark as Patriots head coach. Belichick's teams have been .500 or above in 10 of his 11 previous preseasons as a head coach in the NFL.
91The number of players on the Patriots roster as of Aug. 2.
10The number of players on the Patriots roster who were drafted in the first round of the NFL Draft in their respective seasons.
11The number of players on the Patriots roster who were drafted in the second round of the NFL Draft in their respective seasons.
25The number of rookies and first-year players on the Patriots roster.
25The number of players on the Patriots roster who were drafted by the team in the last four drafts (2003-06).
49The number of Patriots who have accrued three or more seasons of NFL experience entering 2005.
1The number of 100-yard rushing games Corey Dillon needs to have recorded 40 such games in his career.
3The number of touchdown passes Tom Brady needs to move ahead of Vito "Babe" Parilli (132) into third place in franchise history behind Steve Grogan (182) and Drew Bledsoe (166).
20The number of points the Patriots' active scoring leader, Troy Brown, needs to reach the 200-point plateau.
21The number of catches Troy Brown needs to pass Stanley Morgan (534 receptions) to claim the franchise record.
29The number of receptions Kevin Faulk needs to pass Tony Collins (261 receptions) for the most by a Patriots running back in franchise history.
70The number of yards rushing that Corey Dillon (currently ranked 12th) needs to move ahead of Mosi Tatupu (2,415) and Leonard Russell (2,437) into 10th place on the Patriots all-time rushing list.
1,965The number of passing yards Tom Brady needs to become just the third player in franchise history to reach the 20,000-yard passing plateau, joining Drew Bledsoe (29,657) and Steve Grogan (26,886).
4The number of consecutive Pro Bowls to which Richard Seymour has been selected.
10The number of consecutive playoff games in which the Patriots defense has forced a turnover.
47The number of consecutive games in which Deion Branch has caught a pass.
49The number of consecutive games the Patriots have played since they last lost back-to-back games, dating back to December 2002. The NFL record is 60 games by the San Francisco 49ers from 1995-99. The next longest active streak in the NFL is the Denver Broncos with 20.
5The number of consecutive 9 win seasons for the Patriots, the longest current streak in the NFL.
8The number of consecutive Patriots overtime victories, the longest current streak in the NFL.
8The number of career receptions by Patriots linebacker Mike Vrabel (including playoffs). All eight receptions have been for touchdowns.
89The number of consecutive games, including playoffs, that Tom Brady has started at quarterback.
32The number of years Bill Belichick has been an NFL coach, making him the longest tenured coach among the NFL's 32 head coaches.
11The number of division titles Belichick has won as a head coach or assistant coach.
9The number of head coaches who have won three or more NFL championships since the postseason era began in 1933. Belichick joined that elite club with a victory in Super Bowl XXXIX.
7The number of head coaches in the NFL or college who were once assistant coaches under Belichick (Romeo Crennel, Eric Mangini, Nick Saban, Charlie Weis, Kirk Ferentz, Pat Hill and Al Groh).
4The number of times the Patriots have appeared in the Super Bowl since Robert Kraft bought the team in 1994. No other team has made more than two Super Bowl appearances in that span.
13The number of playoff victories for the Patriots since 1994, more than any other team in the NFL during that span.
130-80The Patriots' overall record since Robert Kraft purchased the team in 1994 (including postseason), a .619 winning percentage.
74-30The Patriots' record at home since 1994, including regular-season and postseason games, a winning percentage of .712.
30-6The Patriots' record at Gillette Stadium, including regular-season and postseason games (.833 win pct).
73-34Bill Belichick's overall record as head coach of the Patriots, including the regular season and the playoffs, the best head coaching record in franchise history.
37-2Belichick's record in New England when the Patriots score 25 points or more.
57-5Belichick's record in New England when the Patriots score 21 points or more.
9Coach Belichick is the only NFL head coach to win nine or more games in each of the past five seasons with the same team.