WESTFIELD, Mass. - "You can be my wingman, anytime."
So goes the ubiquitous quote from the end of "Top Gun" and never did it ring truer than on Friday afternoon at Barnes Air National Guard Base in Westfield, Mass. As part of "Wingman Day" hosted by the 104th Fighter Wing, Patriots running back Sammy Morris spoke to the airmen about the importance of teamwork and setting goals.
Morris comes from a military family and knows firsthand of the commitment service members make to their country. Morris' father, retired Staff Sgt. Samuel Morris II, and his brother, Tech. Sgt. Brien Morris, both served in the Air Force.
That's why Morris made it a point to pay a visit to the air wing, which watches over American air space day and night.
"I wanted to come here and do my little part to say 'Thank you' for all that you do for us," said Morris as he addressed the audience, which was all clad in fatigues. "There is nothing more important than what you do every day for our country."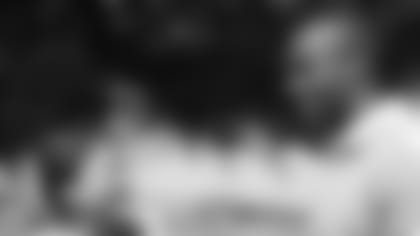 ]()Morris fielded questions from members of the 104th before taking pictures and signing autographs.
Later, the 10-year veteran was given a guided tour of the base, including an up-close look at the F-15 Eagles stationed at Barnes.
Even though Master Sgt. Michelle Bush, of Springfield, is a declared Pittsburgh Steelers fan, she was still impressed by Morris after meeting the Patriots running back.
"I'm still going to be a Steelers fan," Bush said with a laugh after she had nestled up to Morris for a photo. "But I told [Morris] that I appreciated him coming and spending time with us. This is a day when we talk about building camaraderie and reminds us to work as a team. What he had to say was important and it's nice to see that he and the Patriots care enough to make the time to visit."