What's it like to catch a pass from Tom Brady?
Or listen as Bill Belichickbreaks down a play in front of you?
When the Patriots work out, what does their weight room look like? When they treat their injuries, what type of machines do they use? And can you image how big their equipment closets must be?
Most true fans ask themselves these questions at some point. But even if you're a season ticket holder, you've probably never experienced Gillette Stadium like this.
Not unless you were part of the New England Patriots Charitable Foundation's Leadership Blitz.
With New England players and coaches as their guides, several large groups of Patriots fans who contributed to the foundation were given a rare opportunity to tour the team's most exclusive facilities, including the weight room, training room, and scouting department. They also took to the Gillette Stadium game surface to run through drills under the instruction of their favorite players, [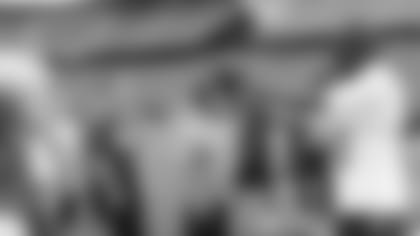 ]()like Brady and one of his favorite targets, Randy Moss (pictured).
Having hosted successful fundraising golf tournaments in recent years, the Patriots organization decided this year to offer its fans a truly unique "day in the life of a Patriot" experience. This fundraiser, along with the annual Kickoff Gala in August, help raise the monies used by the Foundation to support thousands of philanthropic agencies and causes throughout New England. Furthermore, it is one of two team functions that allow participants to interact with all the players on the team.
Following a welcome breakfast, participants were greeted by Patriots Chairman and CEO Robert Kraftand Patriots Head Coach Bill Belichick before heading out to the field.
"This was an outstanding event for us, being our first one," said Pro Football Hall of Famer, Patriots Hall of Famer, and Patriots executive director of community affairs Andre Tippett during a break in the action.
"Getting an opportunity to be up-close and personal with the players, having the players teach them basically what it's like to be in the National Football League. Watching all the people that were here today, they had a great time. And the players really got into it. When it's all said and done, we're going to be able to continue our support for the community through the Charitable Foundation."
"It'll be a complete day of Patriot training," Kraft explained. "We'll have the offense here in the morning and the defense will be the afternoon. Also, they'll get to hear from [Andre] Tippett at lunch, and we'll finish with awards at the Hall of Fame."
This also marked the day that the Patriots organization announced this year's inductee, as voted by the fans, to the team's Hall of Fame. Kraft broke the news to reporters that running back Sam "Bam" Cunninghamreceived the most votes. Starring on Patriots teams in the 1970s and early '80s, Cunningham was a prolific ball carrier in his day, and was also remembered for having been a staunch supporter of the civil rights movement. His actions on the football field were believed to have helped usher in integration of college football programs in the south.
"I just think of sitting in the stands, like so many of us who've been Patriots fans, and remembering the great job he did for the Patriots, and the excitement and thrills he gave us. I'm really privileged that we have this Hall where we can put up film and let people who come and visit see the great contributions that he made," Kraft observed.
"Sam Cunningham helped to bring … an area of the country together on an issue that was so divisive, through the sport of football. How cool is it that in 2010 we can honor him and thank him for what he did on the field, but also what he represented for the game."
Tippett, who was a rookie in Cunningham's final season in New England, recalled his former teammate fondly and reverently.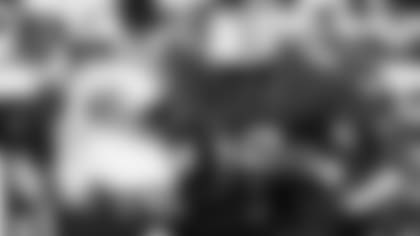 ]()"Sam is pretty special to me, and it's special that he's finally getting this recognition. He's done a lot for football, especially college football, as we all know. I think he did a lot for the franchise and hasn't gotten a lot of credit … he was a good back, a good football player. I wish I could have played a little bit longer with him. I was playing against a real man when I went up against him in training camp."
Cunningham's induction ceremony will take place August 12, just prior to New England's 2010 preseason opener against the New Orleans Saints. In the near future, though, the Patriots have three days of mini-camp on the horizon this week. With that in mind, the owner was asked for his thoughts on this year's squad after having seen them in OTA practices the past few weeks.
"I'm very excited about this team," Kraft declared. "Seeing so many of the young people from last year, and then seeing this year's draft class combined with that … in the end, you know this is a business of quality depth management. You need depth … I'm hoping that we get the execution that we all hope for. I can't wait for football to start."