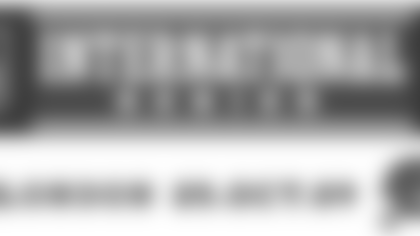 NEW ENGLAND PATRIOTS (4-2) at TAMPA BAY BUCCANEERS (0-6)
Sunday, Oct. 25, 2009 - Wembley Stadium (84,000) - 1:00 p.m. EDT
The NFL's International Series of regular-season games returns to the United Kingdom this Sunday when Tampa Bay hosts New England. The contest will mark the third consecutive year of an NFL regular-season game at London's Wembley Stadium. On October 26, 2008 the New Orleans Saints defeated the San Diego Chargers 37-32 before a crowd of 83,226. The International Series began on October 28, 2007 when the New York Giants defeated the Miami Dolphins, 13-10.
Said Patriots Chairman and CEO Robert Kraft, "We are proud to be selected by the NFL to be featured in this year's international game. I am sure our trip to the United Kingdom will prove to be an unforgettable experience for our players and coaches, as well as the many fans that will travel to the game. I know that the UK is home to some of our most passionate Patriots fans and we look forward to the experience."
TELEVISION: This week's game will be broadcast to a regional audience by CBS and can be seen in Boston on WBZ-TV Channel 4. Jim Nantz will handle play-byplay duties with Phil Simms providing color.
NATIONAL RADIO: This week's game will be broadcast to a national audience by Westwood One. Kevin Kugler and Mark Malone will call the game. Scott Graham will host the pregame and halftime shows.
RADIO: 98.5 FM, The Sports Hub, is the flagship station for the Patriots Radio Network. A complete listing of the network's 36 stations can be **found here**. Play-by-play broadcaster Gil Santos is in his 33rd season as the voice of the Patriots and will call the action along with Patriots Hall of Famer Gino Cappelletti. Santos and Cappelletti are celebrating their 26th season as a tandem.
NFL INTERNATIONAL SERIES QUICK FACTS
The Patriots-Buccaneers game will be the fifth regular-season game played outside of the US. The first was in Mexico City in 2005 when the Cardinals hosted the 49ers. The NFL played games in London in 2007 (Giants-Dolphins) and 2008 (Chargers-Saints). Last season Buffalo hosted Miami in a game played in Toronto.
This week's game will be the third regular-season game played outside of North America and the 12th game in London overall. There have been nine NFL preseason games played in London. The first preseason game ever played in London was a 1983 preseason game between Minnesota and the St. Louis Cardinals. There have been eight games played in London as part of the NFL's American Bowl preseason contests, which began in 1986.
The Patriots have traveled internationally for three preseason games:
The Patriots lost to Pittsburgh, 30-14, in Montreal in 1990
The Patriots lost to Cleveland, 12-9, in Toronto in 1993
The Patriots defeated Dallas, 21-3, in Mexico City in 1998
SERIES HISTORY
The Patriots and Buccaneers will meet this week for the first time since the 2005 season when New England shutout the Buccaneers 28-0 in a home victory.
Head coach Bill Belichick's first game as head coach of the Patriots came against Tampa Bay on Sept. 3, 2000. Tampa Bay claimed a 21-16 victory in that game, but the Patriots have won four of the six total games in the series, which dates back to 1976, the first year of existence for the Buccaneers franchise. New England won the first three games in the series from 1976-88. Tampa Bay claimed the next two meetings, before the Patriots shutout victory in the last meeting between the two teams in 2005.
The Patriots beat the Buccaneers in 1988 and then went 17 years before their next win against the Buccaneers in 2005.
The 17-year victory gap is the second longest for the Patriots, trailing only a 33-year win drought against the Washington Redskins.
PATRIOTS VS. THE NFC
The Patriots have been successful against NFC teams in recent seasons, compiling a 29-4 (.879) regular-season record in the conference since 2001. Including the post-season, the Patriots are 32-5 (.865) against the NFC with a 3-1 Super Bowl record since 2001. During that time span, the Patriots have finished 4-0 against the NFC four times, including the last three seasons (2006-08). The Patriots have won 16 consecutive games against the NFC with the last loss coming in Week 2 of the 2005 season when Carolina beat the Patriots, 27-17 (9/18/05).
The Patriots are 1-0 so far in 2009 against the NFC following a 26-10 win over Atlanta on Sept. 27 at Gillette stadium.
PATRIOTS VS. NFC SOUTH
The Patriots play each of the teams from the NFC South this season as part of the NFL's schedule rotation that was implemented in 2002. New England lost its first game against the division, dropping a 27-17 decision at Carolina in Week Two in 2005. Following that loss, the Patriots have not lost to an NFC team. The Patriots hold an all-time mark of 20-13 (including postseason) against the four teams that make up the NFC South.
BRADY VS. TAMPA BAY
Tom Brady is 1-0 against Tampa Bay. In his only meeting against Tampa Bay (12/17/05), Brady led his team to a 28-0 victory by completing 20-of-31 pass attempts for 258 yards with three touchdowns and no interceptions for a QB rating of 112.8. Brady owns a 25-4 record against NFC opponents in the regular-season.
SERIES TRENDS
Home Record ............................... 2-1
- Foxboro Stadium ............................1-1
- Gillette Stadium ...........................1-0
Away Record ................................2-1
- Tampa/Houlihan's Stadium ...................2-1
- Raymond James Stadium ......................0-0
Total Points in Regular Season Series ......124-83
Largest Margin of Victory ..................28 pts (12/17/05)
Largest Margin of Defeat ...................20 pts (11/16/97)
Longest Win Streak .........................3 games (1976-88)
Bill Belichick vs. Tampa Bay ...............2-1 (1-1 with New England)
Tampa Bay Buccaneers running backs coach Steve Logan was offensive coordinator for Boston College from 2007-08.
Buccaneers assistant offensive line coach Chris Mosleywas a graduate assistant coach at BC in 2007.
Buccaneers college scout Tom Throckmorton was an assistant coach at B.C. in 1996.
Patriots LB Pierre Woods and Buccaneers FB B.J. Askew were teammates at Michigan in 2001 and 2002. Askew was also a teammate of Patriots QB Tom Brady at Michigan during the 1999 season.
Patriots LB Eric Alexander and Buccaneers WR Michael Clayton played together at LSU from 2000-03. Patriots DL Jarvis Green was also on the LSU squad with Alexander and Clayton from 2000-01.
Patriots LB Gary Guyton and Bucs LS Andrew Economos were teammates at Georgia Tech from 2004- 05. Both also went undrafted. Patriots TE Michael Matthews was also at Georgia Tech with Economos from 2003-05.
Buccaneers DT Chris Hovan played his college football at Boston College from 1996-99 and was teammates with Patriots C Dan Koppen from 1998-99.
Koppen was teammates with Tampa Bay T Jeremy Trueblood at BC in 2002.
Buccaneers LB Niko Koutouvides grew up in Plainville, Conn. and attended Milford Academy (Milford, Conn.). Koutouvides and Patriots T Matt Light were teammates at Purdue in 2000.
Patriots WR Sam Aiken and Buccaneers DT Ryan Sims played their college ball together for North Carolina from 1999-2001.
Patriots S James Sanders and Buccaneers RB Clifton Smith were teammates at Fresno St. in 2004.
Patriots G Kendall Simmonsand Buccaneers RB Carnell "Cadillac" Williams were teammates at Auburn in 2004.
Patriots NT Vince Wilfork and Tampa Bay TE Kellen Winslow were teammates at the University of Miami from 2001-03. Patriots S Brandon Meriweather was also a teammate from 2003-06.
Patriots TE Chris Baker and Tampa Bay FB B.J. Askew played for the New York Jets together from 2003-06.
Patriots CB Leigh Bodden was teammates with Buccaneers CJeff Faine on the Cleveland Browns from 2003-05. Bodden was also teammates with Bucs TE Kellen Winslow on the Browns from 2004-07.
Faine also played with Patriots LB Rob Ninkovich in New Orleans in 2006 and 2008.
Patriots WR Randy Moss and DT Chris Hovan were teammates on the Minnesota Vikings from 2000-04.
Patriots RB Fred Taylor, OL Dan Connolly, P Chris Hanson and Bucs' QBByron Leftwich were teammates on the Jacksonville Jaguars from 2005-06.
Patriots LB Derrick Burgess and Tampa Bay P Dirk Johnson played for the Philadelphia Eagles from 2003-04.
Patriots CB Shawn Springs and Buccaneers TE Jerramy Stevens played for the Seattle Seahawks from 2002-03.
Patriots S Brandon McGowan and Buccaneers LB Rod Wilsonplayed together for the Chicago Bears from 2005- 07.
LAST MEETINGOn offense, Tom Brady threw for three touchdowns and compiled a 122.8 passer rating, completing 20 of 31 passes for 258 yards. David Givens led New England's receiving corps with a career-high 137 yards on six catches, including a touchdown, while Corey Dillon scored a rushing touchdown and also added a receiving score.
The Patriots produced their most complete game of the season, recording a 28-0 shutout over the Buccaneers in Foxborough.
INFREQUENT FOES
The Patriots and Buccaneers have met just six times in regularseason play. The Patriots' six games against Tampa Bay are the fewest against any team that entered the league prior to the most recent era of expansion, which began with the entry of Jacksonville and Carol ina to the NFL in 1995.
PATRIOTS IN OCTOBER
The Patriots are 24-5 in October games since 2003, having swept the month in 2003, 2006 and 2007. The Patriots had an 11-game winning streak in the month of October that was snapped last season when New England dropped a 30-10 decision at San Diego (10/12/08).