NEW ENGLAND PATRIOTS (4-3) at ST. LOUIS RAMS (3-4)
Sunday, October 28, 2012 at 1:00 p.m. ET - Wembley Stadium (80,000)
!The NFL's International Series of regular-season games returns to the United Kingdom this Sunday when the St. Louis Rams host the New England Patriots.
The Patriots-Rams game will be the 11th regular-season game played outside of the U.S. The first regular-season game played outside of the U.S was in Mexico City in 2005 when the Cardinals hosted the 49ers.
This week's game will be the sixth regular-season game played in London. The game will be New England's second time playing in London. The Patriots beat the Tampa Bay Buccaneers 35-7 at Wembley Stadium on Oct. 25, 2009.
The NFL played games in London in 2007 (Giants-Dolphins), 2008 (Chargers- Saints), 2009 (Patriots-Buccaneers), 2010 (49ers-Broncos) and 2011 (Bears- Buccaneers).
Buffalo has hosted games in Toronto in 2008, 2009, 2010 and 2011. There have been nine NFL preseason games played in London. The first preseason game ever played in London was a 1983 game between Minnesota and the St. Louis Cardinals. There have been eight games played in London as part of the NFL's American Bowl preseason contests, which began in 1986.
The Patriots have traveled internationally for four preseason games in addition to their 2009 regular season game in London: Those games are listed below.
Patriots lost to Detroit, 22-9, in Montreal in 1969 (Attend. - 8,212)
Patriots lost to Pittsburgh, 30-14, in Montreal in 1990 (Attend. – 26,869)
Patriots lost to Cleveland, 12-9, in Toronto in 1993 (Attend. – 33,021)
Patriots defeated Dallas, 21-3, in Mexico City in 1998 (Attend. – 106,424)
Patriots defeated Tampa Bay, 35-7 in London in 2009 (Attend. – 84,254)
TRAVEL NOTES
The Patriots' round trip to London (6,500) will be more travel miles than Green Bay (5,774) will have all season. Washington has the second-lowest travel with 7,144 total miles. In fact, the Patriots will travel a total of 11,480 miles round trip, between the Seattle and London road trips. That mileage is more than 11 teams total travel for the entire 2012 season. The Patriots round trip to Seattle was 4,980 miles and the road trip to London will be 6,500 miles.
TELEVISION: This week's game will be broadcast to a national audience by CBS and can be seen in Boston on WBZ-TV Channel 4. Jim Nantz will handle play-byplay duties with Phil Simms providing color. The game will be produced by Lance Barrow and directed by Mike Arnold.
RADIO: 98.5 FM, The Sports Hub, is the flagship station for the Patriots Radio Network. A complete listing of the network's 40 stations can be found here. Play-by-play broadcaster Gil Santos is in his 36th season as the voice of the Patriots and will call the action. Former Patriots quarterback Scott Zolak will handle the color commentary.
NATIONAL RADIO: This week's game will be broadcast to a national audience by Sports USA. Larry Kahn and Ross Tucker will call the game.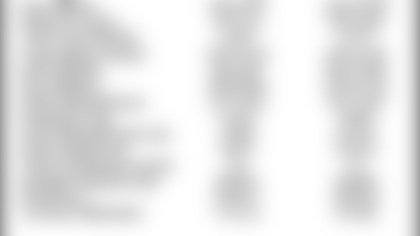 The Patriots and Rams have played 10 regular-season games with each team winning five times.
New England scored one of the greatest victories in franchise history when it defeated the favored Rams for the NFL championship on Feb. 3, 2002 in Super Bowl XXXVI. That victory followed a tight game in the 2001 regular season that ended in a 24-17 St. Louis victory at Foxboro Stadium.
The last time the two teams played in the regular-season was in 2008 when the Rams fell, 23-16, in their first visit to Gillette Stadium on Oct. 26, 2008.
The Patriots are 3-2 against the Rams in road games, including 2-1 at Anaheim Stadium when the team was located in Los Angeles and 1-1 in games played in St. Louis.
The series dates back to 1974, when the Patriots defeated the Los Angeles Rams by a 20-14 score at what was then Schaefer Stadium.
SERIES BREAKDOWN
(Includes Postseason)
Overall Record, 6-5
Home Record, 2-3
Gillette Stadium, 1-0
Schaefer/Sullivan/Foxboro Stadium,1-3
Away Record, 3-2
Anaheim Stadium, 2-1
Trans World/Edward Jones Dome, 1-1
Neutral Site Record (at Louisiana Superdome), 1-0
Total Points, Patriots 223, Rams 215
Longest winning streak: 3 games (including SB XXXVI)
Longest losing streak: 4 games (12/24/89 – 11/18/01)
Bill Belichick vs. St. Louis/LA: 3-2 (3-1 with New England)
Rams TE Matthew Mulligan is a native of Bangor, Maine and attended the University of Maine from 2005-07. Mulligan played one season at Husson College in Bangor before transferring to the University of Maine.
Rams LB Jo-Lonn Dunbar attended Boston College from 2003-07. Dunbar was a two-year starter and captain at BC and recorded 269 tackles during his time with the Eagles.
Rams Executive Vice President of Football Operations/COO Kevin Demoff graduated from Dartmouth College in 1999 with a bachelors' degree in history. Demoff later attended the Tuck School of Business at Dartmouth and earned a Masters in Business Administration in 2006.
Rams Offensive Line Coach Paul Boudreau is a native of Arlington, Mass. and played offensive line at Boston College from 1971-73. Boudreau spent the early part of his coaching career in New England and held positions with Boston College (OL 1974-75), The University of Maine (OL 1976-78) and Dartmouth College (OL 1979-81).
Rams Assistant Special Teams Coach Paul F. Boudreau is the son of Rams Offensive Line Coach Paul Boudreau and attended Boston College. Like his father, Paul spent the beginning of his career in the New England area coaching at Northeastern University (TE 1997-98), Brown University (WR 1999, TE/Special Teams Coordinator 2000-06), Central Connecticut State University (WR 2007-08) and Massachusetts Maritime (RB 2010).
Rams Assistant Offensive Line Coach Andy Dickerson played football at Tufts University from 1999-2002 and served as an offensive graduate assistant in 2003.
Rams Running Backs Coach Ben Sirmans was a running back at the University of Maine and graduated in 2003 with a degree in physical education, health, and recreation. Sirmans began his coaching career at Maine in 1996 and served as the team's running backs coach and recruiting coordinator until 1999. After coaching stints with Kent State and Michigan State, Sirmans returned to the New England area and coached the running backs at Boston College from 2007- 2011.
St. Louis Ties
Patriots OL Dan Connolly is a native of St. Louis, Mo. and was a three-time all-district and all-conference selection at Marquette High in Chesterfield, Mo. Connolly went on to attend Southeast Missouri State where he was a four-year starting offensive tackle and an all-conference selection for four consecutive seasons.
Former Patriots
Rams Offensive Line Coach Paul Boudreau held the same position with the Patriots from 1997-98.
Rams Assistant Offensive Line Coach Andy Dickerson was an Operations Intern/Assistant with the Patriots from 2004- 05.
Rams G Quinn Ojinnaka appeared in 8 games for the Patriots in 2010 after joining the team in a trade with Atlanta.
Former Rams
Patriots Offensive Coordinator/Quarterbacks Coach Josh McDaniels held the same position with the St. Louis Rams in 2011.
The Denver Broncos traded Patriots WR Brandon Lloyd to the Rams on October 17, 2011 in exchanged for a sixthround draft choice in 2012. Lloyd played in St. Louis for the remainder of the 2011 season and caught 51 passes for 683 yards and five touchdowns.
Patriots TE Daniel Fells played for the Rams from 2008-10. During his time in St. Louis, Fells played in 42 games and made 11 starts.
Former Teammates
Sunday's game features a number of former New York Jets teammates. Patriots RB Danny Woodhead (2008-10), Patriots CB Marquice Cole (2009-11), Rams QB Kellen Clemens (2006-10), Rams TE Matthew Mulligan (2009- 11), Rams C/G Robert Turner (2007-10) and T Wayne Hunter (2008-11) were all teammates in New York.
Patriots DE Trevor Scott played with Rams T Joe Barksdale in Oakland in 2011.
Rams DE Kendall Langford played with a number of Patriots while he was a member of the Miami Dolphins. Langford was teammates with Patriots OL Donald Thomas (2008-09), LB Rob Ninkovich (2008) and LB Bobby Carpenter (2010).
Patriots OL Matt Tennant and Rams LB Jo-Lonn Dunbar played together in New Orleans from 2010-11.
Rams LB Mario Haggan played in Denver with Patriots LB Niko Koutouvides (2008), Patriots WR Brandon Lloyd (2009-10) and Patriots TE Daniel Fells (2011).
Patriots WR Brandon Lloyd teamed up with LB Rocky McIntosh in Washington from 2006-07.
Patriots LB Tracy White and Rams S Quintin Mikell were teammates in 2009 with the Philadelphia Eagles.
WHAT TO LOOK FOR THIS WEEK VS. ST. LOUIS
!With one touchdown pass against the Rams, Tom Brady will extend his streak to 40 straight games with at least one touchdown pass and continue his third longest streak all time, behind Drew Brees (49-current) and Johnny Unitas (47).
Brady has 49 career 300 yard games in the regular season and needs one more to break a tie with Warren Moon (49) for 7th place all time.
Brady has two rushing touchdowns in 2012 and needs one more to tie his single-season career high of three set in 2011.
STEPHEN GOSTKOWSKI
Stephen Gostkowski (7-of-10) needs one more 50-yard field goal to tie Adam Vinatieri (8-of-17) for most 50-yard field goals in Patriots history.
Gostkowski has two 50-yarders so far in 2012 and can become the first Patriots player with three 50-yard field goals in a single season.
ROB NINKOVICH
Rob Ninkovich has a team-leading four forced fumbles, including four forced fumbles in the last four games. If he has one more forced fumble it will be tied with Mike Vrabel (five in 2007) for the most forced fumbles for a Patriots player within the last 20 years.
WES WELKER
Wes Welker (16) needs one more 10-plus catch game to break a second place tie with Marvin Harrison (16) and tie Jerry Rice (17) for the most 10-catch games in NFL history.
Welker needs one reception to extend his streak to 85 straight regular-season games with at least one reception as a member of the Patriots to extend his franchise record. Welker has an overall streak of 101 straight regular-season games with at least one reception, including his time with the Miami Dolphins.
Welker (8,184) needs 78 yards to move past Irving Fryar (8,184) for fourth place on the Patriots all-time all-purpose yards list, behind Kevin Faulk (12,349), Stanley Morgan (11,468) and Troy Brown (11,053).
TEAM
The Patriots have gained at least 350 total yards in 16 consecutive games and need to accomplish the feat against the Rams to break out of a tie with the 1999-2000 St. Louis Rams (16) for the longest streak in NFL history.
NFL'S BEST ROAD WARRIORS
Since the start of the 2000 season, the Patriots have the best regular-season road record at 65-35 (.650).
TEAM              RECORD    PCT.
New England 65-35 .650
Philadelphia 63-35-1 .641
Indianapolis 59-39 .602
Pittsburgh 58-41 .586
TOP OFFENSE IN 2012
The Patriots offense is ranked first in the NFL in 2012 with 436.1 yards per game. The Patriots offense has finished in the top 10 five straight seasons. Since the 1970 merger, the Patriots offense has finished in the top 10 a total of 16 times, including seven times under Bill Belichick.
Year  Rank
2011 2 (428.0)
2010 8 (363.8)
2009 3 (397.3)
2008 5 (365.4)
2007 1 (411.3)