With Tom Brady and the Buccaneers raising the Lombardi Trophy on Sunday night, the 2021 offseason is officially here and for the Patriots, it's a big one. With Devin McCourty telling Tom E. Curran that he expects important veterans like Dont'a Hightower, Patrick Chung, Brandon Bolden and Marcus Cannon back, New England's offseason is already off to a good start.
Still, the 2021 offseason is going to be a roller coaster of movement for the Patriots, one way or another. Retaining their own guys, making big moves at big positions, drafting at their highest slot since 2008…things are going to happen.
So buckle up and let's dive into some great questions from the fans!
Top 3 things that need to happen this off season to get this team back to the playoffs? -@chr12thornton_
That's a great place to kick things off. I always start with the division and oh, how quickly things have changed. Buffalo will be stacked again and Miami should only be better. The Jets will almost certainly be hyping a new rookie quarterback like Justin Fields or Zach Wilson. Where does that leave the Patriots? At this point, I'm unsure we can even consider how to knock off those teams.
It has to start for the Patriots at the quarterback position. Brian Hoyer and Cam Newton are both free agents. It would seem upgrading Hoyer, perhaps getting a younger veteran back-up to replace him with some starter-competition potential would be ideal. As for Newton, I haven't ruled a return out, but there's no clear answer right now, even with the Pats' cap space. That could change depending on how the QB carousel turns.
Second, I'd say address the defensive front seven. If Hightower and Chung do indeed return, it's a huge boost, but that still leaves just Byron Cowart and Beau Allen atop the depth chart along the interior defensive line. Retaining Lawrence Guy seems like a must, but addressing the defensive line of scrimmage in both external free agency and the draft is also critical in my view.
Third, it's the weaponry. Damiere Byrd had a promising first season, but he's already a free agent. He and Jakobi Meyers were solid this season, but the Patriots need more than solid if they're to give any quarterback a chance. Once again the draft is loaded with exciting playmakers, that's the spot to tap early and often. –Mike Dussault
What's the one genuine and achievable move that the Pats could make to get you excited for next season? -@PaulHawkes14
There's little question in my mind it will be the quarterback move that they'll inevitably make, and it could possibly be a couple of them. I think most Patriots fans are just waiting for the next quarterback to invest their faith in and I'm right there with them. I think they need to be aggressive in both free agency and the draft at the position and due to all the factors, it's almost assured that they will be.
But genuine and achievable? Right now, it's re-sign Lawrence Guy and David Andrews. Those would be two slam dunk moves that address two of their biggest questions before free agency hits. –Mike Dussault
With so much that should happen for the Pats (should!), what's gotten you the most excited for this free agency/draft/off season period? -@clazzyclare
What has me most excited is simply how much has to happen! A lot of off-season's you knew there might be a few interesting arrivals, but it feels like the 2021 Patriots will be a very new team.
Certainly, the quarterback position is at the center of it, and I'm just wondering how the team addresses the position. On one hand it seems like they have to be aggressive, but being patient, perhaps even until after the draft, might net them the best overall return. Finding a franchise quarterback is the near-impossible quest and the Patriots are now right in the mix of it with most of the NFL.
But overall, get ready, because this will be an active offseason. –Mike Dussault
What do you expect will be the first post-SB domino to fall, whether a re-signing, a trade acquisition, or a trade away? -@TeamCrazyMatt
I think it starts like it did last year, when they locked up Devin McCourty and Matthew Slater. I'd bet they take care of their own in-house guys first and so my radar is on Andrews, Guy, James White and even Joe Thuney a tiny bit. The captains get first attention and then we can turn the page to the other internal free agents who will hit the open market and the external options.
I think the tradeable assets are Stephon Gilmore and J.C. Jackson, but I'd expect the team to hold onto those until the draft. Gilmore could force their hand sooner, as I'm guessing he'll want a new contract this offseason. ­–Mike Dussault
Do the Pats sign a bridge QB and draft a QB at 15? I really want Mac Jones at 15, just have a feeling he's gonna be a great pro. -@RandTtocs99
I was impressed watching Mac Jones during the Senior Bowl week of practices, it was unfortunate he wasn't able to play in the game. It's clear what Patriots fans see in him and why he'd be a good fit for how Tom Brady ran their offense. Jones gets the ball out with anticipation and accuracy and despite knocks against him that he isn't a running threat, his head and arm seem to keep him out of trouble.
But I still struggle taking him at 15th overall, especially when the Patriots really need to hit on this pick with a player who can hopefully make an instant impact. With the way the board seems to fall, they could have a top-10 player fall in their lap and if that happens, it's not a hard choice against Jones. –Mike Dussault
2022 Patriots Mock Draft Tracker
Find out what the top 'experts' are predicting the Patriots will do in the first round of the 2022 NFL Draft.
Draft question Mike, who's your ideal player you'd like us to get if we stay at 15 if the chips fall kindly to us? Do you think Bill will spend big this off-season? I don't think he'll be able to attract big players on discount contracts so enticing them with a nice salary is the only way in my opinion, especially on the offensive side of the ball if they want to attract one of the big name wide receiver. -@Fuadnehemen
In my first mock pick of the season, I went with an overly optimistic approach and had the Patriots taking linebacker Micah Parsons from Penn State. Parsons is just that kind of top-10 pick I'm talking about and while I'm pretty sure someone will grab him well before 15, I'm letting myself dream a little bit. Parsons is a four-down defender whose speed and size would be a monumental boost to the second level of the Patriots defense.
As for spending, I think they'll spend a lot of money, but I don't know how much of it will go to a single external free agent, which is what everyone is clamoring for, as always. A chunk of it has to be reserved for a quarterback, unless the team is planning on rolling with Stidham or a rookie, which does still seem possible. And you're right, without spending on a quarterback you won't really have to worry about spending on a big-name receiver.
The biggest questions right now on the 2021 roster are the quarterback and the defensive front and I think those are the spots where the cap space should be focused on. –Mike Dussault
Mike, in your opinion who would you go after in the draft or free agency for QB? A realistic pick please. -@NuJeru4Life
My current list of potential QBs who interest me, in no particular order – Jacoby Brissett, Jimmy Garoppolo, Marcus Mariota, Sam Darnold, Trey Lance, Mac Jones, Jamie Newman, Ian Book, Davis Mills. ­–Mike Dussault
Where can we find a Devin White-type linebacker. The thing I've found hardest watching the Bucs wasn't Tom and Gronk winning, it's watching White fly around and thinking we have nothing that resembles that. -@adamkirk2_
I found myself thinking the same thing a lot this post-season! White is fantastic and one of those rare athletes with size and speed that is fun to watch. Really, I think both of Tampa's linebackers together illustrated some of what the Patriots defense lacked this season.
Even with Hightower back in the mix, there's a big need for more size and speed like White has, but it's not easy to acquire and that's probably why I'm praying Micah Parsons falls to 15. That's the kind of player he is. A more realistic option, and one not as mobile, is Zaven Collins who probably seems a lot more in the Patriots mold anyway.
The question is if the Patriots try to get these faster linebackers or do they continue to stack the second level with hybrid safeties like Chung, Adrian Phillips and Kyle Dugger? –Mike Dussault
Let's wrap this up with a few great questions from Bob in Orlando.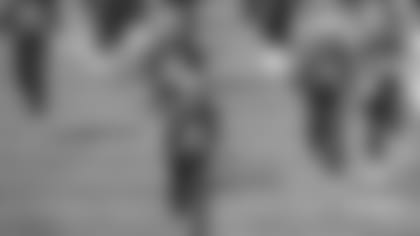 21 Burning questions for offseason
The Patriots have plenty of questions to answer this offseason and plenty of ammunition to make some big splashes.
Greetings from me and Mickey Mouse in Orlando!
I think, besides QB, the biggest issue facing the Pats is rebuilding the defense. Now our DBs are just fine, but could take a hit if Gilmore is traded or JC Jackson leaves via the tender. But the big issue is our DL. We need at least 2 and possibly 3 big fatties (as BB calls them) to two-gap and allow the LBs to make plays. They also need to be able to push the pocket and create pressure up the middle, allowing edge rushers -like Uche and Winovich to get home. In your opinion, is it better to get them through the draft or in FA? I know FAs will be more expensive, but at least, you know what you have. A rookie is a crap shoot, even a pick in the top 4 rounds.
Hopping in here as Bob is hitting on a lot of what I've been writing here. Bring back Guy and give him some help, which really might even already be on the roster in Beau Allen. I know it was disappointing that he missed his whole season, but he's the kind of big bodied lineman we're talking about. If he's recovered, you're not that far off with Guy, Allen and Cowart. Of course, that's a lot of ifs. There's some big boys in the draft, hello Tyler Shelvin of LSU, so that's a good spot to solidify the depth of the interior.
Second question, if High comes back I believe that really solidifies the LB corp. High and Bentley in the middle and Uche and Winovich, but I could see at least 1 or 2 more guys here as well. Again, FA or draft pick?
Yeah, don't stop there, Bob. This will still be a match-up defense that needs some pieces, with guys like Shilique Calhoun and John Simon both free agents as well. The development of Winovich, Uche and Jennings is key, I'd continue to complement them with draft picks. Seems like the team is always taking free agent flyers on guys like Calhoun on one-year deals. He could return for a similar rotational role or they could add someone in the similar price range.
Last question - going back to JC if the Pats put a 1st round tender on him would you take the pick or match the offer? Certainly that would mean that Gilmore would have to be retained.
Thanks and love these Q/As you guys do a great job.–Bob Michaud
Thanks, Bob. As I said earlier, I think Jackson and Gilmore are two of their best assets with potential to move and I could see the argument that both chips should be cashed in now. I'd tag Jackson with a first but still be open to trading him for a day two pick, Gilmore could probably fetch a similar price.
The Patriots best route back to the playoffs is through the draft. There are some key veteran pieces that need to be kept, but the youth movement should continue in 2021. The more high draft picks they can acquire, the better. But they've got to hit some out of the park and fast. –Mike Dussault