They're just about ready.
If the third preseason game best tests how prepared an NFL team is for the regular season, New England aced the exam. Had things not gone so well in the Patriots' 24-7 victory over the Carolina Panthers, their excuses would have been plausible.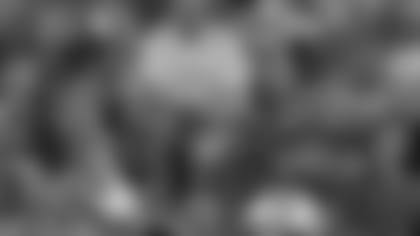 ]()QB Tom Brady, now a proud papa, went to the West Coast this week to see his newborn son, getting to Charlotte just in time for Friday night's game. RB Laurence Maroney and his surgically repaired shoulder were getting their first full-tilt contact this season. The offensive line, which had its problems protecting Brady last week, was facing one of the best defensive lines in the league. Carolina's Steve Smith, always a dangerous WR, has given the Pats fits in the past.
But none of these issues proved problematic. New England's starters, most of whom played well into the third quarter, looked like they'd done their homework. With one more week of studying ahead, the Patriots should be able to correct the few mistakes they made against the Panthers.
Because the real tests begin September 9th.
Here's how the Pats graded out on Friday: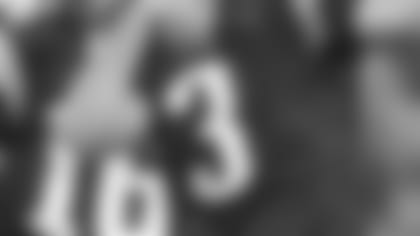 ]()Stephen Gostkowski
Good news: his kickoffs. Four of his five landed in Carolina's endzone (two for touchbacks).
Bad news: his field goals. The normally reliable second-year kicker's slump continues. He had two misses, both wide left, versus Carolina. Granted, they were long-range kicks (52 and 46), but Gostkowski's confidence appears to be somewhat shaken.
Penalties
They cut last week's total in half, but the Pats are still drawing too many yellows. Staying more focused is the solution. Sounds simple (because it is), but head coach Bill Belichick will undoubtedly make this a point of emphasis as the season opener nears.
David Thomas
The second-year TE hasn't been in uniform yet this season, thanks to a broken foot he suffered in March. Yet Thomas made the trip to Charlotte and was spotted on the field prior to the game doing some light running. He could be close to returning to action.
Mike Richardson
In a somewhat surprising move, the rookie corner took all the first-half reps at nickel back, the spot Brandon Meriweather had been occupying so far this preseason. Belichick was asked about the switch during his post-game press conference.
"Mike has been playing outside. We worked him inside a little bit this week, so we just wanted to take a look at that in the game."
Richardson held his own for most of that time, but couldn't contain Keary Colbert on the Panthers' lone touchdown of the evening. After the game, Richardson was seen in the Patriots locker room with his left arm in a sling, his hand in a cast.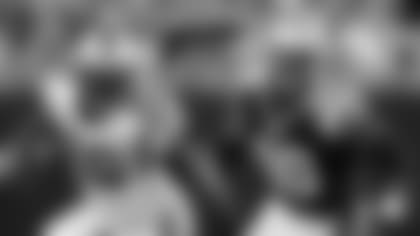 ]()Starters on offense, defense
Brady looked sharp, despite catching the red-eye from California. He was 17-of-22 for 167 yards and two TDs (no picks). The O-line did a tremendous job not only pass-protecting, but also run-blocking for Maroney, Sammy Morris, and Heath Evans. Donté Stallworth looks like he and Brady are starting to get comfortable with one another.
On the other side of the ball, the defense is getting stingy again. They harassed Carolina QB Jake Delhomme all night, and wouldn't allow either Panther running back to gain ground consistently. And they only allowed the seven points, in part because …
Blocked field goals
DL Vince Wilfork and Jarvis Green are big guys who came up even bigger on Friday. Carolina lined up for two field goal attempts, but Wilfork and Green got their big mitts on both kicks, stuffing the ball right back at kicker John Kasay.
"We got a really good surge up the middle," Belichick explained. "It's a team effort. It's not just one guy. It's two or three guys pushing."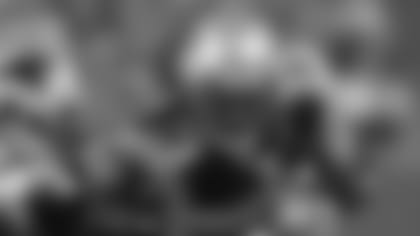 ]()Laurence Maroney
Eight of New England's first 10 offensive plays Friday night were Laurence Maroney runs (Belichick admitted they were scripted that way). In his first action this preseason, Maroney looked fresh and powerful, zigging and zaggingonly when he needed to. He read the Panther defense well, bouncing outside at one point for a long gain when the hole he was supposed to hit up the middle was clogged.
"It did boost my morale," Maroney admitted afterwards, describing how it felt to get back in a game with his Patriots teammates. Having averaged nearly four yards a pop on his 15 carries, he was asked in the post-game locker room if this is the kind of workload he should expect all season.
"I can't tell you what to expect," he replied, "but whatever happens, I'm ready."
With a little more work, the rest of the Patriots will be, too.