INDIANAPOLIS - As the 2011 college football season came to a close the consensus No. 1 overall pick was Stanford quarterback Andrew Luck. But Baylor'sRobert Griffin III was the quarterback who took home the Heisman Trophy.
During the time since the season ended Griffin - better known as RG3 - began to enter into the conversation of potential top picks. Most still considered Luck the favorite but more and more folks began hitching their wagons to Griffin.
RG3 got the first chance to impress folks at the Combine, standing at the podium and delivering as impressive a performance as many veteran scribes in attendance could remember. He was poised, articulate, respectful and confident without being arrogant - and he did that in front of a crowd that was larger than any seen in recent memory.
So, Griffin was the leader in the clubhouse and certainly put some pressure on Luck. But less than 30 minutes later, at the same podium the affable Griffin owned, Luck matched him word for word. He was equally respectful and articulate, leaving the room quite satisfied.
If NFL teams - particularly the Colts - came hoping to have one or the other make the decision easier by acting like an immature, selfish player, they were out of luck (no pun intended).
Both were asked about the possibility of remaining in Indianapolis and potentially replacing future Hall of Famer Peyton Manning. Neither took the bait.
I'd like it to stay Peyton's picture," Griffin said when asked about the huge poster of the Colts quarterback outside. "But I'm not going to be a politician for that. I've talked to Peyton a couple times and I wish him the best. I hope what he wants can come about from the situation. It would be amazing for him to stay in Indy and play out his career or to be drafted here and play behind him.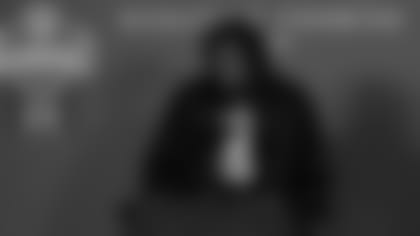 "As a quarterback, you're going to be put in the forefront whether you want it or not. And if you're not, then you're not doing your job. As the quarterback of an organization you're going to be out there, you're going to have billboards as long as you're playing well and I plan on playing well.
"I would embrace it," he continued when asked what it would be like play behind Manning. "It's not very often you get chances to play or be on a team with a legend like that and learn from a guy like Peyton. Definitely I'd come in and compete to be that starter, but I wouldn't be upset if Peyton Manning was the starting quarterback of the team that I'm on. It would be an honor to sit behind him and learn. I'd hold that clipboard with pride. I'd have no problem with that. I wouldn't come in and demand to be the starter."
Luck was similarly respectful when the topic of Manning was brought up.
"It's a little premature to do that," Luck said. "I'm not too caught up in that right now. I understand it's a possibility. I understand the questions have to be asked. Peyton was my football hero growing up. You never truly replace a guy like and who knows what happens. But I'm not thinking about that.
"If I had the opportunity to learn from a guy like that of course I'm going to take advantage of it."
Neither Luck nor Griffin will throw at the Combine, preferring to do so at their respective Pro Days. Both expressed the desire to be taken No. 1 overall but neither seemed consumed with it.
"It's a team game. Robert's a great quarterback, a great competitor, a great guy and real easy to get along with," Luck said. "But I don't get motivation from competing against him for something like that. Everybody wants to be No. 1 but not at the expense of someone else."
The Colts will have an interesting decision to make come the end of April when it comes to determining which player is the better prospect, but in terms of acquiring a quality individual to replace Manning, it would seem they can't go wrong.
Luck and Griffin aren't the only quarterbacks showcasing their talents in Indy. In fact, there's a reasonable chance they won't be the only passers taken in the first round. Texas A&M's Ryan Tannehill is a player many believe will find his way into Round 1, and if so could be an interesting dual-threat prospect.
Tannehill began his career with the Aggies as a quarterback but came out of camp as third on the team's depth chart after redshirting as a freshman. So, he decided to try his luck as a wide receiver and soon climbed atop the team's list at that spot. When starter Jerrod Johnson struggled the following year, Tannehill moved back to quarterback and finished his career there.
"It was a unique experience," Tannehill said. "It was frustrating because I didn't get to play quarterback but it was exciting to be able to contribute to the team. I learned a lot and I believe it helped me understand the offense better and develop more."
Tannehill is also dealing with a broken foot suffered while working out in January. He says the screw that was inserted is feeling great and he intends to be ready to perform at his Pro Day. The athletic Tannehill will be an interesting player to watch in this draft.
Moving further down the list there are a few other intriguing prospects to keep an eye on. Oklahoma State's Brandon Weeden and Wisconsin's Russell Wilson both have baseball backgrounds that impacted their college careers. Weeden played five years in the Yankees system before entering Oklahoma State, therefore he enters the draft as a 28-year-old prospect.
Wilson began his career at N.C. State and was drafted by the Colorado Rockies in 2009. Because baseball interfered with spring practice, Wolfpack coach Tom O'Brien was unhappy with Wilson despite his tremendous production. So, Wilson transferred to Wisconsin and played his final season for the Badgers. He enjoyed a tremendous season that resulted in a Rose Bowl berth and an impressive 33-4 touchdown-interception ratio.
Wilson's 5-11, 203-pound frame is the only thing keeping him from being listed among the draft's elite. He draws comparisons toDrew Brees, and watching him throw the football it's easy to see why.
"I'm trying to show my leadership and talent," Wilson said. "I can make all the throws. I have all the confidence in the world and I believe I've shown that over the course of my career."
Another quarterback to keep in mind is Michigan State's Kirk Cousins, whose leadership qualities may be the strongest of any players' in the draft. He backed up Brian Hoyer before winning the starting job in 2010, and he remains tight with the Patriots backup.
"Brian was a guy who had a lot of talent," Cousins said. "And although he went undrafted, it wasn't a surprise to anybody at Michigan State that he's had a successful tenure in the NFL so far with the Patriots. It comes as no surprise to us because of the arm strength, he's a student of the game, he has a strong work ethic. Having played in the Big 10, you're used to a lot of the things that accompany an NFL quarterback.
"So, I felt like it's a good indicator of Michigan State's program as a whole that we're doing things the right way and we're able to produce players who are having success on Sundays."