The Patriots gave Gregory a three-year pact, reportedly in the neighborhood of $9 million, after he started a career-best 13 games for San Diego last season. He had 18 starts in his previous five campaigns. Gregory broke into the NFL as a special teamer, like most undrafted rookies do, and he said he's willing to do that for New England as well. However, for that kind of money, the 29-year-old must expect to be more than just a part-time player in Foxborough.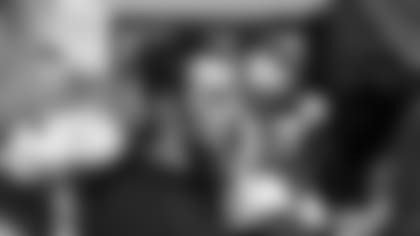 Patriots safety Steve Gregory addresses media on the field at Gillette Stadium Thursday. Photo courtesy Patriots PR.
"Oh, yeah, any player in this league … you strive to be a starter, and you approach it that way," Gregory explained. "So, I'll approach practice, the offseason – everything – to prepare myself to be a starter. I think that's the only way you can go about it. Every player should approach it that way. The competition on the field will let it stand where it stands."

Head coach Bill Belichick covets players who can perform more than one task, and the 5-11, 195-pound Gregory certainly qualifies. In San Diego, he played both safety spots, nickel/slot corner, and was an edge corner for four years in college at Syracuse. He acknowledged that he's more comfortable as a free-roaming safety, as opposed to playing closer to the line of scrimmage, but he's prepared to take on whatever role is asked of him here.

Since arriving in mid-March, Gregory has been working out regularly and getting to know his new teammates. Now that the offseason strength and conditioning program has begun in earnest, he's getting even more of an opportunity to do so.

Gregory is also glad to be back on the East Coast. The Brooklyn native and his wife both have family roots in the Northeast, and when his Chargers contract expired following the 2011 season, he admits he was expecting to move on from Southern California.

"Obviously, going into free agency, you don't know what's going to happen. I knew that there would probably be opportunities elsewhere," said Gregory. "This presented a great opportunity for me. I'm happy to be here. Excited to be here. Thankful to the Kraft family, Coach Belichick, and the organization for giving me an opportunity to come out here and help this team win a championship."

Earlier this week, Gregory also sat down for a one-on-one chat with Patriots Today's Lyndsay Petruny.