… It's been raining buckets all day today in New England, so, the Patriots were forced to take their practice inside the Dana-Farber Field House. They were in shells, helmets, and sweats.
… DT Kyle Love returned to practice after missing Wednesday for non-injury reasons, meaning every player suited up for today's session. Love, though, would not elaborate on why he had to miss out yesterday. "Everything's fine. Just missed one day, you know. I don't really want to get into all of it, but … back at work now. Ready to get ready for this Saturday."
… Rookie OL Marcus Cannon was added to the Patriots injury report with an ankle injury. He was limited in practice. However, QB Tom Brady (left shoulder), S Patrick Chung (right foot), WR Julian Edelman (back), LT Matt Light (ankle), and CB Devin McCourty (shoulder) were removed from the report. Meanwhile, eleven other Patriots were limited in practice today: CB Kyle Arrington (foot), C Dan Connolly (groin), LB Dane Fletcher (right thumb), S James Ihedigbo (shoulder), LG Logan Mankins (left knee), LB Rob Ninkovich (hip), WR Matthew Slater (shoulder), LB Brandon Spikes (right knee), RT Sebastian Vollmer (back/right foot), WR Wes Welker (knee), and LB Tracy White.
… Mankins addressed reporters after practice and proclaimed himself "day-to-day" with his left knee injury. He claimed he was not sure if he'll play Saturday night against Denver.
… Out in Denver, there was no change to their report. Three Broncos did not practice: S Brian Dawkins (neck), WR Eric Decker (left knee), and LS Lonie Paxton (personal reasons). Three others were limited: DE Elvis Dumervil (ankle), S David Bruton (Achilles), and TE Daniel Fells (ankle). Rookie LB Von Miller (thumb) took part fully.
… It's always refreshing when a Patriots players goes off-script and eschews the company line to speak his mind. We got a bit of that from Love today, when a Denver reporter asked if he's tired of hearing all the talk about Broncos QB Tim Tebow. "I can't speak for everybody, but I am," the second-year d-tackle admitted. He added that he's using that as a motivational tool for the game.
… Welker and LB/co-captain Jerod Mayo shared their thoughts on Tebow as well. "He's done a great job. You've got to credit the guy," Welker began. "He's played really well and done a lot of good things. It's been unorthodox to what people are used to, but it works." Mayo countered with, "He can throw the ball. He's a quarterback in the NFL. He lulls you to sleep." Mayo added that he's "more comfortable this time around" preparing for Denver's option-based offense, just a few weeks removed from their last encounter.
… There seems to be a confident air about this Patriots team as the work week comes to a close. Head coach Bill Belichick was almost giddy – well, as giddy as he can get – during his press conference, and the mood at practice was light and free-spirited, with players and coaches taking a relaxed approach to the start of their session. That sense was confirmed later in the locker room when players spoke to reporters. "Yeah, absolutely. I think we've had a good week of practice. Guys have been really focused in, and making sure that we're doing everything necessary to play well this weekend," Welker asserted. "This is the best I've seen the team all year. It's going to be good," proclaimed Love. "Everybody just wants to win. And me, as a young guy, I want to win for the older guys, the guys that don't have rings. I feel like that's the difference."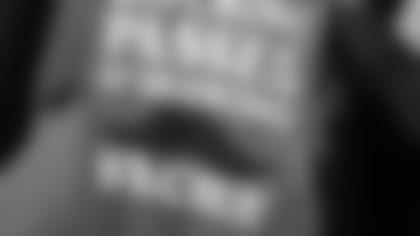 … Mayo was a bit more reserved, stating, "There is nothing I can offer young guys as far as winning playoff games. I haven't won one yet" But he added that he felt his team was "as ready as we are going to be."
… One more sign of the easy-going mood: Welker, who's now sporting a hideous mustache, passed around red t-shirts to teammates that featured a Pringles potato chip-looking mustache and the words "Catching Passes and Growing 'Staches." Welker explained that his mustache "seems to give you power, especially late in the season. I've been feeling it this week. Hopefully, it carries through to Saturday." He hopes to use the tees to raise money for his charitable foundation back home in Oklahoma.