… Slightly milder, but still frosty here in New England, as the Patriots went outside again on the Gillette Stadium game field for the second practice of their playoff bye week. The session was held, with players in shells, helmets, and sweats.
… The same five players who didn't suit up Wednesday were also not out there today – QB Tom Brady (left shoulder), WR Wes Welker (unknown, but took a shot to the ribs during the Bills game), LG Logan Mankins (left knee), right tackle Sebastian Vollmer (back/right foot), and rookie o-lineman Marcus Cannon (unknown) – along with running back BenJarvus Green-Ellis. Reminder, with no game this weekend, there will be no official injury report released, so, we likely won't know the reasons for their absences until next week.
… A trio of Patriots won awards this week. Brady was named NFL Offensive Player of the Month again, the second time this season and the second month in a row he's been so honored. And teammates selected Cannon for the Ed Block Courage Award, given annually to one player on each NFL team who, as the official news release explains, has "overcome devastating injuries or tragedies in their personal lives to return to top-level competition." And on Wednesday, DB Sterling Moore was named NFL Rookie of the Week, after picking off two passes (one a pick-six) against Buffalo.
… Player interviews are scheduled to take place beginning at 4 o'clock Eastern today. Check back here later for updates.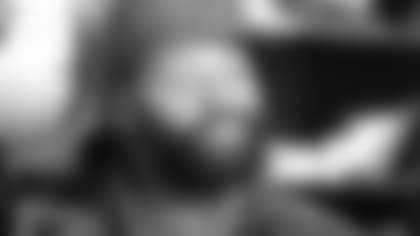 … Linebacker Brandon Spikes granted reporters a rare interview. Standing at his locker, he recounted what this season has been like for him, much of it spent on the sidelines nursing a right knee injury. "Of course it was frustrating, but I just think everything happens for a reason," he said philosophically. "I had to just work through it. Just fortunate to be back on the field. I've never really gotten hurt like that. I feel good … I should be fine." The second-year 'backer said he performed "normal" rehab and conditioning exercises during his time away from the game, and he credited his teammates with "pushing" him to overcome the injury. "The only thing different is I wasn't on the field," he continued. "I was just trying to stay up on my treatments and be around the meeting rooms and staying in my book." The brace he now wears isn't impeding him, he maintained. His focus this bye week will be on watching film of games in which he didn't play, digging into his playbook, and, of course, watching the Wild Card games to find out who New England's next opponent will be.
… Spikes is hoping his second playoff experience is better than his initial one. You may recall he returned to the Jets game in the Divisional round after missing the final month of the regular season while serving a league-imposed suspension for violating the league's substance abuse policy. "I was a rookie … young and dumb," he said with a smile when the subject came up. "Nice seeing you guys," Spikes concluded. "It's been a while."
… Safety Patrick Chung returned to action against the Bills last week after missing several weeks with a right foot injury. He told reporters today, like his defensive teammate Vince Wilfork yesterday, that he feels strongly about the resilience of the Patriots defense, which has surrendered miles of yardage this season. "Right now, I would say we are mentally tough. Not saying we're perfect, but it can always get better. We have confidence with anybody back there."