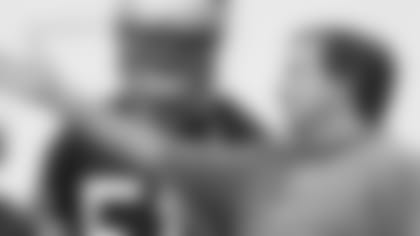 ]()Justin Rogers just doesn't understand all the attention.
He was drafted by the three-time world champion New England Patriots. He's learning a new position. He's impressed by the competitiveness of his fellow rookies.
But the only detail of his life anyone in New England asks him about is the present he gave his stepmother for her birthday. Running a little low on cash at the time, Rogers decided to utilize his outdoorsman skills to make her gift himself. He ventured into the woods, hunted and skinned a coyote, and turned the animal's hide into a handsome throw rug.
Naturally, Rogers' story, uncovered by the media the day he was drafted in the sixth round of the NFL Draft by the Patriots, elicited a lot of curiosity.
"My stepmom actually liked it and it's still in the living room. She has it on one of the mantels," Rogers said. " Everybody laughs about it, but you go to a high-end store and it's a 400 dollar rug."
The 6-foot-4-inch, 250-pound linebacker was pleased with his work, but ingenuity is nothing new for a player whose ability to adapt has helped him earn a shot with the Patriots in training camp. Undersized from the start, the Patriots' sixth round pick has consistently put his head down, done what he was asked, and simply worked harder than his competition to make it to New England. He credits his work ethic to his upbringing.
Growing up on the outskirts of Greenville, Texas, about an hour east of Dallas, Rogers spent his childhood on the 200-acre horse ranch his family owns and runs. With encouragement from his father, Justin spent much of his time tending the horse stalls and playing in the more than 1,000 acres surrounding his home.
"We didn't believe in Nintendo, so I made him go outside instead," said Justin's father, Jim Rogers. "I'm kind of an old school guy. It was so important for me to raise the kids in the country. It's a better environment, being out there playing and working."
Rogers took his father's philosophy to heart and spent much of his time hunting, fishing and exploring the ranch. It was during this time that Rogers began to develop his work ethic and sense of independence.
His father recalls one snowy day in particular when he left the house looking for 9-year-old Justin. Spotting smoke across the lake, Jim worried about what his son had gotten himself into. After racing to the scene, he discovered that Justin had shot a bird with his pellet rifle and was barbecuing it over an open fire.
"At an early age, you could take him out into the middle of the woods and leave him there, and he'd survive," Jim said.
Rogers' ability to adapt has translated onto the football field. Rogers did everything he could for the Commerce High School Tigers, playing everything from fullback to defensive end. Designing game plans utilizing Rogers' versatility, the team won state titles in 1999 and 2001.
Despite his high school success, Rogers was undersized and not heavily recruited to play college football. While his versatility was invaluable at Commerce, his playing style ultimately left him with no true position in the college game.
Southern Methodist University recruited him to play defensive lineman, and Rogers decided to take their offer and stay close to home.
"It worked out pretty good," he said. "I could drive home and visit my family and go hunting and fishing any time I wanted."
SMU defensive line coach Eric Roark saw Rogers' potential right away.
"One of our coaches got some tape from one of his friends in East Texas and said, 'Look at this kid — he just plays his tail off,'" said Roark. "Well, we looked on tape and you just didn't know how big he was. So I got in the car, drove over to his school, and got him out of class. He was just a little kid, but I called our head coach and told him he had a chance to grow."
Upon arriving at SMU, it became immediately clear to Justin that he would struggle because of his size.
"I was 198 [pounds] my freshman year, just a skinny little kid," he said. "People asked me what I played. They thought I was a punter or something. When I said 'D-Line,' they would start laughing."
Roark recalled how Rogers struggled with his size as a redshirt freshman. "We started off the season playing a Big 12 schedule and he was really overmatched because at that point, he had not hit his growth," Roark said. "He was a guy who played hard and never backed down. He was in the fight, but he was getting hammered because of the physical mismatch."
Rogers had the work ethic and commitment to be successful; he just needed the weight to complement it. So he developed a new diet.
He began eating up to six meals and 8,000 calories per day to put on the bulk he needed to compete at his position. He would wake up at 2 a.m. just to drink a protein shake, go back to sleep, and rise a few hours later to eat breakfast. With a diet heavy on steak, chicken, pasta and peanut butter, Rogers got his weight up, gaining 50 pounds over his college career.
As he gained the weight, Rogers also learned technique from Coach Roark that not only aided his college game, but also transformed him into a legitimate NFL prospect. Rogers kept working, utilizing his stronger build and listening to his coaches. He began to see results. "It happened my sophomore year. One of the last games, I got two and a half sacks against Tulsa. After that, it just started coming," he said. "It's kind of a culmination of all of the hard work and dedication. All of a sudden, it just kind of happens. It just started clicking." With a body that fit his position and with his mental game starting to click, Rogers compiled an impressive 123 tackles and 16.5 sacks over his final two collegiate seasons, a performance that not only got the attention of the SMU faithful, but of the New England Patriots. His father was thrilled. "Three weeks before the draft, Justin asked me, 'Alright Pops, if you had your pick, where would you want me to play?' I said, 'The New England Patriots,'" said Jim. "When he asked me why, I said, 'Because they have the best coach, the best owner, and the best teammates. They're the class act of the National Football League.'"
Rogers is also thrilled to be a Patriot, but he knows he has his work cut out for him, as the body he built to become a defensive end at SMU is a linebacker's at the NFL level, and he is competing for a spot on one of the league's premier linebacking corps, composed of veterans like Tedy Bruschi, Mike Vrabel, Rosevelt Colvin, Adalius Thomas and Junior Seau.
But Rogers is focusing only on absorbing as much of the Patriots' defensive scheme as possible.
"Now that I'm a linebacker, I have to learn the offense, I have to know the defense, and the playbook is six inches thick," he said. "Football is such a mental game. The physical part is actually the easy part."
So far, Rogers' hard work is paying off. In the team's preseason opener against Tampa Bay on Aug. 10, Rogers saw significant action at outside linebacker. He led the Patriots with six tackles (4 solo) and added a sack and a fumble recovery.
"I'm just lucky to have a chance. You just have to keep your nose to the grindstone and do your job."
This article originally appeared in the August 17th edition of Patriots Gameday.