FOXBOROUGH, Mass. – Visiting teams don't normally come to Gillette Stadium and leave victorious. Especially in the playoffs.
Those that do, pack in their carry-on bags an abundance of confidence – think the 2010 Jets or '09 and '12 Ravens.
Around three hours prior to kickoff, former Patriots LB Mike Vrabel, now the Tennessee Titans head coach, spent nearly an hour on the Gillette game field – doing pushups, tossing a football, generally goofing off. He looked like a man with nothing better to do but kill some time.
Perhaps he was confident in the knowledge that he has the NFL's top rusher this season in Derrick Henry, and was about to face a Patriots defense whose biggest vulnerability in 2019 came in defending the run.
"We know he's a great back – good vision, tough to bring down. He had a big day," CB Stephon Gilmore acknowledged after the game. "We had our opportunities, we just didn't take advantage of them."
"It's disappointing," remarked LB Kyle Van Noy. "Credit to the Titans. They had a good game plan and they executed it just enough to win."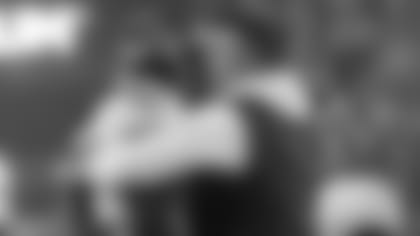 Offensively, the Patriots looked a bit disjointed on the game's opening drive, but a tremendous diving catch by TE Benjamin Watson and a big pickup on a screen pass to RB James White put New England in field goal territory. A 36-yarder by kicker Nick Folk gave New England an early 3-0 lead.
The Titans answered in short order. Largely because of the aforementioned Henry (49 yards on their first possession), they methodically marched 75 yards in 12 plays. QB Ryan Tannehill capped off the drive with a 12-yard touchdown strike to TE Anthony Firkser, giving Tennessee a 7-3 following Greg Joseph's successful PAT.
It didn't take QB Tom Brady and the Patriots long to get back on top, however. Facing a mostly zone defense by Tennessee, Brady found several open receivers to help him move the ball 75 yards in 10 plays. WR Julian Edelman put New England ahead again with his 5-yard jet sweep run unabated into the end zone at the start of the second quarter. Folk nailed the extra point to make it 10-7 New England.
The two sides then traded punts on three straight series, and in between, the Patriots lost safety Patrick Chung to an ankle injury. With exactly eight minutes to play in the first half, New England took over around midfield. RBs Sony Michel and Rex Burkhead did most of the work thereafter to bring the Patriots into a goal-to-go situation, but Tennessee's defense forced New England to bring on Folk for a 21-yard field goal effort.
"We just have to try to find a way to get in the end zone as an offense," asserted White. "Credit to the Titans. They're a good football team… We just didn't make enough plays and the Titans did."
The Titans then went back to their bread and butter, riding Henry (who eclipsed the 100-yard mark before halftime) down to the New England 1-yard line from their own 25 in just six plays. Henry then punched it in on the seventh play, and Joseph gave the Titans a 14-13 lead with 35 seconds left in the first half.
Tennessee nearly added another touchdown before intermission, but CB Logan Ryan dropped a sure pick-six as a Brady pass went off the fingertips of Watson in Patriots territory. The Titans had to settle for a one-point advantage and the knowledge that they'd have the ball to start the third quarter.
When play resumed, Tennessee couldn't do much with the football and had to punt. However, New England squandered an opportunity as well with their first possession of the second half and punted the ball back to the Titans midway through the third quarter.
A pass interference penalty by CB Jonathan Jones helped get the Titans over midfield on the ensuing drive. Van Noy then strip-sacked Tannehill, but the QB recovered his own fumble. Damage done, though, and Tennessee punted again, pinning New England inside their own 10. The Patriots returned the favor a short time later, and the score remained static heading into the final quarter.
Safety Duron Harmon finally broke the stalemate – or appeared to do so – with a timely INT of Tannehill on the first play of the fourth quarter. That set Brady and the offense up at their 41-yard line, yet the drive ended with rookie Jake Bailey coming on to punt for New England after only a few plays.
Henry would prove too much, however. The bruising ball carrier continued to bulldoze the Patriots defense, finishing with 182 yards on the ground and a TD on 34 carries. Yet with less than five minutes left in the game, the score remained 14-13 Tennessee. Brady's offense got the ball back at their own 11, needing at least a field goal to win. What they got was another Bailey punt, which was fair-caught at the Titans' 13.
Tennessee's offense drained nearly all of the rest of the game clock, and with 15 seconds left, Ryan got his pick-six after all. Having taken over possession at the Patriots 1-yard line after a Titans punt, Brady dumped off a pass intended for WR Mohamed Sanu at the New England 9, but CB Tramaine Brock knocked the pass up in the air and Ryan secured it before waltzing into the end zone. The Patriots stuffed Henry on the two-point conversion attempt, but proved no consolation.
The Titans left town with a 20-13 win that brought the defending Super Bowl Champions' 2019 season to an abrupt end.
The postgame Patriots locker room saw many handshakes, hugs, well-wishes, and what-ifs.
"I can't even describe it. Doesn't really feel like it's over," White remarked. "It's not a good feeling, obviously. We wanted more out of this season and fell short of our goals. We still have a lot of good memories as a team."
'Very tough," emphasized special teams co-captain Matthew Slater. "Certainly, when the season doesn't end the way you want it to, it's like a crash landing. It's very emotional, obviously. We put a lot into this. You spend a lot of time away from your family, a lot of time in pain, a lot of time with the men in this locker room, investing in relationships. Really, you never want to see it end, but the reality is, it's going to end like this for all but one team. Unfortunately, this year, we're not that team."
"Yes, it hurts," Gilmore admitted. "Disappointment. Yeah, we're disappointed, but we fought, and I'm proud of my teammates. We gave it all we got. They were the better team today. Made more plays than we did. We fought to the end; they just came out on top."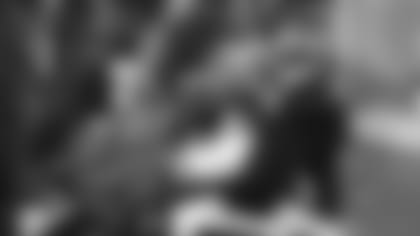 Now, the Patriots embark on their earliest offseason since 2009. For several Patriots, this may have been their final appearances in uniform for New England, either due to age or free agency or other circumstances. There'll be a time and place for such decisions to be made. For the time being, players were left only to reflect on the season that was.
"What a blessing it is to come to work with a group of guys that check their egos at the door," Van Noy observed. "With some of the success some of the guys in this locker room have had – from Tom to Slate to [Dont'a] Hightower – multi-Super Bowl winners… it's a humbling experience to be able to work with guys like that. I love them all and they know that."
"I don't have a crystal ball, I don't know what the future looks like," said Slater, who might fall into this uncertain category, "but I'm certainly appreciative of the men in this group and who they are, the things they stand for, the character they have within themselves. It's been an honor for me to be a part of this group."